In a breathtaking act of geopolitical trolling, Russian President Vladimir Putin is accusing the Obama administration of trying to "undermine" Donald Trump. He also said that a dossier of allegedly weird and compromising information on Trump is "fake" and that the people who created it are "worse than prostitutes."
Putin has been accused, of course, of ordering hacks and a wide-ranging influence campaign to undermine the U.S. election, and, befitting his status as a statesman, has opted to defend himself with an "I am rubber, you are glue," approach. The Associated Press reports that at a news conference on Tuesday, Putin said the Obama administration wants to "undermine the legitimacy of the president-elect." According to an ABC foreign correspondent, he also accused the Obama administration of preparing to stage protests in D.C. to keep Trump from being inaugurated.
(The Maidan protests kicked off the Ukrainian revolution in 2014. Russia and state-backed media outlets have always accused the United States of playing a hidden role.)
The dossier, Putin said, is bogus. From Bloomberg's account of the press conference:
Unsubstantiated allegations made against Trump are "obvious fabrications," Putin told reporters in the Kremlin on Tuesday. "People who order fakes of the type now circulating against the U.S. president-elect, who concoct them and use them in a political battle, are worse than prostitutes because they don't have any moral boundaries at all," he said.
G/O Media may get a commission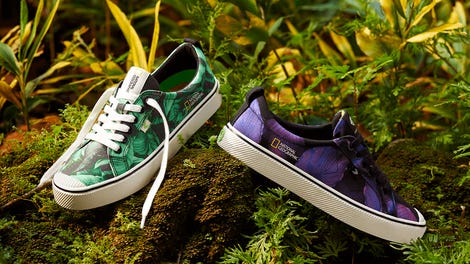 New New New
Cariuma + National Geographic
Putin also continued to insist he and Trump have no relationship:
In 2013, Donald Trump bragged in an interview about having a relationship with Putin: "I do have a relationship. And I can tell you that he's very interested in what you and I are doing here today. He's probably very interested in what you and I are saying here today. He's probably going to see it in some form. But I do have a relationship with him."
Today, according to Bloomberg, Putin said that while Trump has visited Moscow, he wasn't a politician at the time:
Putin said that Trump wasn't a politician when he visited Moscow in the past and Russian officials weren't aware that he held any political ambitions. It's "complete nonsense" to believe that Russian security services "chase after every American billionaire," he said.
Besides bashing the Obama administration, Putin found time to indicate that Russian sex workers are the best sex workers, although, again, Trump doesn't know any of them. Per Bloomberg, he described Trump as "a grown man, and secondly he's someone who has been involved with beauty contests for many years and has met the most beautiful women in the world."
He added that the allegation that Trump frolicked and ordered urine-based performances from Russian sex workers is absurd. "I find it hard to believe that he rushed to some hotel to meet girls of loose morals," he told the reporters. "Although ours are undoubtedly the best in the world."
This is all incredibly useful information, which I will process by silently screaming.