There's a brief, cliché yet honest intermission on Mary J. Blige's album, The London Sessions, sandwiched between the evangelical notes of "Doubt" and the stinging Sam Smith-written ballad "Not Loving You." Smith recalls listening to The Breakthrough on repeat and then goes into describing Blige's career as a soul queen who's still very much of the people: "To me, she was this untouchable goddess," he says. "And when I met her, I really wasn't expecting her to just be like me." It's a great explanation for why Blige has found new life with this album, by singing her usual cautionary sermons over music that's equally visceral: gospel and house.
Finding a new beat is tough for any artist, but especially someone like Blige, a master of heartbreak records, survivor of abuse and drug addiction, who's been visibly living on this side of happiness since her 2005 album The Breakthrough. Outside of a few memorable singles ("Just Fine" might have foreshadowed this current phase), her three post-Breakthrough albums have been middling. With The London Sessions, she was savvy enough to court collaborators like Sam Smith, Disclosure, Emeli Sandé, Naughty Boy (Sam Romans) and other British acts to write and produce (along with Rodney "Darkchild" Jerkins executive-producing) her smartest album in nearly 10 years.
You can tell that these younger voices understand her material. Their appreciation shows in the cleanliness of the tracks and the songwriting quality. Blige's vocals, meanwhile, are still powerful and prickly. The meta-angle here is that her music is being interpreted by non-American songwriters, disciples of hers, some of whom are outsiders wearing soul as a cloak. These are also artists mostly between the ages of 22 and 29 translating (with Blige's co-writing) the wisdom of a 43-year-old. They do a good job for the most part. Making up for the predictable relationship content, the album is resourceful in its use of sounds from the pulpit and the '90s deep house revival—a statement on how both genres can involve a similarly spiritual, out-of-body experience.
Half of the album could be sung in front of a congregation, but "My Loving" is my point of reference as its peak gospel-house moment. To give this a little context, I first started streaming this album in my apartment on a Saturday after 11 p.m. The screwed demonic voice and high-pitched squeals on "My Loving" made me hop out of bed and become a living embodiment of a "YAS" meme. The cherry on top is that Blige is bragging about her sex game ("You're in heaven/ You keep coming back 'cause now you're in too deep"). Here's a live though pitchy version:
MJB has always made testimonial music ("No More Drama"), so it's almost a given that she should pair it with the repetitive, zone-out pulses of house. That track record of truth is what separates her from other R&B acts who toy with electronic music; her vocal presence alone gives a song like "Nobody But You" much more feeling. As confident as she is about her life and love choices, there's a healthy amount of doubt and the sense that you can know everything but never enough. She's the wise woman who walks out of the room at the sign of trouble. She's also a woman who still has trust issues, like on "Whole Damn Year."
G/O Media may get a commission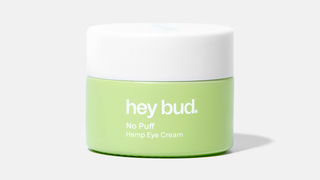 15% off
Hey Bud - No Puff Hemp Eye Cream
The platitudes, while charted, are life-giving nonetheless. They're confrontational and self-aware:
"Why would I spend the rest of my life bitter/ When all that bitterness is making you bitter, too." ("Therapy")

"There's only so much I can do/ if you're not loving you." ("Not Loving You")

"I hear you coming from a mile away and you don't have enough to offer." ("Follow")

"Don't wait for me when you know you did me wrong." ("Right Now")

"We're approaching this wrong/ And it isn't enough to get by." ("Worth My Time")
"Worth My Time," which contemplates separation, reminds me of Toni Braxton and Babyface's grown-up collaboration, Love, Marriage & Divorce, which made boring adult shit sound sexy. Whereas their album (a great one) had a reserved A/C-radio feel to it, London Sessions is more liberating, and it's perfect that it comes just as Blige's therapeutic classic My Life is celebrating 20 years. It's not like she completely lost touch, but many R&B artists over 40 seem to either struggle to recapture their youth, or settle into the dusty adult contemporary bin of sameness. Mary just sounds like a fresher, same old Mary.
Image via Getty