I was planning to write a piece about how I loathe Martin Bashir and am not at all upset about his recent kerfluffle with Sarah Palin, which forced his MSNBC resignation. And then I watched his actual comments regarding Palin and her bright idea to compare the U.S.-China debt relationship with slavery.
In a recent speech, Palin compared the growing U.S. debt to China to slavery (of course, her insights were first prefaced with an obligatory "this isn't racist"). Bashir wasn't impressed with that angle; he responded by recounting real slave Thomas Thistle's diary of historical horrors, including other slaves enduring defecating in one another's mouths (a discipline practice instituted by their slave master). Bashir then suggested maybe Palin could use of a "dose of discipline" herself.
I have to say, as much as I'm not a fan of Bashir for reasons I'll freely disclose in a moment, I can see myself saying the same sort of thing about Palin's speech. While I might not use the "shit in her mouth" bit, I'd probably say something like, "Maybe she should try a day in the life of Patsy from 12 Years A Slave and see if she still thinks borrowing from China means Bristol would be living that life. Doubt it!"
One of my co-workers mentioned that if Palin had omitted the "this isn't racist" comment before her statement, few would have jumped on the comparisons to 12 Years a Slave, or Bashir might not have gone down the Thomas Thistlewood path — but now we're here and it's too late to retreat. Still, for a guy I didn't like, it's kind of a shame that this is why he had to go. Why not dismiss him for being generally annoying? That's why I don't like him.
Remember that Michael Jackson interview where the world's biggest star was perched in a tree looking like a lunatic? That nugget of television journalism was created by Martin Bashir, and in that moment, I decided not to support any of his work. Why? We all knew Mike Jack wasn't your average adult — he had a theme park named after Peter Pan in his backyard…and a pet monkey — but to exacerbate the situation by putting the King of Pop in a tree? Come ON. That's like interviewing Kanye West in the lobby of Louis Vuitton, the fashion house — one of many? — that refuses to meet with him, and asking him about his frustration with the fashion community. He'd probably set fire to all of the L's and V's in the building. It's a setup.
G/O Media may get a commission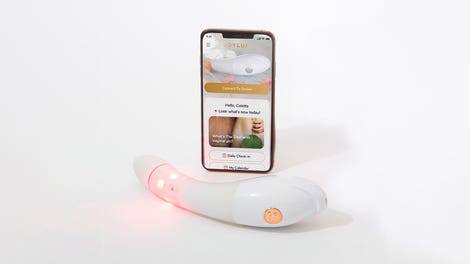 $50 Off
Joylux vFit Gold Device
Then when Bashir moved to MSNBC in 2010, I sighed heavily until my British homegirl informed me that, apparently, Bashir wasn't an annoying reporter when he was in the U.K.. He aggressively pursued stories on racial justice; a great example is his 1999 ITV interview with Neil Acourt, the suspected leader of a U.K.-based racist gang who many believe killed Stephen Lawrence, an 18-year-old black man, in 1993. However, Bashir in the States? Not so much. I even hated his awkward MSNBC promo advertisements. So, goodbye, Mr. Bashir — now I will no longer have to change the channel after Alex Wagner.
*Can we also discuss how Palin probably really meant to use sharecropping or peonage instead of slavery in her statement? I'm just saying, let's at least be accurate when we're making ill-advised comparisons.