Martha Stewart finally took the stand to testify in the trial between her company, Macy's, and J.C. Penney over the right to sell her branded homewares. The courthouse was nuts not only because of Stewart's presence, but because by coincidence, Lamar Odom had to testify at a child-custody hearing in a different courtroom at the same time.
Stewart launched a licensed homewares line in 1997 with K-Mart, but signed a contract to produce a similar line for Macy's in 2006. Macy's is not the only retailer Stewart's company is in a partnership with — she also has her Home Depot furniture line, and for the first two years of her Macy's contract, her K-Mart deal was still in effect — but Stewart did sign a contract that gave Macy's an exclusive right to sell certain categories of products. The only exception was if Stewart decided to launch her own network of retail stores — in that case, those stores could also stock Martha Stewart-branded products for the home. In 2011, Stewart signed a deal with J.C. Penney to sell a different homewares line via Martha Stewart kiosks located within Penney's stores. Macy's sued J.C. Penney and Martha Stewart; Martha Stewart and J.C. Penney each counter-sued. The outcome of this clusterfuck of lawsuits will have a major impact on U.S. retail.
Stewart explained that she sought to enter into an agreement with J.C. Penney because Macy's hadn't lived up to its obligations. Namely, she said, it was her responsibility to her shareholders to deliver growth, but Macy's was failing to allow the business to thrive and did things that limited sales, like failing to integrate Martha Stewart products into its bridal registry (which it had allegedly promised to do):
"Macy's is a $300 million business for MSLO," Stewart offered. "I don't want it to go away, but I thought our business would be much bigger than $300 million after five years."
When Macy's lawyer challenged her on the issue of her opening Martha Stewart stores within J.C. Penney locations, a move which he said was intended to exploit the "loophole" in the Macy's contract that permitted Stewart to open her own retail stores, Stewart protested that the store-within-a-store model is a very old one. She offered the three-story Louis Vuitton store inside Macy's Manhattan flagship as an example.
When asked by her own lawyer for her take on the case, Stewart said:
"They [Macy's and Penney's] are fighting over me, and it's because of our ability to create amazing product."
G/O Media may get a commission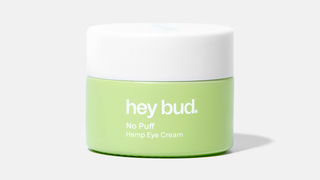 15% off
Hey Bud - No Puff Hemp Eye Cream
Ongoing. [WWD]
---
YSL's fall collection, which included lots of grunge-inspired pieces about 20 years after grunge last had some currency as a cultural movement, was considered a disappointment by most major critics. But not by Courtney Love! Courtney Love loved it:
"I love it. It reminds me of Value Village. Real grunge. I love that rich ladies are going to pay a fortune to look like we used to look when we had nothing."
She even rates it better than Marc Jacobs' famous grunge collection for Perry Ellis in 1992 and Anna Sui's from 1993.
"Hedi is a genius. No offense to MJ but he never got it right. This is what it really was. Hedi knows his shit. He got it accurate, and MJ and Anna did not."
[TFL]
---
This season's Chanel fur helmet-hats remind Fashionista of something. [Fashionista]
---
Here are some abs in a Calvin Klein ad. [YouTube]
---
To promote its annual best-dressed list, the Sunday Times fashion magazine released these ads, which show Kate Moss as Queen Elizabeth II, Victoria Beckham as Queen Victoria, and rapper Tinie Tempah as Louis XVI. [Buzzfeed]
---
In other J.C. Penney news today, a major investor has reduced its stake in the troubled company by 10 million shares. Vornado Realty Trust still owns 13.1 million Penney shares, or around 6.1% of the outstanding shares. J.C. Penney shares have lost over 29% of their value in the week since the company reported a $985 million loss for fiscal 2012. [WWD]

Harry Brant takes Into the Gloss through his beauty routine — it's involved — and muses:

"I'm not going to lie: there are times when I have to start over because I end up looking like a drag queen. It's because I love playing with makeup. It's so fun for me, but I have to remind myself that I'm not doing my little sister's makeup. And when I'm really done with everything, I do a mist with Vichy Thermal Water."

Dita von Teese is launching a line of vintage-inspired lingerie for HSN in April. This follows her line of vintage-inspired lingerie for Frederick's of Hollywood, her line of vintage-inspired lingerie for Wonderbra, and her line of vintage-inspired lingerie for Target Australia. The woman knows what works. [WWD]

And now, a moment with Rihanna's stylist, Mel Ottenberg. Mel, do you care that some people think Rihanna dresses really stoopid?

"Fuck no. The reaction of the people I know and respect and just strangers on the street is what I'm into. Someone criticizing her for wearing a bikini or something is very silly. I'm not paying attention to that."