This Friday's release of Ted 2 marks a historic year for the career of Mark Wahlberg: a year in which the marquee Hollywood star has helped realize Entourage The Movie, executive-produced Ballers into existence, and generally helped solidify 2015 as a peak year for unapologetic bros.
Wahlberg is, at present, making more money than he ever has—he earned $32 million in 2014 and $52 million the year before that; Forbes reported that even two years after the release of the original Ted, he was still horking box office cash from that dumbass movie. Ted 2, despite being the type of film that Grantland's Wesley Morris described as "a show of how easy it is to assume a black affiliation and cherry-pick from black cultural and political history"—yikes—will no doubt yield similar returns, with a "likely" $50 million dollar box office net before it even opened.
I had initially set out to write about Mark Wahlberg's many career nadirs—about how with each high point, he hits a historic low, whether personally or politically. But then I read quite a few similar meditations on Mark Wahlberg across the internet—many of them at Grantland, including Alex Pappademas' chart of Wahlberg's descent from "pioneer[ing] male objectification as a sales pitch" to "machine." And now I have realized that, aside from The Departed—which was great for many reasons other than Mark Wahlberg—all we really need to discuss is "Good Vibrations," the hip-house banger that has endured with surprising longevity. And, specifically, how everyone needs to stop pretending that "Good Vibrations" wasn't the high point of Mark Wahlberg's career.
Before I begin, let me acknowledge my bias. Upon the release of Marky Mark & the Funky Bunch's "Good Vibrations" in 1991, I was already aware of and somewhat obsessed with Marky Mark Wahlberg, on account of having briefly met him aboard a Premier Cruise Ship en route to Nassau, Bahamas, in 1990. That was the occasion of the New Kids on the Block's debut "Magic Cruise," which my younger cousin D had won a spot on after entering a contest at a Cheyenne, Wyoming, K-Mart. (I, in turn, went on to reap the benefits of D having been an only child.) Beyond "Please Don't Go Girl" and the sight of a tiny Joey McIntyre's sky-blue eyes having awakened my inchoate libido, I had not really been a New Kids on the Block fan prior to the Magic Cruise, but being in their proximity for seven days surrounded by 800 or so other screaming young women certainly changed that.
(I met a pen pal on the Cruise, a woman named Liz from California; months after, she wrote me to tell me she was no longer into the NKOTB, that she was "really into the Cure and Depeche Mode" now. I felt the same way, but we needn't have discarded our fandom; Jordan Knight, wearing a Bauhaus t-shirt in the "Right Stuff" video, was very clearly a secret goth.)
G/O Media may get a commission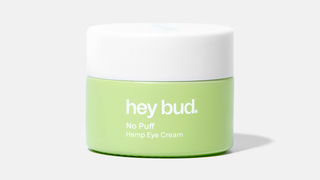 15% off
Hey Bud - No Puff Hemp Eye Cream
Anyway, somewhere floating around my mother's house, I still have photographs of Marky Mark from a Magic Cruise day in which the NKOTB took turns throwing each other into an indoor pool on the ship. Fans jumped in after them, a fact which only now seems invasively creepy; I remember a few drenched girls swimming like rabid meerkats towards the boys.
It was a few months before "Good Vibrations." Mark didn't go in, but I still remember his biceps, which were exposed through a muscle tee he was wearing with the American flag on it. (Remembering that shirt, plus his diagonally cocked ballcap and vaguely felonious demeanor, it both makes sense that I would think he was hot and also, unrelated, that he would be a raging racist who clocked prison time for hate crimes.) I also believe he may have been wearing denim overalls with one shoulder off, but I can't be sure, as it was 1990.
If I could remember Mark Wahlberg solely in that moment, the way his young face gazed across the room, arms folded, and the way he was in the "Good Vibrations" video months later, I would give up all the hundreds of times I have watched The Departed. If we could have preserved Mark Wahlberg in time, eliminating any trace of his existence but for those glorious three minutes in that video (and, maybe, his cameo on NKOTB's "Games" video), we would be a better world for it. Boogie Nights: overrated. Transformers: never saw it. The Happening: LOL. Fuck Mark Wahlberg's film repertoire. Let us have his music career, and leave us be.
"Good Vibrations" is a simple enough concept. Released at the height of the hip-house era, that glorious genre that combined... hip-hop... with... house, it was based on a powerful Loleatta Holloway sample and featured Marky Mark rapping memorable lyrics (as in, "I have them memorized") while The Funky Bunch, a member of whom is named "Hector the Booty Inspector," executed fantastic, aerobic choreography behind him. It's a formula old as time, and that is why its legend cannot be tamped.
Though Mark's lyrics may seem a little funny and dated now, in the era they were dead serious; lines like "Donnie D's on the back up/drug-free/so put the crack up" seemed grave in the "crack is wack" era, while his emphasis on experiencing a party and "pump"ing "positive vibes" were on cue for a more innocent time. Of course, now we know his preaching of health and freedom from substances were untrue (is it ever?)—as was his "I'm a good white man!" message of racial unity—but it was still an important message to deliver to the young people who were imbibing this video to the face every day on MTV.
I'll restate the fact that the choreography was phenomenal. One of the problems with Mark Wahlberg fans focusing on the film and modeling career that followed 1991 is that it requires them to forget that he was, in fact, an incredible dancer:
Pure hip-hop

No sell out

If you ain't in it to win it

Then get the hell out
In this performance, the audience becomes audibly louder when he emerges for his third verse shirtless, exposing those comely biceps, abs, and pectorals. Since that moment, he's descended from rapper who had the wherewithal (with his producer brother Donnie) to sample Lou Reed for a message-y album cut on his debut to a mere symbol for objectification, as Alex Pappademas argues in his Grantland piece. But again, imagine if Wahlberg's career could have been frozen forever in the "Good Vibrations" video? Because by the "Wildside" video—
—it was too late. Mark Wahlberg was already showing off his that golden torso later in 1991, and calcifying a career path that would lead to a net worth of $200 million, but a notable lack of musical career. And every time I watch the "Good Vibrations" video—come on, come on; feel it, feel it—I can hear the existential voice and former Marky Mark lust creep up inside of me as if they had been voiced by Amy Poehler and Mindy Kaling, and they scream:
At what cost, Marky Mark? At what cost?
---
Contact the author at julianne@jezebel.com.