Music producer Mark Ronson married French girlfriend Josephine de la Baume in the south of France yesterday —all while looking like he'd just finished practicing with a barbershop quartet.
The bride was also sharply dressed in a Zac Posen gown and cropped veil —neither of which were short on vintage-y charm. And if the wedding ever suffered from lack of style, Kate Moss, Lily Allen, and sister/designer Charlotte Ronson were also in attendance.
The couple plans to split their time between Paris and New York —probably so they'll never be too far away from showstopping outfits.
Ray J wants his cut of the Kim Kardashian sex tape money and also wants to keep partial copyright ownership:
"Any attempts to transfer the copyright outside of these parameters will result in filing a motion with the courts to seen an injunction of any sale until Ray J's rights are protected. My client rarely has a conversation with industry professionals where the Tape has not been mentioned or questioned…no amount of money can relieve him from this nightmare."
G/O Media may get a commission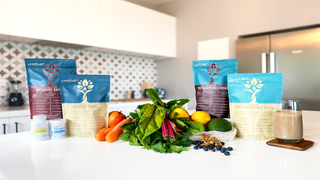 Elisabeth Rohm blogs about having a "Mom Meltdown."
It's only 7 p.m. and I'm picking out my pajamas in my head and aching to be horizontal right about now! I just need a little peace and quiet. It's human! It happens all the time to us moms.
I mean seriously, if one more person (or dog!) in my household follows me into the bathroom needing something that they can get themselves, I might just have to run for cover. See exhibit A above.
This is me pretending to be asleep at say, 7:30 while everyone is calling out to me for something that they need, want or desire. Like say a random toy that belongs to a friend or Ron asking me if I want to make cookies for everyone. I mean, these are ordinarily the things I loooooove doing. I love solving their problems or making them a sweet treat. Just meeting their needs is so fulfilling - until it's not.