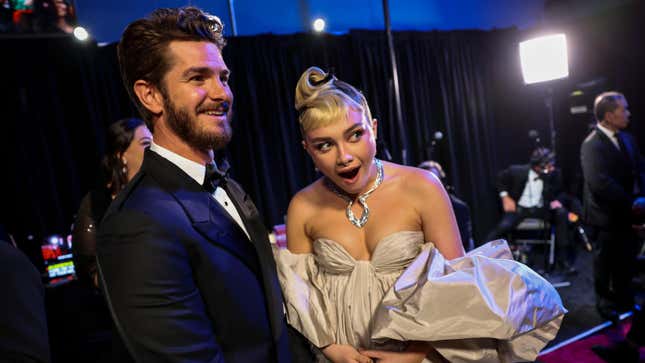 On Monday, paparazzi photos of Florence Pugh and Andrew Garfield strolling along the sun-drenched streets of South London hit the internet, and suddenly, I can't recall ever having a personality that doesn't include them. It's not that the sight of these two beaming at each other )with the giddiness of two people who recently saw each other naked and liked it) is exciting in the spectatorial sense—it's that these photos are the first glimpse of their forthcoming romcom, We Live In Time.
Taylor Lautner Doesn't Even Remember Saying 'Bella! Where the Hell Have You Been Loca?'
In a pairing right out of the internet's diary, Pugh and Garfield are set to portray young, conventionally attractive people falling in love in the film, directed by John Crowley and written by Nick Payne, per Deadline. Now, if those names don't immediately incite goosebumps, their screen credits might; Crowley lensed the exquisite romantic period drama, Brooklyn, and Payne was a writer on Netflix's adaptation of Jojo Moyes' The Last Letter From Your Lover.
Collective yearning for the Pugh and Garfield billing was sparked in March when they presented together at the Academy Awards. Apparently, their paths had only just crossed.
"I met him the day before in rehearsals and we instantly got along and I was taking the piss out of him and he loved it and he was taking the piss out of me and I loved it. It was great!" Pugh told Jimmy Fallon of the experience. You know what they say about being able to mutually take the piss out of each other...you should probably do it in a film that will emotionally ruin people.
While not much is known about the plot, it's been described as a "funny, deeply moving and immersive love story," and it's rumored that Pugh's character is a chef. Given that the handful of photos show the couple of every bisexual's daydreams perusing the offerings of an outdoor market—and smelling produce—it's not entirely unlikely. Finally! Cooking With Flo is brought to the big screen. Fingers crossed our ears will once again be treated to her ultra-posh pronunciation of the word, "aubergine."
I don't know about you all, but frankly, regardless of how much I want more details, I don't need them. I have an active enough imagination. I'm looking at Garfield in his corduroy blazer and his GAP khakis, and I'm thinking he's a reticent academic. You know, the kind that's really into David Foster Wallace, "forgets" to eat, and got his heart broken by a manic pixie girl a decade ago but waxes poetic as if it were only yesterday. And upon closer scrutiny of a sherpa-suited Pugh (and her bangs), I'm willing to wager she's a heart-on-the-sleeve-and-skirt-and-shoes free spirit with a penchant for pots boiling over—in and out of the kitchen. They'll teach each other something about life or love, and a captive audience will hope like hell neither one has to die to do it. I can't wait.
Calling it here now: We Live In Time will make us grateful we live in a time where romcoms are made good once more.