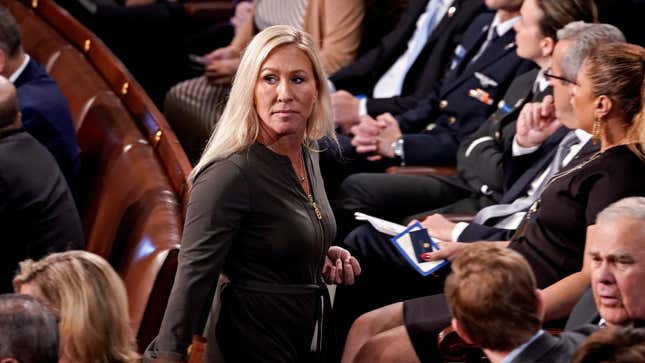 Rep. Marjorie Taylor Greene (R-Ga.) sunk to a new low at a House Oversight Committee hearing on Wednesday, sharing stolen nude photos of Hunter Biden engaged in sexual acts to push a baseless conspiracy theory that he runs a sex trafficking ring. Despite likely violating revenge porn laws in doing so, the rightwing congresswoman has only doubled down—first sharing a video of herself presenting the photos on her congressional Twitter account, and then putting out an email blast to her constituents that also included a video with the nude photos.

The Filibuster is Standing in the Way of Abortion Access
As The New Republic noted on Thursday, Greene's mailing list for her constituents sets no age minimum, meaning the email blast almost certainly reached the inboxes of some politically mobilized minors. By sending photos depicting sex acts to minors, Greene seems to have inadvertently violated revenge porn laws in her home state, as well as federal laws prohibiting the distribution of obscene material to minors.
An attorney for Biden, Abbe Lowell, has since responded to Greene's use of his photos, calling her tactics "political theater." Lowell told the Washington Post, "We are curious to hear how that instance of pure harassment of a private person's personal life informed Congress of some real gap in our tax laws. ... Nothing is beneath Ms. Greene."
Greene first displayed the photos, leaked from Biden's laptop, on Wednesday during the House Oversight Committee's hearing on the Department of Justice's investigation of Biden. (Republicans allege that the DOJ mishandled its investigation into Biden's taxes to help him avoid prison time.) The president's son pleaded guilty in June to two federal misdemeanor charges related to failing to pay his taxes.
"Before we begin, I would like to let the committee and everyone watching at home know that parental discretion is advised," Greene said on Wednesday before questioning an Internal Revenue Service agent about whether Biden improperly used his company to write off payments to sex workers. When she then held up the photos, Fox News and other platforms streaming the hearing had to rush to blur them.
In video of the hearing, you can hear the ranking Democrat on the committee, Rep. Jamie Raskin (D-Md.), asking: "Should we be displaying this?"
Other House Democrats on the committee were quick to criticize the move: "In an effort to 'own' Hunter Biden, they are assembling nude photos of him, having some intern have to sit in a room and blow up these photos and put it on poster boards and figure out, 'Oh, which ones are beyond the pale?'" Rep. Jared Moskowitz (D-Fla.) said to the committee on Wednesday shortly thereafter.
Rep. Alexandria Ocasio-Cortez (D-N.Y.) characterized the photos as "pornographic," adding, "Frankly, I don't care who you are in this country, no one deserves that."
Of course, the whole situation is dripping with hypocrisy. Greene's email blast to her constituents—likely including those under 18—comes as the congresswoman consistently uses her massive platform to push anti-LGBTQ lies smearing queer people as "groomers" and child sexual predators.