A 20-year-old Marine has been convicted of killing a Filipina woman after he discovered she was transgender. Lance Cpl. Joseph Scott Pemberton was convicted of homicide in the slaying of Jennifer Laude, who he met in a disco in October 2014. He killed Laude hours later by strangling her in a hotel room and pushing her head in a toilet.
Laude was 26 when the two met at a disco in Olongapo City; Pemberton was 19. As Vice reported in an in-depth feature earlier this year, the disco was a popular meetup spot for sex workers known as "Pocahontases," including Laude, who are often transgender. At the time of her death, Laude was engaged to a German man named Marc Sueselbeck and had applied for a visa to be with him there, which was denied. It was her first night out with her sex worker friends since their engagement; the friends told Vice she met three clients without incident before meeting Pemberton and going with him and a friend of hers to the Celzone Lodge, a motel across the street.
Just half an hour later, Pemberton left the hotel room, door ajar. He went back to his military base, where he pulled aside two other Marines and told them, "I think I killed a he-she." According to Vice, he also told one of them he became enraged when he discovered "it" had a penis. Laude's body was discovered in the bathroom, with her death ruled to have been caused by asphyxia by drowning.
The killing set off a wave of protests in the Phillippines and tested diplomatic relations between the country and the United States, with many Filipinos saying it was time for an end to the agreement that allowed U.S. armed forced to be stationed there, known as the Visiting Forces Agreement.
Although Pemberton was initially charged with murder, the court convicted him Tuesday of the lesser charge of homicide, sentencing him to six to 12 years in prison with credit for time-served. The judge reportedly said she downgraded the charges because the elements of "cruelty and treachery" were not proven. He was also ordered to pay $100,000 in damages. An attorney for the Laude familiy told the New York Times he could be freed in as little as three years.
G/O Media may get a commission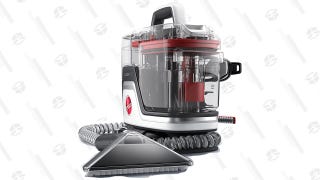 Save $10
Hoover CleanSlate Plus Carpet & Upholstery Cleaner
The murder took a heavy toll on Laude's family and Suselbeck, her fiance. Suselbeck arrived in the Philippines in November 2014, soon after Laude's killing. He was ordered deported after he scaled a fence surrounding Camp Aguinaldo, the U.S. military base there, and pushed aside a guard to try to confront Pemberton.
Pemberton's defense counsel claimed at one point last year that the family was demanding American visas and monetary payment in exchange for dropping the case. The Laude family denied asking for visas, but confirmed they asked for monetary damages in connection with Laude's death, except for her mother, who, according to an attorney for the family, said that "no amount could compensate for her suffering."
---
Contact the author at anna.merlan@jezebel.com.

Public PGP key
PGP fingerprint: 67B5 5767 9D6F 652E 8EFD 76F5 3CF0 DAF2 79E5 1FB6
Protesters rally outside the U.S. Embassy in Manila, November 2014. Photo via AP Images