In March, investigations revealed that enlisted and veteran Marines had been circulating thousands of photographs of nude and partially-clothed women—many of which were fellow marines. The scandal left many disappointed with the tepid response from military officials. The Navy and Marine Corps have now taken at least one step towards institutional change.
BuzzFeed News reports that US Navy Regulations were updated Tuesday with a ban against distributing an "intimate image" with the intent to "humiliate, harass, or threaten that person—or a reckless disregard that they would face humiliation, threats, or harassment."
Rear Admiral Dawn Cutler told BuzzFeed, "The addition of Article 1168 'Nonconsensual distribution or broadcasting of an image' to Navy Regulations serves to underscore leadership's commitment to eliminating degrading behaviors that erode trust and weaken the Navy and Marine Corps Team," adding that "it provides commanders another tool to maintain good order and discipline by holding sailors and Marines accountable for inappropriate conduct in the nonconsensual sharing of intimate imagery."
Someone breaking the new ban could face anything from administrative actions to criminal punishment and Cutler stated that each "alleged misconduct will be evaluated on its own facts and circumstances."
Stars and Stripes reports that there have been at least 56 people uncovered during investigations into the nude photo Facebook page, 15 of whom are active-duty service members. On Friday, the Marine Corps punished two marines for derogatory remarks made on social media about a female marine and service leadership, the first time marines on active-duty have been reprimanded for their actions on social media.
G/O Media may get a commission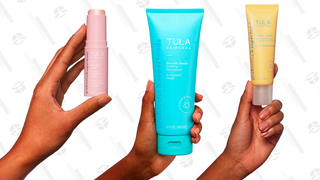 Marine Gen. Glenn Walters, the Corps' assistant commandant, has compiled a long list of potential charges participants in the nude photo sharing could be facing, as well as changes that could help close the gap in understanding between male and female recruits. Walters commented on the need to not only change the laws of the Marines Corp, but the culture:
"Online harassment of female Marines is symptomatic of a larger issue the task force is directly addressing," he said. "We are trying to change the culture of the Marines Corps, and hopefully when we change the culture of the Marines Corps then the behaviors that beget it maybe will correct themselves.

"That's our goal – to build men and women of character who serve in the ranks."
---
Starting this Friday, our politics podcast Big Time Dicks is taking an in-depth look at the Marines United scandal and the epidemic of sexual assault and harassment in the military, featuring interviews from Rep. Jackie Speier, Gloria Allred and others. Look out for it here.