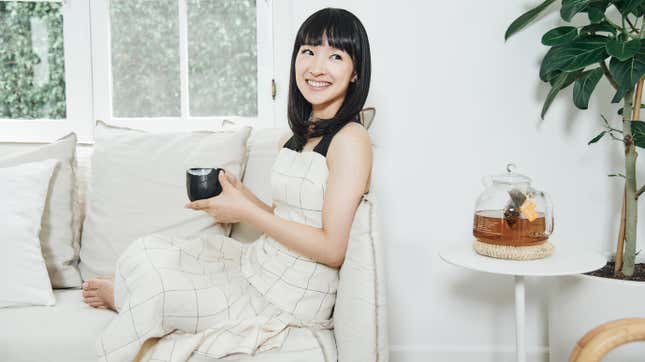 Have you heard the news? Marie Kondo is a total slob now and is vindictively laughing all the way to the bank with the money you foolishly spent on her organization empire. It's either that or Kondo, who recently had her third child, has naturally shifted her position on neatness and is instead "sparking joy" by spending time with her kiddos. I'm leaning toward the latter, but that may be irrelevant, because a backlash cycle has formed online, destroying everything in its wake. Take cover!
Infamously Thin-Skinned Man Joins Twitter's Board
"I have kind of given up on that in a good way for me," Kondo said of tidiness in a Washington Post profile published last week. "Now I realize what is important to me is enjoying spending time with my children at home." When Kondo first published The Life-Changing Magic of Tidying Up in 2011, she was 27 and had no children. As you might imagine, things have changed in the 12 years since she first told everyone to express gratitude to all of your belongings (which is still a lovely sentiment, in my opinion).
Perhaps unsurprisingly, a handful of people did not find this pivot to be endearing and instead got big mad when Kondo, who is Japanese, revealed that she had reprioritized her life to fit her current circumstances. Women Talking director Sarah Polley asked in a now-deleted tweet where Kondo's "official apology" was to people who had three kids when she was on her decluttering diatribe. (She now claims it was a joke—I can't really say whether it was or not.) A smattering of other tweets side-eyed Kondo selling products to help with organization, a similar sentiment to the widely lambasted one that Alison Roman expressed in 2020. Still, many more welcomed Kondo to the frenzied club of parenting multiple children.
From there, the backlash to the backlash began to amass in a doom-pile, if you will. People were eager to point out the betrayal some white women apparently felt following Kondo's tidiness reassessment. I think part of that eagerness, too, is a holdover from the Roman-Kondo-Chrissy Teigen drama (in May 2020, Roman lazily criticized Teigen and Kondo in an interview for both being sell-outs). And while the backlash to the backlash (aliens, take me now) might be somewhat overblown, it reveals the underbelly of what makes Marie Kondo such a culturally touchy subject.
Conversations about domestic labor—cleaning, child rearing, cooking—carry a lot of emotional baggage and inherently have a racial dimension. In an online sphere dominated by the voices of lily-white momfluencers, it only makes sense that women of color—who, according to the Economic Policy Institute, make up a disproportionate share of domestic workers—would be uninterested in, or resentful of, white women's opinions on a Japanese woman's choices.
Many white women were apparently extremely ready for Kondo to waltz in, fix their domestic problems, and then see her way out—not unlike what a large number of them do on a regular basis with their own housecleaners. Now that Kondo has been honest about how her perspective has changed (like any real person's perspective does over the course of a decade), they're annoyed. She's no longer the one-dimensional Type-A Asian woman they'd cast her as. How inconvenient for them! But even "joking" about demanding an apology—regardless of whether it's with harmless intentions—mimics the idea that "at the end of the day, I run this house," a sentiment that is informed by systemic, racist power structures.
The backlash on top of backlash cycle has gotten messy. But luckily Kondo is not in the business of cleaning up all of these messes anymore. I hope she takes the millions she made off of convincing Americans they don't need nine pairs of hole-ridden yoga pants anymore and goes on a lovely, indulgent vacation with her family.