The Good (but also probably Bad) Witch Marianne Williamson was left out of a Vogue photoshoot featuring the five other women running for president, but, as you can see in the above photo, she has not let that get in the way of her (presumably lucid, perhaps even psychic) dreams.
The Vogue profile, titled "Madam President? Five Candidates on What It Will Take to Shatter the Most Stubborn Glass Ceiling," featured "[t]he female lawmakers running for president," of which there are quite a few: Elizabeth Warren, Kamala Harris, Tulsi Gabbard, Amy Klobuchar, and even Kirsten Gillibrand were all profiled and treated to an Annie Leibovitz photoshoot for the piece's lead image:
Williamson was briefly mentioned in the piece but not photographed, even though she's polling about the same as inexplicable candidate NYC Mayor Bill de Blasio. Vogue said they left out Williamson because they wanted to "highlight the five female lawmakers who bring a collective 40 years of political experience to the race," and Amy Chozick, who wrote the piece for Vogue, told CNN that when the piece and photoshoot were commissioned back in March, that the field was "so vast" the magazine decided to narrow down their focus.
It's more likely that Vogue didn't expect Williamson—a spiritual leader and bestselling author—to make it to the debate stage and/or be considered a legitimate (ish?) candidate, but here we are. Williamson told CNN she was pretty upset she wasn't included:
The framers of the Constitution said that in order to run for President, in order to qualify to be president, you have to have been born here, you have to have lived here for 14 years, and you have to be 35 years or older. Now, if they had wanted to say you have to have been an elected official, they would have. And they didn't for a reason.
They were leaving it to every generation to determine for itself the skillset that that generation feels is most necessary in order to navigate the times in which we live. And that kind of bias on the part of the media, it's very insidious, it's very subtle. It's a suggestion that only those who have elected office in their past are qualified.
G/O Media may get a commission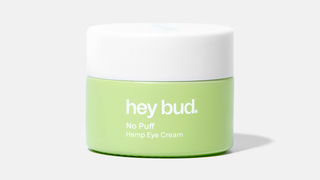 15% off
Hey Bud - No Puff Hemp Eye Cream
Slightly horrifying deja vu re: that "bias on the part of the media" line notwithstanding, I wouldn't be surprised if Williamson ekes out a Vogue profile of her own thanks to this omission. But even if she doesn't, she definitely got her photo (scroll through).