So cheesy and sentimental was last night's Mariah Carey-directed movie for the Hallmark Channel, A Christmas Melody, that it featured a scene in which Lacey Chabert's character cried over broken tree ornaments. If Santa had spilled the milk she left out for him, she probably would have become inconsolable.

Carey's Mean Girl fetish is, to borrow from her glossary, unyielding, so she did a half-hearted Regina George impression alongside the real life Gretchen Wieners. I think you were supposed to find Carey's this-close-to-apathetic nastiness endearing, and luxuriate in her character's small-town affluence (as much as you were supposed to sympathize Chabert's character's working-class struggle), but the ultimate product was unflattering. Unflattering is clearly the last thing Carey was going for: The legendary diva had her own lighting, which made her appear to be in a different room than whatever character she was speaking to. That she was rarely in the same frame as her fellow actors, and often shot from the collarbone up in front of a green screen, only added to the disconnect. Oh, and her character supposedly graduated from high school in 1998, which means Carey played about 10 years younger than she is. That Mariah Carey will always be 100 percent Mariah Carey is one of life's little comforts, even when it's as vaguely unpleasant as it is here.
There was a scene in which Chabert's character's daughter wrote a song that turned out to be Carey's 2010 single "Oh Santa!" It's unclear if the implication by screenwriter Jennifer Notas Shapiro was a shady one (that Carey's song is so simple, a child could write it) or merely on brand, given Carey's insistence that she's eternally 12.
The dialogue was often muttered and banal, giving A Christmas Melody a mumblecore-hold-the-core vibe. Sample exchange:
Chabert's love interest: So what were you doing some last minute , uh…

Chabert: Oh...shopping. Yeah, my Aunt Sarah was nice enough to watch Emily for a little bit.

Chabert's love interest: Well, that was nice of her.
I'm glad everyone agrees that Aunt Sarah is nice. They have so much in common. That's true love.
G/O Media may get a commission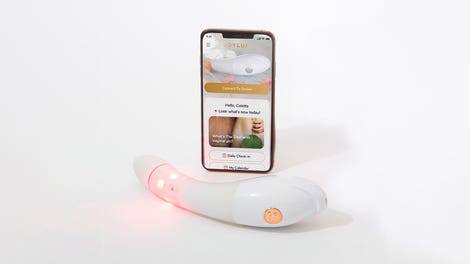 $50 Off
Joylux vFit Gold Device
Piling on the melodrama, there was a scene in which spontaneous snow was used as emotional punctuation:
To be fair, though, the same device is employed in Todd Haynes's acclaimed Carol, sans the maniacal twirling.
Also, the product placement was anything but subtle.
But whatever. Christmas and corniness go back like babies and pacifiers, as well as Mariah and O.D.B. And Chabert, for her part is unfailingly gracious, as she proved in an interstitial promo:
After A Christmas Melody, Hallmark aired yet more Carey-content, bringing the multi-hyphenate's air time up to three hours. The variety hour Mariah Carey's Merriest Christmas seemed devised to silence the critics who bashed her disastrous Rockefeller Center performance of "All I Want for Christmas Is You" last year. She went through about a half dozen songs from her Christmas catalog, and many of them featured some sort of acapella intro. She sounded pretty great, a vast improvement from last year and probably way better than most people would expect. Granted, this wasn't live TV, but her singing sounded entirely spontaneous. The apparent attempt to silence haters (who, sadly, probably weren't watching the Hallmark Channel to receive the message, for the most part) reminded me of Beyoncé opening her post-inauguration press conference with a flawless acapella rendition of the song she had been accused of lip synching, "The Star Spangled Banner." Here's her "Joy to the World":