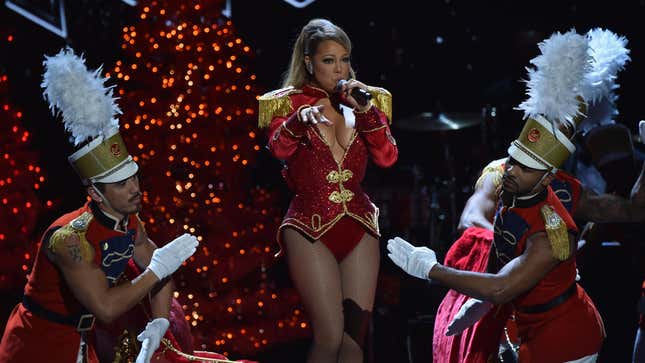 Hear ye, hear ye, the most noble Duchess of December, Mariah Carey, hath henceforth decreed that on this day, the 1st of November, the peasants of the land are free by her highness's leave to begin the celebrations of Yule! May there be merriment and many whistle notes across the land.
Justin David Sullivan Is Honored to Portray Nonbinary People on Broadway
If ye be wondering, what about Thanksgiving, then ye be not worthy of the Yuletide blessings of the Duchess and must be punished. Not a single sleigh bell shall toll for thee and thou shalt be cast into the darkness of the Naughty List. Thus ends this royal decree.
---
It shouldn't come as a surprise, but "All I Want for Christmas Is You" is back on the Top 200 chart in the US. The pumpkins haven't even finished rotting yet! [Twitter]
Hannah Waddingham and a slew of other stars are joining the cast of Hocus Pocus 2. [Vanity Fair]
Marilyn Manson and Justin Bieber stood with Kanye West in prayer at West's Sunday Service. Sources say God's response was, "new number who dis?" [Consequence Sound]
Billie Eilish appeared as Sally in Danny Elfman's Nightmare Before Christmas concert. [NME]
An armed robbery was underway right in the middle of Teyana Taylor's Halloween party. [Complex]
Kal Penn is out, proud, and engaged! [TMZ]
Jen Psaki has tested positive for covid-19. [TMZ]
When did Elton John and Ed Sheeran become besties? [People]
Andy Cohen is giving the people more of what they want with a brand new series, Real Housewives of Dubai! [People]
In what can only be described as the ultimate flex, all the exes Lil Nas X wrote about in Montero showed up to the album release party. [People]
Chrissy Metz was once Ariana Grande's agent. [E!]
Candace Cameron Bure would like everyone to stop roasting her family over their ugly wedding outfits. [E!]