After a brief period of resistance, it seems like Maria Shriver has finally come to accept her son Patrick Schwarzenegger's new girlfriend Miley Cyrus—not because he seems happy or she treats him nicely, but because she's nothing like Every Mother's Nightmare (?) Taylor Swift.
Reports initially stated that Shriver was "horrified" by her 21-year-old son's new choice of football game make-out partners, but apparently Patrick —after one whole week's campaign—has turned things around. And all he had to do was convince his mom that Miley would never go full "Blank Space" on him like Taylor apparently did on their relative Conor Kennedy.
Via Radar:
The biggest obstacle for Cyrus earning the trust of Schwarzenegger's relatives was the Kennedy-Shriver family's experience two years ago when Conor Kennedy — son of Robert F. Kennedy Jr. — dated pop star Taylor Swift, the source reveals.

Swift became obsessed with the Kennedys, even buying a home near the famous Kennedy compound in Hyannis Port, Massachusetts.
"Conor's just an 18-year-old kid and wasn't ready for anything super serious, but Taylor is looking for her soulmate and it kind of freaked him out with how strong she came on," an insider told Radar at the time.

"Maria was terrified that it would be another nightmare like the Taylor situation," the source says. "Taylor Swift was their biggest fear. They all thought it was going to turn out like that."
Yes, because the biggest and most dangerous scandal the Kennedys have ever had with women was definitely Taylor Swift buying some nearby property.
[Radar]
---
G/O Media may get a commission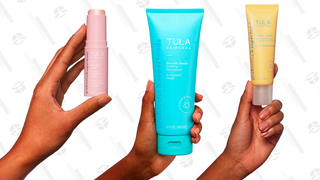 Angelina Jolie told Today that she's still not used to being married to Brad Pitt, saying, "I think we have more moments where I say, 'I'm going to be a better wife! I'm going to learn to cook,' and he says, 'Oh honey, know what you're good at, know what you're not.' He knows my limitations and where I'm a good wife and a good mom."
Yeah, I'm sure you're doing fine. [Dlisted]
---
Keeping the celebrity motherhood theme going, poor Eva Mendes is fucking exhausted: "I thought my wild nights were over but these are some of the wildest nights I've ever had," she told The Violet Files about caring for her newborn baby Gosling.
"I try not to Google too many things because it is frightening," she added, "but I do go to Babycenter.com and read the comment sections from other mothers because I find so much solace in that. Just knowing that I'm not alone out there and that other moms have gone through the same thing can at least get me through the night."
Who knows? Your Babycenter.com comment could have brought momentary peace to the heart of Eva Mendes. [US Weekly]
---
Photos via Getty.