Margaret Atwood, Michael Ondaatje, and a number of well-known Canadian authors have drawn the ire of the Canadian literary community after signing an open letter addressed to the University of British Columbia. The letter concerns the firing of former UBC Creative Writing chair and best-selling writer Steven Galloway who has been accused by multiple female students of sexual assault and sexual harassment.

UBC suspended Galloway with pay in November and launched an investigation of the allegations against the writer. After concluding their investigations, the university fired Galloway in June. In September, author and alum of UBC Madeleine Thien told the university she no longer wanted to be associated with them due to their handling of Galloway's case. And on Monday, a new letter, written by Joseph Boyden and signed by a number of other well-known writers, including Atwood and director David Cronenberg, called the allegations against Galloway, "unsubstantiated and unexamined." It adds that the university "amplified" the allegations against Galloway:
[...] severely damaging Professor Galloway's reputation and affecting his health. The University has not, however, made any allegations public, citing privacy concerns. No criminal charges were laid against Professor Galloway at the time. None has been laid since.
The open letter concludes by urging UBC to establish and independent investigation into the university's handling of the Galloway investigation and calls for "due process and fair treatment for all."
The letter, in particular Atwood's signature, has led to what the Globe and the Mail described as an "all-out CanLit war." Many have questioned the intent of the letter which, they argue, prioritizes Galloway's well-being over alleged victims of sexual assault and harassment. On social media, both Atwood and Boyden have defended the letter, arguing that the letter is about fairness, transparency, and due process for Galloway. "Not a good look to condemn a person in secret," Atwood tweeted yesterday.
G/O Media may get a commission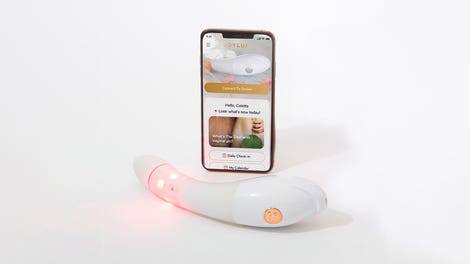 $50 Off
Joylux vFit Gold Device
In a statement provided to members of the Canadian media, Atwood compared UBC's process (which she calls "flawed" and says "failed both sides") to the Salem Witch Trials. She believes they are trying to protect the institution and none of the parties involved:
Obviously, the University was trying to shield students from something—we are still not clear as to what, exactly, and if it's a matter of rape then it should be a matter of jail—but their methods appear to have resulted in a big foggy mess.

[...]

Is it an endorsement of rape culture or a silencing of anyone to support the view that the University should take a good hard look at the way it handled this?
Atwood's statement continues, arguing that women don't always tell the truth and that "accused men" can be innocent, and assuming the contrary does "a great disservice to accusing women and abuse survivors, since it discredits any accusations immediately." She points to the case of Steven Truscott, a Canadian man who was convicted of rape and murder in 1959 only to have his conviction overturned five decades later.
Since Wednesday, at least two writers have retracted their signature from the letter. The Globe and Mail reports that the writer Kathryn Kuitenbrouwer wrote on Facebook:
I signed it in the spirit of an open and honest inquiry and regret not being more sensitive to how its wording could cause harm. I stand for truth and justice. I support complainants in equal measure to those who stand accused of sexual crimes or institutional misdemeanours.
Similarly, the writer Nancy Lee, Galloway's former UBC colleague, called the letter "short-sighted." "Make no mistake, CanLit establishment, your words and actions are destructive," Lee wrote.
Update: This post has been updated to reflect that a number of authors have since removed their name from the letter of support.