Marco Rubio is a riddle wrapped in an enigma. JK, he's a politics bro who listens to top 40 rap, which apparently makes him fascinating to Republicans. The dude is a self-proclaimed hip-hop head, and as the Republican Party's shining example of a Latino conservative, Rubio has been heralded as the GOP's poster boy. He's not white, he's not old, and he's down with that racket kids these days call music. During Rand Paul's historic anti-drone filibuster last month, Rubio proved he was in the know by dropping some rap references. "That takes me back to another modern day poet by the name of Jay-Z," said Rubio, "In one of his songs, he wrote: 'It's funny what seven days can change. It was all good just a week ago."
Marco Rubio, you guys, is with it.

But that was one month ago. It's funny what can happen in five weeks; now Rubio is accusing the "modern day poet" H.O.V.A. and Beyoncé for taking a trip for "propaganda purposes" to Cuba for their fifth wedding anniversary.
"According to recent news reports, Jay-Z and Beyoncé's Cuba trip, which the regime seized on for propaganda purposes, was fully licensed by the Treasury Department," said Rubio in a statement on Monday, "U.S. law clearly bans tourism to Cuba by American citizens because it provides money to a cruel, repressive and murderous regime." So what's the deal, Rubio? I thought you were down with Jiggaman, so much so that you doth quote the poet on the Senate floor. Now you're getting all uppity because Jay-Z wanted to enjoy some Cuban cigars and Havana Club rum with Queen Bey on their anniversary?
Rep. Ileana Ros-Lehtinen (R-Fla.) and Rep. Mario Diaz-Balart (R.-Fla.) also got on Jay-Z and Beyonce's case. In a letter to the Treasury Department, the two wrote:
"We write to express concern and request information regarding the highly publicized trip by U.S. musicians Beyoncé Knowles-Carter (Beyoncé) and Shawn Carter (Jay-Z) to Cuba. We would like to respectfully request, within all applicable rules and guidelines, information regarding the type of license that Beyoncé and Jay-Z received, for what purpose, and who approved such travel."
G/O Media may get a commission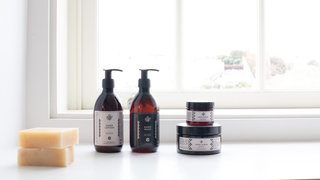 Exfoliate and Hydrate
The Handmade Soap Company
Can we pause for a moment and commemorate the fact that "(Beyoncé)" and "(Jay-Z)" appeared in official government documents? That more than one elected official took time out of their day to draft a statements about Bey and Jay? Okay? Okay.
[Politico]