It's day two of this year's March Madness, Childhood vs. Adulthood, and the heats are... heating up! Let's do this, friends and fans of theoretical sports tournaments.

Last Friday's initial round produced some surprising results: 51.89 percent of you preferred Being Forced to Read for School (1) over Thinking You'll Live Forever, while "Really Trying to Find Time to Read" (1) just barely squeaked by Knowing Your Mortality and Being Fine With It (16) at 50.76 percent to 49.24 precent. But the majority of you preferred Hand Stuff (1) to Not Knowing About Sex (16), upvoting that with 63.69 percent (nice); you also would rather Mouth Stuff (1) than Having Bad Sex (16), which won out with a majority 81.73 percent of the votes. I'm very curious about the 18.27 percent of you who would prefer a crappy lay rather than sully your beautiful maw with someone else's organ, though.
And now, more from Round 1. From the Childhood Work Division:
Everything Is Free (8) faces off against Fisher Price (9), in a tough choice between not having bills and spending all day pounding on rainbow xylophones.
After that, Power Wheels Barbie Jammin Jeep Wrangler (5) (don't act like you don't know!) goes up against the timeworn tradition of Hating Your School Principal (12). Both are fun—DRIVING IN A PINK CAR?—but one just might be more viscerally satisfying.
G/O Media may get a commission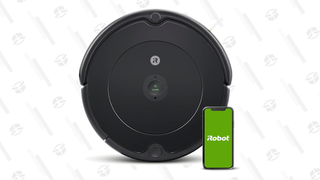 35% Off Black Friday Deal
iRobot Roomba 694 Robot Vacuum
Then we get a less-fun choice in the options Wearing a Retainer to Keep Your Teeth Straight (4) (and inevitably having to dig it out the dumpster after you accidentally leave it on your school lunch tray) goes up against Promising to Clean Up After Your Pet (13), aka the Battle of the Pooper Scooper. Which is better? Up to you!
Next we have Puberty (6) versus Tom Brokaw is Boring (11); would you prefer revisiting a time that you maybe felt confused about your changing bod, or a time when the nightly news was extremely uninteresting to your daily life?
Adjacent to that thought, we've got Applying to College (3) versus Getting an A (14), two extremely optimistic aspects of youth that some of us maybe have never experienced (cough); and Pampers (7) versus Ignoring Things You Don't Understand (10). Would you like to poop and pee freely and at will, or would you rather just not care about the poop and pee being constantly flung at your precious mind? You decide!
And finally, we've got Not Voting and Not Caring (2)—ahh, sweet freedom from politics—versus the eternal pipe dream Wanting to Be a Movie Star When You Grow Up (15). What will it be?
Meanwhile, over in the Childhood Play Division:
Which do you miss more: Talking Shit on the Playground (8), which sometimes ended in skinned knees but deep satisfaction, or Long Summer Vacations (9)—entire months without a care in the world? Next up is Wishing You Could Eat Candy for Dinner (5) when your parents would only let you eat like, brussels sprouts, versus Juiceboxes (12), any kind, though I prefer Capri Sun.
Do you remember Innocent Grinding at School Dances (4)? It might seem like an obvious choice over Chicken Pox (13), but if you do remember that grinding, you might also remember how awkward it could be, so it's a tougher call than you might think.
Then we've got Hardcore Organized Sports (11)—I personally was pretty good on the soccer team, which I quit after second grade and never touched a sport again—head to head with Making Best Friends by Saying "Hi" (6) a simple friend tactic that, shit, we should honestly revive as adults.
Next up is Smoking Ragweed from a Bong (3), which is frankly how I achieved some of my most memorable highs, versus Footie Pajamas (14), which I know at least some of you haven't actually retired yet.
Trying Out Makeup (7) is up against Cartoons (10), and I remember both as fun but only one as very successful. And finally, Picky Eating (2) goes up against Sneaking Out After Curfew (15), both rites of passage but only one is better: which it is is up to you!
As ever, here's our full bracket for your reference. You have 24 hours to respond to this round!