I first saw previews of Manson's Lost Girls during Christmas while watching another Lifetime movie starring Ashanti as an evil department store manager; laughably, the vintage effects made it look as if the scenes had been run through at least three different Instagram filters. At the same time, it was exciting. How would Charles Manson and his Family be depicted through the all-too-familiar Lifetime biopic lens?
Even from a young age, Manson was in and out of jail for most of his life. After being released from prison in the late 1960s, he became a charismatic cult leader who was able to brainwash his followers into believing he was some sort of prophetic, Jesus-like figure. The movie, as made evident by its title, focuses not on Manson, but the girls, and how he was able to manipulate them into doing anything he wanted, including murder. One of the most famous murders occurred on August 8, 1969, when Manson sent his loyal disciples—Susan Atkins, Patricia Krenwinkel, Linda Kasabian and Charles "Tex" Watson—to the house of Sharon Tate, where they brutally killed the pregnant actress along with four of her friends.
The movie is told through the eyes of Linda Kasabian, who was ordered to wait outside of Tate's home while the others participated in the killings. She ended up becoming the star prosecution witness during the Manson trial in 1970. The film opens up with Linda (Mackenzie Mauzy) trying to flee the Manson Family headquarters at Spahn Ranch sometimes after the Tate murder. Flashbacks show how Linda became involved with the group: after running away from home due to issues with her stepfather at the age of 16, she meets and marries a man named Bob Kasabian (Morgan Krantz) and the two hop from commune to commune in California, with Linda eventually giving birth to a child. When Bob abandons the family to go to South America, Linda, now 20, is left to fend for herself and their young daughter, Tanya.
While dining at a restaurant with her daughter, Linda realizes she's short on cash. This is when she's first spotted by Manson follower Susan Atkins (Eden Brolin), who devises a plan for Linda to dine and dash by distracting the people in the restaurant. She then convinces Linda to bring her daughter to Spahn Ranch where there's "drugs, guys, food... and Charlie."
At the ranch, Linda is quickly embraced by the other members of the family, including Patricia Krenwinkel (Isabel Shill), Leslie Van Houten (Greer Grammer), Lynette "Squeaky" Fromme (Gracie Victoria Fox) and Tex Watson (Christian Madsen), with whom she hooks up that night. The next morning, she meets the much-talked about Manson (Jeff Ward), who is lurking by her door. "You have a father thing, don't you?" he asks. Linda, impressed by Manson's seemingly psychic abilities, replies, "How did you know that?" Manson takes her hand, puts it over his heart and asks, "Do you feel that? That's you inside me."
G/O Media may get a commission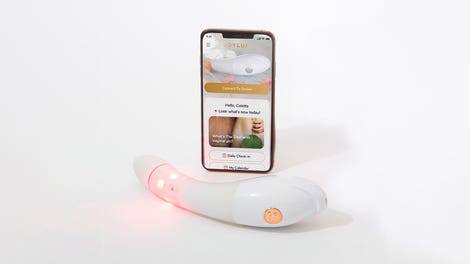 $50 Off
Joylux vFit Gold Device
The Manson Family's downward spiral of crime first begins with automobile theft, dumpster diving and "creepy crawls" during which the girls would break into people's houses to rob them while they sleep. Linda appears to be cool with the thievery, but when Manson begins to make violent threats against the members and brings home a suitcase filled with guns and announces the beginning of Helter Skelter—the apocalyptic race war he believes is soon to come—she begins to realize the Manson Family might not be the kind of friend crew she was looking for. The violent killings soon unfold, beginning with the murder of a drug dealer named Lotsapoppa, followed by musician Gary Hinman, Sharon Tate and her friends and finally, the LaBiancas.

Initially, it's unbelievable that the network that brought us Dance Moms and the aforementioned Ashanti Christmas tale would set their sights on a notoriously dark, true crime story. But as Manson's Lost Girls unfolds, it becomes obvious that the plot has all the makings of a standard Lifetime joint: charming older man takes advantage of vulnerable young women, brainwashing and abusing them to the point of committing heinous acts of murder. True story or no, it easily fits into Lifetime's massive database of lurid films.
Manson's Lost Girls boasts an overall attractiveness—it's shot beautifully, and everyone is good-looking and wearing cool, late-'60s-style clothing. In some scenes, the actors just look like models lounging around on the set of a Free People photo shoot, with acid trips and sex orgies soundtracked by Donovan's "Hurdy Gurdy Man" and The Seeds' "Can't Seem to Make You Mine." Ward, who plays Manson, definitely has the intimidation factor down, but mostly just looks like Bradley Cooper.
A number of Manson Family members are portrayed by famous offspring. Tex Watson is played by Christian Madsen (son of Michael Madsen), Leslie Van Houten is played by Greer Grammer (daughter of Kelsey Grammer) and Susan Atkins is played by Eden Brolin (daughter of Josh Brolin). It's Brolin who steals every scene with her chilling portrayal of Atkins, the Manson Family member who was said to be the most terrifying. After the group commits the Tate-LaBianca murders, she recites a to-do list of celebrities to slaughter which includes Paul Newman, Elizabeth Taylor, Sinatra and Elvis. "We're going to kill them all," she says, excitedly.

Lifetime's decision to make Manson's Lost Girls right now was a smart move, especially with the increased interest in true crime stories as seen with Making of A Murderer and The People v. O.J. Simpson: American Crime Story. The tale of the Manson Family still has quite a pull today—scan through Instagram and find copious photos of people taking selfies with Helter Skelter, the 1974 book about the murders co-written by prosecutor Vincent Bugliosi—and as recently as 2013, even Bugliosi was still bewildered by Manson's charisma in a Rolling Stone profile. The Lifetime depiction, with its perfectly-placed lens flare, flawless soundtrack and attractive stars, undoubtedly adds to the fascination in this case of a dangerous, magnetic cult leader and his violent persuasions.
Manson's Lost Girls airs tonight, February 6, 8 PM, on Lifetime.
---
Contact the author at marie.lodi@jezebel.com.
Image by James Dittiger via Lifetime.