For most people in the rest of the United States, New Mexico is a sort of blank spot—an overlooked, ragged square wedged next to Texas, its loud, swaggering cousin. It's the fifth biggest state land-mass-wise, at a little under 122,000 square miles, and one of the emptiest, with 2 million people spread out over the expanse. Its cities are among the most racially and culturally diverse in the country. Yet, if a lot of people know it at all, it's for the state's natural beauty: the high desert and the deep blue mountains and the acid pinks and oranges of the sunsets and the showoff intensity of the stars and the high, pure smell of the air after it rains. Even the chamisa—an omnipresent weed that causes some of us merciless itching and sneezing every fall—looks good, with delicate pale green stalks and riotous little yellow flowers.

New Mexico's state slogan is the Land of Enchantment; a lot of locals, referring to its quicksand powers of both charm and inertia, have referred to it for years as the Land of Entrapment. I'm not a New Mexican anymore, though I was born and raised there and return to it most nights in my dreams. Through a mixture of carelessness and effort, I no longer belong. Coming home once or twice a year for Christmas or the odd family emergency is so emotionally, symbolically, and sensorially loaded that I'm exhausted six hours after I get off the plane. It takes me weeks back in Brooklyn to recover.
Maybe it's being a familiar kind of stranger that's made me so painfully aware lately of what other strangers do when they come to visit, the ways they're embarrassing themselves and curiously dishonoring the place they claim to find so magical, so peaceful, such a respite from what they persistently term the outside world. At the same time that Santa Fe and Taos undergo a massive and perhaps irreversible gentrification process, there's also an enormous, long-awaited upheaval going on, a wave all those strangers are missing even as it rises under their feet and threatens to sweep them away.
That wave led to a newly energized Native-led activist movement, which is pointing out some of the region's most persistent injustices. There's also a renewed tension around some very old sore spots concerning colonialism, genocide, appropriation, and the complexities of shared boundaries and property lines, both real and metaphysical. That surge in activism and tense debate is at jarring, sometimes offensive odds with the way I see non-Native people in hip coastal cities talking about Santa Fe: as a placid little hippie town where they go to unwind.

Some of the outsiders' increased interest is linked to '70s revivalism in fashion—an earth goddess hippie chic Laurel Canyon look meets denim jumpsuit meets Hell's Angels fashion mishmash, three forking roads that convene into a singular desire to ride down a wide, deserted, sunbaked highway in a yellow El Camino. (Coach's Fall 2018 show managed to throw all these elements together in a way that makes it clear we're surely nearing desert-fashion saturation.) And some of it is due to the apparently unkillable popularity of the Coachella Valley Arts & Music Festival, which led, initially, to the mainstreaming of the desert-festival aesthetic and is now a much broader yet clearly identifiable set of lifestyle aspirations.

In any case, the desert is ever more present, not just in social media, but increasingly as an internet essay literary device. It's been the backdrop for interminable examinations of male feelings masquerading as studies of history. One writer congratulated the desert for cracking her open in a curious mixture of self-revelation and sponsored content. And a whole lot of people would like to tell you about the ways they love places like Santa Fe and its northern neighbor Taos, the things those towns reveal in the marrow of their spirits, their desire to fall right into them and never leave. They find them deeply spiritual but not too challenging, a hot bath in a deep tub scented with sage.


In October of 2017, Sophia Amoruso, founder of the Nasty Gal clothing brand, self-proclaimed #girlboss, and Santa Fe enthusiast came to visit. She walked downtown's famous plaza, which is ringed with shops and museums and shade trees and benches to luxuriate. It's a nice place to spend a late morning full of eggs and red chile. Amoruso took an artful selfie reflected in a store window, wearing a leather jacket and a silk scarf knotted around her neck.
"Moving here ASAP but until then I got some crystals and not the meth kind," she wrote. To a commenter, she enthused, "So magical right? It's like Nevada City, Olympia, Ojai and Joshua Tree had a baby."
I appreciate how economically that comment makes my point for me, the way Amoruso and her commenter are able to visit a place much older than America and see a charming outdoor mall for crystals. I'm awed by the easy way she takes New Mexico's relatively new and painful meth problem and makes it into a joke that everyone will get because of Breaking Bad. Standing in a place riddled with intense cultural profusions, full of sometimes-maddening ambiguities, she sees a cute town that looks like the other Caucasian places she's used as Instagram backdrops.
Santa Fe's been a tourist economy for a long time, and monied white people like Amoruso help a lot of people make rent. Thomas Merlan, a local historian and the former state historic preservation officer—who also happens to be my dad—points out that tourism has been keeping Santa Fe afloat since the 1930s or so, when the Depression and other economic forces crashed the traditional economy.

"When it was no longer possible to make a living on a little farm or in a traditional pueblo, Indian tribes turned to tourism," he says. They started selling jewelry or blankets, the way some of their children and grandchildren still do. The turquoise jewelry many Pueblo and Navajo artisans make has become particularly sought after, worth thousands of dollars, sold at upscale galleries in New York and LA, $5,000 squash-blossom necklaces swinging heavily on the necks of white women who can afford them. It's an economy that both gives Native artists a way to survive and requires, at times, the selling of culturally important symbols to people who don't necessarily understand them.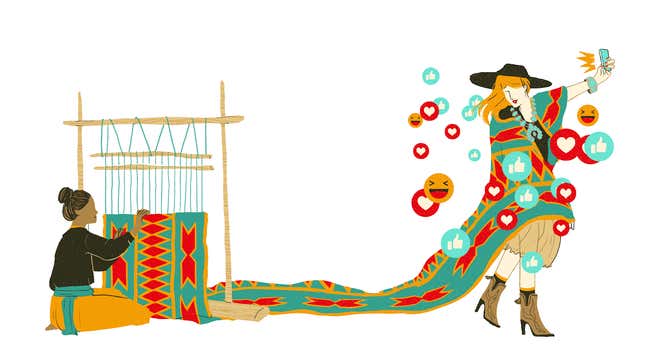 A little more than a month before Amoruso's visit, at nearly the same corner where she stood, eight Pueblo Indian activists were arrested protesting the Entrada, a celebratory pageant that's been staged since 1911. The protest, though, has been several hundred years in the making. New Mexico was "settled" by Spanish conquistadors who started coming to the region in the 1500s or so, looking for fabulous golden cities that never existed. Coronado, one of the earliest of the group, looked for a literal Seven Cities of Gold, which he and his soldiers naturally had a tough time locating, to their embarrassment. They discovered Pueblo and nomadic American Indian tribes instead, whom they set about enslaving, murdering, plundering from and forcibly converting to Catholicism. (Pueblo tribes began building villages in the region around 900 A.D., though early tribes were in the area as far back as roughly 7000 B.C.E. Today, there are at least 23 Indian tribes represented in New Mexico: 19 Pueblo peoples, three different Apache tribes, and the Navajo Nation, also referred to by their ancestral name, the Diné.)

In between all the genocide, the Spanish also found some time to farm, and to create a few uneasy alliances with various pueblos when they weren't killing their inhabitants with imported European diseases.
That tenuous state of affairs held until 1680, when the Pueblo peoples united to drive the Spanish out of northern New Mexico, led by Popé, a spiritual leader from the Ohkay Owingeh Pueblo. Four hundred or so Spanish were killed. They stewed about it for 12 years, until Don Diego de Vargas came back and reconquered New Mexico, a reconquest that's often referred to in sunny local fictionalized lore as "bloodless."
In 1712, a local government council proclaimed that the reconquest should be celebrated each year. Today, that's the Fiesta de Santa Fe, held in September. It's a holiday period that's often jubilant for the descendants of the Spanish and intensely painful for Pueblo and other native tribes. The Entrada marks the start of Fiesta, when re-enactors dressed as conquistadors parade down the street.
Pueblo tribes have condemned the Entrada and Fiesta since at least the late 1970s, and protesters showed up in force to denounce it in 2016. Then, in 2017, the police elected to arrest the demonstrators and charge most of them with trespassing, after a violent shoving match between the two sides.
Particularly unforgettable were the images of a scrum of police officers arresting Jennifer Marley, a 21-year-old woman from San Ildefonso Pueblo in traditional dress. Marley is an organizer with an activist group called Red Nation, and was charged with assault on a police officer, for supposedly hitting one with her sign. She has written about the arrest, calling it part of a tactic to squash Native-led activism.
"I was taken as a political prisoner to actively suppress the recent resurgence in Pueblo resistance," she wrote.
The charges against all eight activists, including Marley, were dropped in December, but the decision to arrest them at all marked a turning point, when it became clear that Santa Fe's new reckoning with its history was going to be turbulent, defensive, and quite possibly violent.
Another flashpoint came at this year's Women's March in late January. Santa Fe's version was organized by activists affiliated with Power to the Polls, part of Women's March Inc., the national, New York-based organization that organized the first, historic Women's March on Washington last year. In an unfortunate oversight, through a mixture of what sounds like honest error and a strange lack of follow-through, no Native women were on the speakers list in Santa Fe.
Christina Castro was outraged by the omission. She's a writer and educator finishing a doctorate at Arizona State, and a founding member of the Three Sisters Collective, an activist and artist group organized by three women who have Tiwa and Taos Pueblo roots. Castro is from the Jemez and Taos Pueblos and has lived at both, as well as in California; she now owns a house in Santa Fe.
Castro says that to her understanding, the organizers of the Santa Fe Women's March reached out to Tewa Women's United, one of the largest and best known Native activist groups, to ask one of their organizers to speak at the rally. When they didn't get an immediate response, she says, "They just stopped trying. They dropped the ball."
A large group of Native activist women marched to the plaza together on the day of the Women's March. When they arrived, they were dismayed by what they saw. "We had signs reading 'Our Pussies Aren't Pink' and 'No More Stolen Sisters,'" she says, referring to the epidemic of murdered and missing indigenous women in Canada, the U.S. and Mexico. Onstage, she says, in a town that's founded on stolen Tewa land, "We had no acknowledgment, no blessing, no anything from anybody tribally affiliated. Then one after another, more women talking and no women of color."
The Native women activists started chanting. They continued over Mayor Javier Gonzales's speech, getting louder and louder. They stood around an obelisk at the center of the plaza, which was erected in 1868 as a Civil War marker, and which used to read "To the heroes who have fallen in various battles with savage Indians in the Territory of New Mexico." (The word "savage" was scratched out in 1974, by a still-anonymous man who calmly did it in broad daylight, in front of numerous onlookers. The word "courageous" has been written over it.)
Castro was growing angrier and angrier, she says, even when a white woman wearing a Women's March lanyard saw her chanting and gestured for her to get onstage and speak. "I was like, no, I'm not going to be tokenized," she says. "I was already pissed off at this stupid thing."
The woman walked away, and Castro says she had a moment of inspiration. "I'm like, if they want me, they're gonna get all of us." She looked at the other activists standing with her. "I said, 'Are you down?'" Everyone nodded. "So then we just pushed through the sea of pink pussy hats and all these women and pushed our way to the stage."
Once there, Castro started to chant, "On our back is your movement!" and "This is Tewa land!" The speakers onstage, she says, "were bugging out. They didn't know what to do. The lady with the mic was pissed off."
But after a moment of confusion and perhaps a little fear, she says, the crowd understood what was happening. From the crowd, Castro heard someone yelling, "We can understand why you're mad!" The sea of women in pink pussy hats, most of them anyway, started chanting with them.
Amber Morningstar Byars, a Choctaw artist and activist who was born in Santa Fe and who marched with Castro and the other Native activists, took part in the stage takeover. She saw it as part of a new surge of activism led by Native women and given strength by the organizing and community-building power of social media.
"You're seeing uproar," Byars says. "And the country is taking notice now because we've had enough. We've suffered under oppression and assimilation and cultural genocide and colonialism for way too long. Native people, especially Native women, have had enough."

This new and difficult reckoning with history is happening in many places in New Mexico, all at once: The New York Times wrote recently about Latinx families in the region who are grappling with the revelation that their ancestors owned American Indian slaves. Latinx and Native communities who have shared property lines in northern New Mexico for a long time are having a spate of property disputes, as various Pueblo tribes exercise their sovereignty in ways that their neighbors object to, like road easements and new casinos.
This newly-energized activist base and the renewal of some very old debates is a strange contrast to the increased number of people in my social circles— liberals and hipsters and hipster liberals—who seem enamored of northern New Mexico as a peaceful, sage-dusted vacation destination, full of empty space for them to fill with interpretations I find utterly foreign.
It's part of a phenomenon I didn't know how to name for the longest time: young, hip, urban-dwelling people taking on what I'll call Crystal Tendencies. They get really into the healing properties of rose quartz or tourmaline. They start burning sage and Palo Santo and talking about energetic cleansing, either sincerely or with a little winking self-consciousness: God, I'm such a hippie. They buy expensive, symbolically-laden candles and herbal remedies off Etsy and soak up everything Amanda Chantal Bacon has to offer. They talk a lot about "wellness" and self-care, by which they mean massages and serums and just taking it really easy on yourself.
And when the Crystal People are in particularly deep, they come to Santa Fe, where they joke about how someday they'll move there, becoming eccentric old earth mothers who make a lot of tofu and wear peasant skirts. You can see it all briefly encapsulated on the show Grace and Frankie when, at the start of the fourth season, one of the titular characters moves there. The show's version of Santa Fe is all aging hippies who buy Frankie's art while saying things like "Your jackalope moves me." Everyone is white. They do, honestly, remind me of a very few white women I used to see growing up, a character type I truly thought was on its way out by the '90s.
All this is, as it turns out, something Los Angeles is very familiar with; it's been dubbed the Silver Lake Shaman, a personality type that Quartz memorably nailed, a personage awash in natural fabrics and flattering Instagram filters, seated on a snow-white couch, surrounded by a haze of incense and some specific accoutrements.
"The Silver Lake shaman is no more an actual shaman than the Brooklyn lumberjack felled trees for a living," Jenni Avins wrote, "But the lifestyle does include supplies a person might find in a healer's tipi: crystals, smudge sticks, and essential oils among them."
The Silver Lake Shamans have begun cropping up now in Brooklyn, cousins, perhaps, to women who suddenly started calling themselves witches around 2015 and proclaiming to have very real feelings about astrology. (Not to be confused, of course, with the actual Wiccans.) Fake shamanry is a pose that makes even less sense in New York than it does in LA, but it does a good job signifying that you're a certain kind of person: Deep. Centered. Spiritually wise. Plus, you have a lot of crystals, which look beautiful on your social media feeds and signal that you have a certain amount of disposable income, which you spend on nice rocks.
Avins's reference to tipis was clever: A lot of what the Silver Lake Shamans do refers to and "borrows" from Native Americans, without ever directly acknowledging them. Instead, it enfolds them into a sort of a muddled New Age haze, while erasing a lot of their particulars. Crystals, for example, aren't really an American Indian thing, at least not the idea that buying a crystal will heal your individual spiritual or psychological ailments.
"In my culture," Amber Morningstar Byars explains, "different bird feathers and different precious metals and different rocks, they hold value. I believe that, yes. But do I believe walking into Mama's Minerals and buying a crystal will heal whatever ailment or rid me of anxiety or whatever it is people are wanting help with? I don't really believe in that. I think it's a bunch of…" She pauses, tactfully, looking for the words. "Hippie un-organic quick-fix spirituality."
The crystal people are, I think, probably well-intentioned. Some of them are surely sincere spiritual seekers, looking for a different, less harried lifestyle, one that's closer to the land, kinder to one's own body and mind. They're people who are, in all likelihood, horrified by racist mascots and Confederate statues, even if they're not always able to see the subtler ways they're loading up, cafeteria-style, from cultures that aren't theirs. And the ones who come to Santa Fe are clearly inspired, sort of, by New Mexico's very real place in the history of the counterculture movement.
Northern New Mexico has, for a very long time, been a place that where artists and bohemians were drawn. One of the earliest was Mabel Dodge Luhan, a wealthy white arts patron who fled her cushy East Coast upbringing and founded an artists' colony in Taos in 1917. The colony attracted, over time, some of the most influential American artists and writers of the twentieth century, including Ansel Adams, Aldous Huxley, Willa Cather, and of course Georgia O'Keeffe, who's become synonymous with New Mexican art.
Luhan soon divorced the husband she brought to New Mexico, married a local Taos Pueblo man named Tony Lujan, and Anglicized her new last name so that her friends back East could pronounce it. ("Lujan" and "Luhan" are pronounced the same way, but white people back East at that time would have uttered it with a hard "J" sound.) One of her stated aims was to encourage her white Eastern artist friends to celebrate and capture and memorialize Indian culture, what looks today like a queasy mix of boosterism and condescension.
It worked, in a way. Or at least it worked on white people: The Taos colony kicked off a wave of artistically-minded white eccentrics who moved to the area, among them my paternal grandparents. (The maternal ones came later. They just liked the weather.)
My German Lutheran grandmother was born in South Dakota and moved as quickly as she could to New York, where she met my grandfather. After their marriage, they started a semi-nomadic existence that brought them, eventually, to New Orleans. It didn't last.
"They couldn't quite conform to Southern ideas about race," my dad says. That is, no matter how often they were told, they couldn't quite get the idea that they were supposed to view and treat black people as their inferiors. In the end, my grandmother, pregnant with her first child, was evicted from their Garden District apartment when she served lunch to a black maid. They lit out for Taos, where an artist couple they knew from the East Coast had told them they'd find cheap housing and like-minded people.
They did. They found one of the truer homes they've ever had, the place they'd return to again and again, the place where both of them would eventually die and be buried. They also found, to their disappointment, toxic racial dynamics similar to the ones they'd hoped to leave down South. The white artists dotted northern New Mexico, marveling at the light, renting little adobe houses and congratulating themselves on finding their little slice of the golden Western promised land. They also also employed local Hispanic families for housekeeping and maintenance, paying them offensively low wages and treating them in a way my grandparents found unpleasantly familiar. ("Hispanic" refers to descendants of the Spanish and sometimes Mexican colonists who started coming to the region with Coronado.)
"Anglos who came here during the wars just loved it," my dad tells me. "You could pay Hispanic people very little or nothing." He has memories of his father berating one of the artists for cheating the people who worked for him, not that the yelling got them raises.
In the 1960s, the next wave of eccentrics started to show up. Jack Loeffler was one of them, a jazz musician who hung around with Beat poets in California's Marin County, and who moved to Santa Fe in 1962, after first falling in love with it on a hitch-hiking trip in the mid '50s.
Loeffler, who's now 81 and a well-known writer and historian, was one of a group of white environmentalists who'd begun experimenting with peyote, a psychoactive substance that's been ritually used by indigenous people in the Americas for a very long time.
"My second peyote experience was in a tipi with Indians from five different tribal cultures," he remembers. "And that showed me a lot of stuff. They had a perspective that is now missing from the monoculture, the sense of the sacred quality of the land and rice."
Loeffler started spending a lot of time in Navajo communities in northern New Mexico before taking a job as a forest fire lookout on the Jicarilla Apache reservation. He watched as waves of seekers and environmentalists started coming to northern New Mexico, founding numerous spiritual communities. Some of them still exist, including the Lama Foundation and one of the largest Sikh communities in the country, while a host of smaller communes were born and died: the Hog Farm, Morning Star East, the Libre community in southern Colorado.
From where we sit, in 2018, it's tempting to dismiss these folks— apart from the Sikhs—as white culture vultures, but the reality is more complicated. Loeffler became instrumental in founding the Black Mesa Defense Fund, which fought the devastating strip mining that Peabody Coal carried out on Navajo and Hopi land. Loeffler also became dear friends with Edward Abbey, a beloved cranky old anarchist who's known as one of the great figures of the environmental movement, and whose book Desert Solitaire inspired legions of people to become conservationists. (When Abbey died, Loeffler tells me, he and two friends loaded his body into the back of a truck and buried him in a secret spot in the desert.)
But why the Southwest? "People who came to New Mexico and Arizona were coming almost as a reaction to the urban environment," explains Meredith Davidson, a historian based in Santa Fe and an expert on the counterculture movement in the region. "It as a way to get out of the Haight Ashbury or get out of these overpopulated areas and pursue this kind of, mythologized, sometimes true but definitely romanticized image of a back to the land utopia."
And of course, she says, "A lot of that 'back to the land' utopia myth has to do with images of Native Americans."
Davidson's research has shown her two parallel movements. "There was a percentage of people coming out here, getting engaged with people like the Taos Pueblo elders, learning from them, participating in peyote meetings, learning to build adobe," she explains, a group who were interested in learning while trying not to appropriate. And then, she says, "there are the people you're thinking about who come out and appropriate this image of a Southwestern person: turquoise jewelry and peasant skirts and this and that. Those don't seem to be the people who stayed and were engaged in making New Mexico what it is."
Loeffler was also highly aware, he says, of the ways that the hippie and environmentalist movement started to become reflected in the larger consumer culture.
"So much of the hippie scene was made manifest in the celebrity aspect of it, the rock and roll scene and all that," he says. "People got hung up in celebrity and all that entailed: wearing far-out jewelry and clothing. That did prevail in the communes." He remembers white people wearing "mojo" charms around their necks, and he's aware of their spiritual grandchildren today, who he calls "those people who insist on the turquoise array of stuff."
"That whole milieu is a very superficial offshoot of the counterculture," he says. "It really has no depth or meaning whatsoever except it's a way to spend money, at a time when money is a form of energy that could do a lot of good towards restoration."
In other words, people have been, for a long time, buying the accessories of New Age spirituality and environmentalism without, in any meaningful way, tapping into either movement. They visit the gift shop without stepping foot in the museum. That's what we're seeing in the Silver Lake Shamans, of course, as well as some other, weirder cultural developments. In December, to my bafflement, the New York Times style section published a piece on turquoise jewelry, calling it the new stone of choice for men who, as one of the subjects put it, want to be "masculine and mystical at the same time."
Turquoise and silver, the author enthused, "with all its associations, can convey that you're in the know but also a little left of center. It's sophisticated but a little kooky." A "trend forecaster" quoted in the piece said turquoise represents "the modernization of Americana, a lot of which is rooted in the appreciation of the great outdoors." And he called Santa Fe "the Mecca of the vintage world."
This is a long way around to avoid mentioning some obvious things: The piece barely mentioned that turquoise is a stone used and prized primarily by Native artists, one that's symbolically important as well as kooky or mystical or nice to look at. Many of the Santa Fe stores mentioned in the piece as prime places to buy turquoise are, to my knowledge, not owned by Native people. They didn't mention that Native artists gather on the plaza to sell some of the finest jewelry in the state, in a way that allows you to give your money directly to the makers themselves. (Full disclosure: The Native artists sell their jewelry under the portal, or porch, of the Palace of the Governors, a museum where my mom Fran Levine was the immediate past director.)
Nor was there any mention that turquoise, like quinoa before it, is in danger of being loved to death. In the past few years, as its global popularity has risen, Native artists have seen a shortage of certain types and been forced to use lower quality "stabilized" turquoise instead of the natural variety.
Barely mentioning Native artists in the piece was a fairly serious oversight, given how fiercely they've had to fight to protect the integrity of their craft. Marvin Slim is a Navajo silversmith who sells his work under the portal, alongside his wife Luana, who's from San Felipe Pueblo. Like many Native jewelry artisans in New Mexico and throughout the Southwest, Slim has dealt for years with the problem of imposters: people selling Native knockoff jewelry, sometimes using fake Navajo names.
"Every major outlet," he tells me, "Santa Fe, Scottsdale, Gallup, Flagstaff, everywhere that was known for jewelry, have all these major stores owned by people from the Middle East. They're selling pieces made in the Philippines and saying it's Navajo work, using names like Begay or Yazzie," both common Navajo names. He's heard that someone even legally changed their last name to Zuni in order to be able to legally claim they were selling "Zuni" work. (Five people from the Philippines were indicted last year for allegedly importing and marketing fake jewelry. One of them, an Albuquerque dealer named Nael Ali, is set to be sentenced in April. He was selling jewelry stamped with the fake Navajo name "Calvin Kee.")
Slim says that tourists who are responsible and well-informed about what they buy can both cut down on the problem of knockoffs and honor the work of the artists themselves. (Another way to do that: don't haggle over prices, something that's firmly unacceptable among the artists, but that white tourists tend to do.)
"My family and I use a lot of silver," Slim tells me. "So the piece is nice and heavy." When you hold it in your hands, he says, "you can feel the quality of the work." And each of their pieces are signed with a permanent stamp, which are registered trademarks that the museum keeps on file.
Slim himself is generally fine with non-Native people wearing symbols like squash blossoms, but only if they're aware of what they're buying. "To wear it, it's fine, but to know where the meaning comes from," he says. "It's nice the tourists always come back to us. We're more of an educational program, sometimes. The best thing to do is ask questions: What's the meaning behind it? What stone do you use?"
There's some disturbing amnesia at work, too, in things like the Times piece, given that all of this takes place just a few decades after the literal theft of Indian artifacts became a huge issue in New Mexico. New laws were passed in 1979 to prevent white treasure hunters from stealing and selling Indian pottery and jewelry, which they were taking from archaeological sites, tribal land and other protected areas.
My dad will reluctantly allow that he wrote the bulk of that 1979 law, the Archaeological Resources Protection Act. He remembers how difficult it was to get white collectors and antiquities dealers and even ranchers hunting for arrowheads on their own land to see what they were doing as grave-robbing.
"They didn't regard those as graves," he says. "A grave is something in a cemetery with a cross on it. The idea that you needed to show respect for somebody buried 1000 years ago wouldn't even have occurred to them."
Today, he's highly aware that a lot of white jewelry buyers come to Santa Fe without, perhaps, a clear picture that Indian cultures are still around.
"I'm not sure it occurs to many of them that the Indians are still there," he says dryly. But he also sees concrete reasons why that's so. "One reason for that is that the pueblos are still to some extent a closed society," he explains. You can't take photographs on most Pueblo lands—the high speed train that passes through tribal territories even has an announcement to that effect—and many religious ceremonies aren't open to outsiders. It's not, in other words, a tradition meant to be available to just anybody. "You can't waltz into a pueblo and say, 'I'm here so you can tell me about your religion.' The answer is going to be silence."
And because pueblos still operate with a high degree of self protection—and for good reason—white visitors are left to play outside in their version of an imagined sacred space, creating the weird cultural mish-mash we see in Silver Lake and New York and elsewhere. You only need to look at the sheer number of non-Native people who will excitedly purchase tipis for their backyards or even for their cats. Miley Cyrus bought one from a white-owned company in Bend, Oregon, although she stopped sleeping in it after her house was robbed. And late last year, Amber Byars, the Choctaw artist, was horrified to see photos online of Demi Lovato's Los Angeles backyard, also dotted in tipis.
This isn't just a matter of objecting in a general way to insensitive cultural appropriation. Byars participated in the water protector movement at Standing Rock and was tear-gassed there. She spent months coughing, hacking up unidentifiable poisons. Seeing a non-Native celebrity putting up a tipi stung in a specific way.
"I saw that and was like, how fucking nice that Demi Lovato gets to have tipis in her chic backyard," she says. "Yet exactly a year ago our tipis were being burned to the ground by the Morton County Sheriff's Department." (Snopes, it should be noted, has pointed out that there is some dispute around whether tipis were specifically intentionally burned. In one of the most violent attacks on Standing Rock by law enforcement, protesters were pepper-sprayed, shot with non-lethal but painful and destructive "beanbag" guns and blasted with sound cannons before a number of tipis, tents and mobile sweat lodges were seized. Even the water protectors' horses were attacked, one reportedly so severely that it had to be euthanized.)
"How nice," Byars adds, witheringly, "that she gets to enjoy a part of our culture that we still cannot enjoy." The memory still burns. "It's a really sensitive subject," she says. "It's just a slap in the mouth whenever I see anything like this. My people have struggled for 500 years against the oppression and weight of assimilation and weight of genocide, rape, murder, land theft and yet these people just get to parade around and take whatever they want from our culture with absolutely no repercussion."
Byars sees the same spirit of blithe, unconscious exploitation in many of the visitors to northern New Mexico, she says. " People come here for skiing, for the food or the green chile or the shopping. But they don't come here for the people. They don't really come here for the land. That's something that really bothers me. They got off the plane, get in the rental car, drive around, consume, consume, consume, then they take off. And they don't do anything to recognize the people who have lived here and who still take care of this land."
"It's the commodification of culture," says Christina Castro, the activist who's part of the Three Sisters Collective. "That's part of the patriarchy. Because what is valuable in the patriarchal construct or Western capitalism is only in relation to money, to what generates revenue. And I see Native women's lives have no value. That's why missing and murdered Native women, nobody looks for them. That's why fracking and extractive industries always seem to be around Native reservations, around the Tar Sands and Chaco Canyon, trying to frack around our sacred sites."
It leaves her feeling, Castro says, that "Native lives don't matter and Native women's lives don't matter because there's no marketable value to them. Our aesthetics, our jewelry, what we can produce that's worth selling—a Diné rug, Santo Domingo jewelry, that's worth something, but our lives aren't."

The Crystal Capitalists aren't just participating in some warped, consumer-focused version of hippiedom. They're doing a thing outsiders, especially white ones, have long done in New Mexico: consuming too greedily, too obliviously, while imagining themselves to be in a new and untouched place, a sort of Manifest Destiny-lite with souvenirs. That's manifested in various ways for many years: Movie stars and Oprah and Donald Rumsfeld all came to Santa Fe or Taos at various times, building themselves second or third or fifth homes, high-walled ones on parcels of land triple the size of anything their neighbors could ever dream of owning. They always seemed to think they'd really gotten away from it all, that they were in pre-contact civilization where nobody would know who they were, full of simple rural brown townsfolk who were surely too unworldly to know who they were.
Nobody's going to stop being attracted to the arty crystal person desert lifestyle, and they're not going to stop coming to Santa Fe. But Byars encourages visitors to come with the knowledge that you are stepping into sacred, complicated, contested space. "I'm a firm believer in honoring the land and its ancestral inhabitants first and foremost," says Byars. "Whenever I travel, no matter where I go in the world, I always make sure to have done some research ahead of time to find out who the original peoples of that land were," she says.
It wasn't unusual when I was growing up to see one of the movie stars stalking around Santa Fe wearing what he probably imagined was local garb: an absurdly fringed leather jacket, a precarious 10-gallon hat, gleaming boots looking like six months of someone's salary. The Texas oil barons did it too, talking louder than any New Mexican ever would and buying up all their neighbors' land. I saw an unmistakable specimen the last time I was home, swaggering down the street with someone I will charitably assume was his daughter. He wore a pure-white buckskin jacket so ludicrously fringed, a hat so large, a look of satisfaction so complete that my mother and I both started laughing and couldn't stop. He looked affronted.
Correction: An earlier version of this post misidentified Tony Lujan, who is from Taos Pueblo.