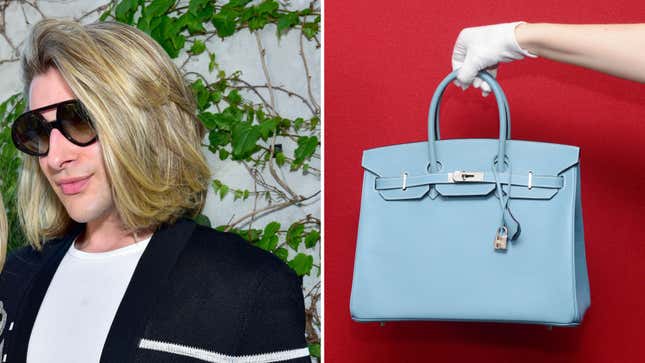 George Mickum writes in his LinkedIn bio, "At 14 years old, I had a clear vision. I wanted to help men and women select apparel that not only looked positive, but made the wearer their best possible selves." Fifteen years later, Mickum is being accused of selling fake Birkin bags to Manhattan status seekers in a very lucrative scam. He might not be helping folks be the best version of themselves, nor is he really being the best version of himself, but he's certainly being the best version of a scammer I've seen in a while.
According to Page Six, Mickum told wealthy Manhattanites that he could hook them up with the coveted bags via his connection to Michael Coste, the manager of external relations at Hermés. But when one of the women he sold a Birkin to (they go for around $30,000 a pop) went to get hers authenticated, she discovered it was fake. She was too embarrassed to give her name to Page Six—and I would be too if I'd spent more than $100 on a purse from a guy named George whose fashion consulting company is called "Georgeous"—but she revealed that she'd met him at a London event for Prince William and generally trusted him.
"As far as I knew, his mother was close friends with the Prince of Wales. [George is] also a pretty recognizable person around [New York]," she said. Associating yourself with royalty? Anna Delvey, who only deigned herself to be an heiress, is taking notes.
A representative from the bag verifiers at Madison Avenue Couture confirmed to Jezebel via email that multiple women have been scammed by Mickum.
G/O Media may get a commission
25% Off
Coleman SaluSpa Inflatable Hot Tub Spa
"It was actually a few counterfeit bags that were brought to us that were purchased from him," they said, adding that the victims of the scam "were upset, since this person was considered their friend and part of their inner circle. It was a breach of trust." They were not sure where Mickum sourced the counterfeit bags from.
So who is the new kid on the scam block? Page Six erroneously identified him as a writer at Guest of a Guest, a claim GoaG debunked in their own writeup of Mickum. His last listed gig on LinkedIn is "PR and sales," which is, oddly enough, pretty precise. A search through Getty image results shows him with a blowout that Joanne the Scammer would find enviable at elite NYC events like the Central Park Conservancy 2022 Luncheon and Town and Country Anniversary Dinner. The scammer is in his natural habitat.
Born in Washington, D.C., and son to former senior Bill Clinton adviser Sally Painter, Mickum worked his mother's connections in the capital to start dressing "ambassadors and other D.C. heavyweights," according to a 2012 WTOP profile on his fashion consulting services. "It's always been told to me that I look very mature for my age and that I never really acted my age. That was a big help. I never really mentioned my age to anyone," he's quoted in the profile. Scamming 101: Never reveal your age.
When Page Six reached out to Mickum, he responded, "No comment. I appreciate you reaching out, but unfortunately I have nothing to say." (Mickum hasn't responded to Jezebel.) But perhaps his actions speak louder than his lack of comment: A source told Page Six that he has returned some of his alleged victims' money after they've called him out on it. What I would do to be a spotted lantern fly on the wall of the next Central Park Conservancy Luncheon!
It's nice to have a scam come across the ol' news desk that doesn't feel haunting or depressing in any way. Not-not denying that you're friends with Prince William, being evasive about your true age, and hanging around the ladies who lunch crowd when you're easily 25 years their junior is top-tier scammer behavior. Real crème de la crème we're being served here.
Sure, Mickum shouldn't be (allegedly) selling counterfeit bags, but you're not going to see me on God's Green Internet offering much pity to someone who can drop a down payment for a house on a satchel of leather. If they have that sort of money, they have the time to get a bag authenticated before spending it. I said what I said!