The six-year marriage of Mandy Moore and Ryan Adams was long ago reduced to a zombie state, but the two finally found the time to sign the divorce papers and go about the messy business of dividing up their considerable assets. So what's everyone gettin'? Well:

According to the divorce docs, neither will pay spousal support. Mandy is keeping a Bev Hills condo and a 2012 Prius. Ryan will be the envy of teenage boys everywhere — he's keeping his comic book collection, some pinball machines ... plus a 2008 Porsche Carrera and a '59 Cadillac.
Moore's keeping their Griffith Park home, and they're splitting the furniture, which strikes me as oddly prosaic. I'd always figured celebrities purchased homes fully pre-furnished by sharp-tongued interior decorators named Fritjof, who make sure all the linens are pulled taut and the fridge is stocked with Perrior before the new owners even take possession of the keys. Imagining Adams trying to decide where to shove an armoire makes me uncomfortable.
Adams is also forking over $425,000 to Moore to even up their takeaway assets. Hands, washed.
[TMZ]
---
JoJo's self-titled debut album was released 12 years ago today, but you won't find it on either iTunes or Spotify thanks to a stranglehold by her former label, Blackground Records.
G/O Media may get a commission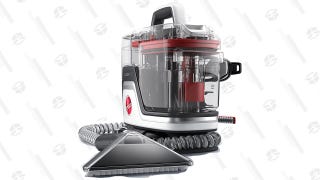 Save $10
Hoover CleanSlate Plus Carpet & Upholstery Cleaner
This is a real damn shame, since that album contains some of JoJo's seminal work, including but not limited to the heartbreak banger "Leave (Get Out)." Which, in retrospect, could just as easily be an ode to her oppressive label and the vagaries of the music industry, generally. As she wrote on Facebook:
12 years ago TODAY, I was 13 years old, and I released my debut album. So surreal. Wow. To say I'm sad and frustrated that this album is no longer available on iTunes and Spotify because of my previous label is a massive freaking understatement. That was such an important time in my life and set the foundation for the career I'm building brick my brick. For those who've supported me since the beginning- THANK YOU FOR CHANGING MY LIFE YOURE THE FUCKING COOLEST I LOVE YOU MADLY FOREVER AND EVER!!!!!!!!
Let's celebrate with some tearful booty-shaking and a heavy dose of early-aughts fashion:
[EW]
---
Image via Getty.