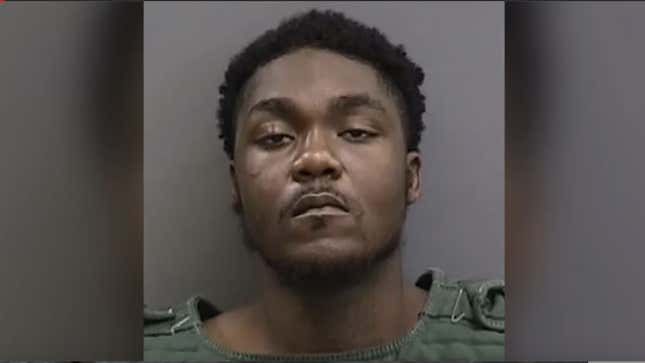 Robert Louis Singletary, 24, was arrested in Florida on Thursday after having shot a 6-year-old girl and her parents in Gastonia, North Carolina earlier this week—reportedly because he was annoyed that a stray basketball had bounced into his yard. And in a depressingly predictable development, NBC reported Saturday that Singletary had previously been arrested in December for beating his girlfriend with a sledgehammer and then holding her captive and forcing her to clean up the blood.
Taylor Lautner Doesn't Even Remember Saying 'Bella! Where the Hell Have You Been Loca?'
Per NBC:
The victim told detectives that she had been at Singletary's apartment and that he hit her in the back of the head with the sledgehammer. She said she immediately felt dizzy and disoriented and was bleeding profusely, according to authorities.
Singletary kept the woman in his apartment and told her that she could not leave "until she had cleaned up all the evidence from the assault," the news release says. She complied and then drove to the hospital after he let her leave, it says.
Singletary was held on a $250,000 bond but released on Dec. 15, four months before Tuesday's shooting.
The victims of Singletary's alleged latest shooting have all survived, for now—a bullet grazed the 6-year-old in the face and spared her mother, while her dad remains in the hospital in serious condition. Police said a fourth person was shot at but not injured.
It's absolutely absurd in this country how easy it is for man with a history of domestic abuse to purchase or possess a firearm—especially considering the close correlation between mass shootings and domestic violence. Per the Giffords Law Center, in "more than half of mass shootings where four or more people were killed, the shooter killed an intimate partner, and one analysis found that nearly a third of mass shooters had a history of domestic violence."
North Carolina, per the gun safety advocacy organization, has no law requiring the removal or surrender of firearms from the scene of a domestic violence incident or prohibiting people convicted of domestic violence misdemeanors from purchasing or possessing guns or ammunition. Last June, the U.S. House and Senate passed the Bipartisan Safer Communities Act, which at least partially closed the "boyfriend loophole" that allowed unmarried partners to hold onto their guns after they'd been convicted of domestic violence—but the bill still allows domestic abusers to get their guns back after five years. And Congress has yet to act on background checks for gun purchasers.
It's unclear how Singletary obtained the gun he used to shoot the young girl and her parents, as the incident is still being investigated. He now faces charges of attempted first-degree murder, assault with a deadly weapon and possession of a firearm.