A Canadian man who created a revenge website to terrorize his ex-wife has been arrested by U.S. border patrol agents and charged with criminal harassment and a firearms-related offense. Patrick Fox was arrested in Washington state after illegally crossing the border, CBC reported. His ex lives in Arizona and tells the news agency she is "more scared now than I have ever been in my entire life."

Fox, whose birth name is Richard Riess, created the website nearly two years ago and has used it to harass, demean and defame his ex, Desiree Capuano. Among his many baseless-seeming charges are that she's a stripper, a white supremacist, and an unfit mother. He told CBC he would keep the site up until Capuano is either dead or "destitute and homeless." Emails posted on the site between Fox and his teenage son show him saying he would have "no qualms" about shooting and killing Capuano if it were legal. She says he has told her via email that his ultimate goal is to harass her into killing herself.
The Royal Canadian Mounted Police investigated the site in January and decided not to bring charges against Fox, in part, a spokesperson told CBC, because he lives in British Columbia and Capuano is in Arizona. Now, Fox has been arrested in Washington state and charged with criminal harassment and "possession of firearms in an unauthorized location" by Canadian authorities. He appeared in court June 17.
CBC reports that Fox was detained in Washington for three weeks before being deported back to Canada, his fourth deportation. Capuano, who has an order of protection against Fox, expressed fear and dread that he'd been able to somehow make it into the country yet again:
Capuano said she was terrified when police recently notified her that Fox had made it across the border, and she is still frustrated they did not charge him sooner.
"I don't know why it took him crossing the border for a fourth time. At least he was caught," she said.

"I am more scared now than I have ever been in my entire life," she said, fearful he will attempt to cross the border again if released.
G/O Media may get a commission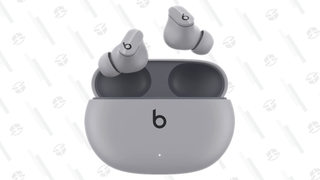 Fox's website is still up, and still among the first search results for Capuano's name. She told Tucson network KVOA that she wanted to file a defamation lawsuit against him, but is unable to afford an attorney.
Jezebel made a previous attempt to contact Capuano and was unable to reach her. If she is reading this, please contact the reporter at anna.merlan@jezebel.com.
---
Desiree Capuano. Screenshot via KVOA