This morning a man was kicked off a JetBlue flight after confronting Ivanka Trump, who was reportedly flying coach with her "family and a bunch of cousins" in what was either a photo opp, an emergency, or Kellyanne Conway's last act of revenge.

In a now-deleted tweet, Hunter College professor Matthew Lasner wrote of chasing down Ivanka and her husband, Jared Kushner, after spotting them in JFK's Terminal 5.
Lasner and his husband and Ivanka and Jared were all apparently booked on the same JetBlue flight, where TMZ reports Lasner's husband—referred to as an "unruly passenger,"—began heckling them.
"Your father is ruining the country." The guy went on, "Why is she on our flight. She should be flying private." The guy had his kid in his arms as he went on the tirade.

A passenger on the flight tells TMZ Ivanka ignored the guy and tried distracting her kids with crayons.
JetBlue personnel escorted the unruly passenger off the flight. As he was removed he screamed, "You're kicking me off for expressing my opinion?!!"
G/O Media may get a commission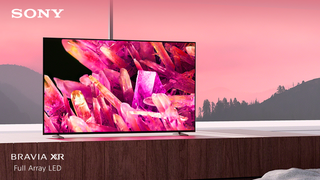 $400 off
Sony 55 Inch 4K Ultra HD TV X90K Series
Given Donald Trump's unabashed love of heckling people in front of a crowd—he singled out NBC reporter Katy Tur so many times she had to get Secret Service protection—I'm just surprised the administration didn't give Lasner's husband a cabinet seat right then and there.
Update, 1:15 pm: According to Marc Scheff, the man pictured sitting in front of Ivanka with his son, the heckler did not address Ivanka directly. In a Facebook post, which he later confirmed by phone, Scheff explains the man noticed Ivanka, said "Oh my god. This is a nightmare," and started "visibly shaking."
Scheff says it appeared that airline security made the call to remove the passenger and notes Ivanka said something along the lines of, "I don't want to make this a thing."
"My assessment of tone is that she meant to just let it blow over," he said, before jokingly offering to pass the phone to Ivanka to answer further questions.
I accepted the offer, but he demurred.