A Virginia man has been sentenced to 25 years in prison for repeatedly having sex with a 14-year-old Salvadoran girl in exchange for "protecting" her and her family from violent street gangs.

According to court records, Eric Noe Araujo Flores, 34, a Salvadoran national living in Ashburn, Virginia, contacted his former nanny in his home country and asked her to put him in touch with a teenage girl. The nanny offered up her 14-year-old niece, who told him that a local gang was threatening to hurt her and her family and that she needed help. Araujo Flores said he would oblige—if the girl would have sex with him.
Beginning in July of 2013, Araujo Flores made three trips to El Salvador for the express purpose of having sex with the victim, paying her in cash and also providing her and her family with "jewelry, food, and clothing," in addition to financing a move to a new apartment. From the Washington Post:
Prosecutors said he probably would never have been caught had he not then decided — after the girl tried to commit suicide — to smuggle her and her mother into the United States in June 2014. There, he continued to force himself on her repeatedly for another eight months.

...
After bringing the girl — then 15 years old — and her mother through Texas, Flores put them up in an apartment not far from the home he shared with his wife and two daughters. He repeatedly forced himself on the girl, telling her that she would be evicted and deported if she did not give in, prosecutors said. He also said he would stop paying for rent and food for her and her mother.
On Friday, a judge sentenced Araujo Flores to 25 years in prison on charges of sex trafficking and sex tourism, in addition to paying $40,370 in restitution to the victim.
Assistant U.S. Attorney Michael J. Frank said in court that the girl continues to suffer from post-traumatic stress disorder, and that the trial nearly fell apart because prosecutors were not sure she could testify.
G/O Media may get a commission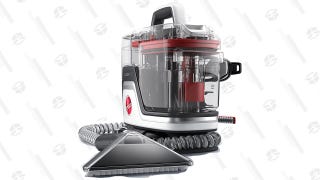 Save $10
Hoover CleanSlate Plus Carpet & Upholstery Cleaner
"Frankly, her life is a mess," he said.
Image via Shutterstock.