A Detroit man has been arrested on a laundry list of hideous crimes after police searched his home and found a woman padlocked to a stripper pole by her neck. Ryon L. Travis, 32, is accused of imprisoning four women as well as producing child pornography. He's responded to all that by claiming U.S. law doesn't apply to him.
Click On Detroit reports that the case against Travis, who also goes by "Dontrez," began as an identification fraud investigation; he was originally charged with fraud and identity theft, after he charged more than $50,000 to the credit card of a local business. But when police searched his home in the suburb of West Bloomfield, they found three women there that Travis referred to as his wives, one of whom was chained to a stripper pole in the living room, an Assistant U.S. Attorney said in court. The woman, 25, told police it was her punishment for attempting to escape, according to the Washington Post.
The woman also said she had known Travis since she was 19, and that he'd begun forcing her and the three other women to have sex for money, advertising them online. From the Post:
The woman noted that Travis had been pocketing her $700 Social Security disability check each month.

"She said that the defendant posted advertisements online and in chat rooms that he had four girls for sale," Assistant U.S. Attorney Sara Woodward said at a March 23 detention hearing whose audio was provided to The Washington Post. "And she said that if she or the other women refused to dance or perform sex acts, the defendant would be violent with them, and that he would hit them with a closed fist, kick them or push them down."
A federal indictment says that police seized Travis' phone and did a forensic investigation, finding numerous graphic images of a child being sexually abused. Travis has seven biological children, none of whom he has custody of. Police retrieved a sheet with a distinctive blue-and-white pattern from one of the bedrooms in his home that matched a sheet seen in the photos.
Travis claims to be a sovereign citizen, according to numerous media reports. He's also tried that one in court, which didn't, as you might expect, work out. From Fox 2 Detroit:
Travis tried to dump his lawyer during a detention hearing in federal court then tried to get the case thrown out.

"All laws are commercial in nature and I'm a natural born human American man," Travis said in court. "So since all laws are commercial in nature and I choose not to do business with this court, I ask that this case be dismissed."

Judge: "OK. Your request is denied."
Travis is charged with the production, possession and distribution of child pornography, as well as sex trafficking by force, fraud or coercion. He has pleaded not guilty. He faces many, many years in prison.
G/O Media may get a commission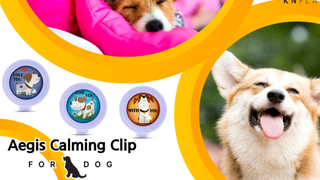 20% off
Aegis Calming Clip for Dogs
---
Ryon Travis. Screenshot via Fox 2 Detroit