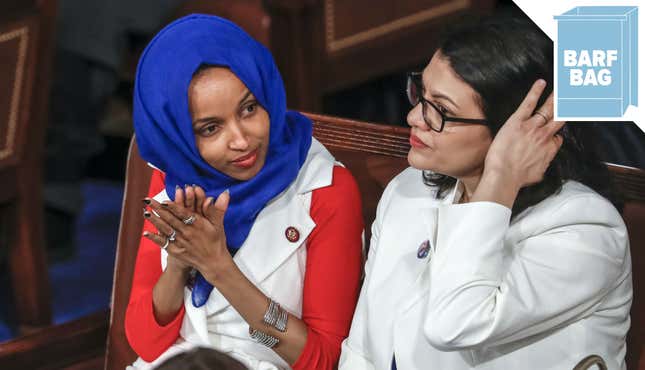 Good Friday not that great.
Here's all the shit we couldn't cover today:
A Florida man was arrested today after allegedly leaving threatening voice messages for Congresswomen Ilhan Omar and Rashida Tlaib, Congressman Eric Swalwell, and Senator Cory Booker. In a message to Tlaib, 49-year-old John Kless reportedly called the congresswoman a "Taliban bitch" and threatened to throw Omar off the Empire State Building. In his messsage to Booker, Kless repeatedly called him the n-word; to Swalwell, he promised he would be on his "death bed" along with other Democrats. Kless also took the time to voice support for President Trump. Shocker. [Miami New Times]

President Trump's favorite, The National Enquirer, is getting sold. [NPR]
Some goons in New Mexico are detaining asylum seekers at gunpoint to show support for Border Patrol. [New York Times]
Dems running in 2020 don't want to touch impeachment with a 10-foot stick:
Pete Buttigieg has questionable taste, and his husband called him out on it:
Here's Beto O'Rourke promising to return a donation from an oil lobbyist after a heckler called him out on it:
Here are some tweets the president was allowed to publish:
The president apparently hit the golf course before finishing his tweet thread. Mood.
This has been Barf Bag.