A 57-year-old Washington man has been arrested and charged in federal court with threatening employees of StemExpress, the biotech firm that used to work with Planned Parenthood to collect fetal tissue donations. Scott Anthony Orton, 57, allegedly wrote on FoxNation, "Kill StemExpress employees. I'll pay you for it."
The Sacramento Bee reports that Orton, who lives in Puyallup, WA, was arrested last week at his home by a deputy U.S. Marshal. In federal court documents, FBI agent David Rubel says he believes Orton was commenting on FoxNation under the commenter name "JoseyWhales," and made a number of very clear, very legally actionable threats against StemExpress employees, including several specifically against someone referred to in court documents as "Victim 1." They include:
The management of StemExpress should be taken by force and killed in the streets today.
Stop the death of innocents. Kill the killers.
Kill StemExpress employees. I'll pay you for it.
StemExpress your lives don't matter nearly as much as your deaths do.
The [officer] of StemExpress is a death profiteer. The [officer] of StemExpress should be hung by the neck using piano wire and propped up on the lawn in front of the building with a note attached...
[Victim 1] must die. End of story. If we as humanity accept her actions we're to be judged in the harshest manner possible.
The National Abortion Federation, a nationwide association of abortion providers, has been concerned about "JoseyWhales" for some time. In July, they filed a federal lawsuit asking for a restraining order and injunction against the Center for Medical Progress, the anti-abortion group that released the sting videos targeting Planned Parenthood and StemExpress. (The suit names David Daleiden of the CMP, Troy Newman, a board member and head of Operation Rescue, as well as "Biomax Procurement Services," the fake medical research firm created by the CMP.)
In a declaration, NAF president Vicki Saporta said the CMP videos had led to an outpouring of threats against abortion providers. She specifically cited "JoseyWhales," saying he had threatened on FoxNation to pay "ten grand" to anyone who killed Dr. Deborah Nucatola of Planned Parenthood and noting his threats against StemExpress employees.
G/O Media may get a commission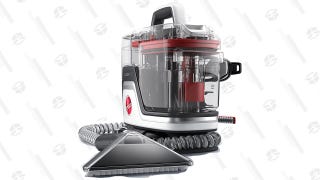 Save $10
Hoover CleanSlate Plus Carpet & Upholstery Cleaner
Because StemExpress is based in California, Orton's alleged comments became a federal matter. It's illegal to make interstate threats to kidnap or injure someone.
FBI Agent Rubel also notes that law enforcement has been "aware" of Orton's practice of sending threatening emails since 2009, when he emailed the Puyallup City Council through a supposedly anonymous email address. Among other things, he referred to the city council members as "tyrannical" and promised, "I am coming for you, creeps. You have committed crimes against freedom. You MUST be put out of office, permanently, and I loathe you for your deeds."

Orton told police at the time that he was merely voicing his political opinion and was "ashamed" to have given the impression of a veiled threat, adding, "I will not ever do it again."
But, he's also believed by the FBI to have threatened another FoxNation user in May of this year, promising, "You will die at my feet." And in June, he made threats on FoxNation against FBI agents, writing, "Hey FBI I will kill you for this" and calling for "dead FBI agents" to be hung from highway overpasses.
When FBI agents visited Orton at home last week, Agent Rubel writes in the federal court documents, he admitted to having made statements on Fox Nation with the intent of getting people to "wake up" and getting Victim 1 to "stop her behavior." He said he's a former professional copywriter and wanted to use "words that have a lot of meaning" and "cut like a knife." He referred to himself as a "wordsmith," and said that when he offered to pay "ten grand to whoever beats me to Victim 1," he was "just spitballing."
According to the Sacramento Bee, the government requested Orton be held without bail. Instead, he was freed on an "unsecured appearance bond"—essentially a note promising he'd come back for his court date. He's been directed to appear in a Sacramento court on December 29.
Update, 5:45 p.m.: The National Abortion Federation shared this statement from Vicki Saporta:
Since the release of highly-edited, misleading videos this summer, we have recorded an unprecedented increase in hate speech, threats, and calls to action targeting abortion providers. Some of the most concerning threats were posted online by someone using the screen name "JoseyWhales." We reported these threats as well as many others to law enforcement.

This type of behavior cannot be tolerated. We are very grateful that the FBI pursued an investigation and was able to identify the person responsible for making the chilling threats. It is imperative that he was arrested and will be prosecuted. People need to understand that there are consequences to making illegal threats online, even under aliases.

Threats like these contribute to a culture where some feel it is justifiable to murder abortion providers simply because they enable women to obtain the abortion care they need. Just last month, a shooter attacked a Colorado Springs Planned Parenthood clinic leaving three dead and nine injured.

We cannot sit back while people threaten providers every day. Nor can we be silent while public figures continue to spread lies about abortion providers and engage in inflammatory rhetoric that incites violence. We need to work together to deescalate the threats and extinguish the highly-charged rhetoric before someone else gets hurt.
---
Contact the author at anna.merlan@jezebel.com.
Public PGP key
PGP fingerprint: 67B5 5767 9D6F 652E 8EFD 76F5 3CF0 DAF2 79E5 1FB6
StemExpress CEO Cate Dyer, photographed in September 2015. Photo via AP Images