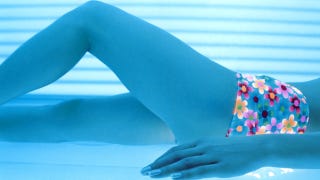 Jonathan Willink was booked yesterday on four misdemeanor charges for secretly recording women at Anytime Fitness in Monroe, Louisiana. When asked, Willink admitted to cops he'd recently purchased a small, contained video recorder. He allegedly hid the camera, on four separate occasions, in a tanning bed room at the gym where he's a member. Willink got caught not because ladies noticed the camera — they didn't — but because he took his laptop in to get fixed and a tech person called the cops after finding "several videos of women who were naked and lying in a tanning bed." Ugh. Also, it will be tough for Willink to claim innocence, since, apparently, in some of the videos, "Willink's face is seen as he adjusts the camera."
Even worse: According to documents, Willink had a really good reason for doing what he did:
According to cops, "Willink stated that he placed the hidden camera there because he had always wondered what it would be like to be in the tanning room while a woman was lying in the tanning bed."
Voyeur Filmed Naked Women In Tanning Bed [The Smoking Gun]