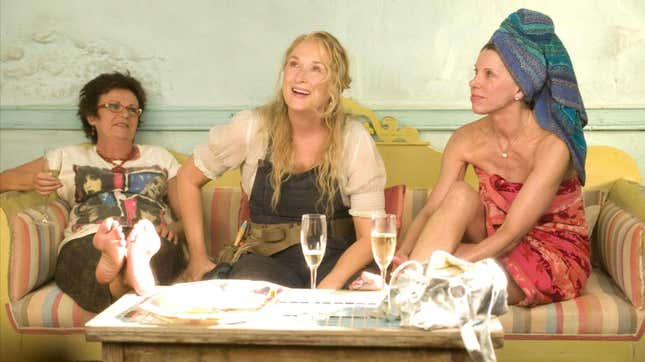 "You know, I have no clue which one of you is my dad, but I don't mind!"

I'm sure you know the story, but just in case you don't: This iconic line was delivered by Sophie (Amanda Seyfried) towards the end of the beloved film Mamma Mia! Earlier, Sophie had secretly invited three of her mother Donna's (Meryl Streep) past lovers—Sam (Pierce Brosnan), Harry (Colin Firth), and Bill (Stellan Skarsgård)—to her wedding. Sophie wanted her father to walk her down the aisle; the problem is, she grew up not knowing who her father was. She had hoped that by inviting the contenders to the island where she and Donna live, she would immediately be able to spot who was family and heal a part of her she always felt was broken. But when the three men arrive, Sophie feels a bond with each one, which only adds to her existential confusion. In the end, Donna walks Sophie down the aisle, and then reveals that she is unsure which of the men the father is anyway. "I just want to say it's great to have even a third of Sophie," Harry says happily. All three agree that a paternity test is unnecessary, and as she stands before her fiancé, Sophie proclaims that she doesn't need to know who her father is after all.
Mamma Mia! turns 15 this week, and every element—impeccable casting and costuming, a beautiful setting on the isles of Greece, ABBA—keeps us obsessed. Rumor has it the cast was tipsy during most of their performances, and we glimpse this in the best way: They are loose, giggly, and seem to be having the time of their lives, just as we have the time of our lives watching them. But I would argue there is a deeper reason for our cultural infatuation: We appreciate how the film is able to complicate traditional notions of family and community. Put plainly, Mamma Mia! champions family abolition.
---
There are many different ways to characterize a family. In her 2022 book Abolish the Family: A Manifesto for Care and Liberation, writer Sophie Lewis offered one definition, naming the family as a term "we use for the fact that care is privatized in our society." Lewis' criticisms of the nuclear family are multifaceted. She condemns the unequal power dynamics between a breadwinner and the person or people "making sandwiches with the hard-won bread"; the encouraged, near-total dependence of children on their guardians; and the "absurdly unfair distribution of labor" that often accompanies parenthood. Many people would agree with Lewis on these points at least: There are countless studies devoted to the loneliness and exhaustion of motherhood, or the number of children abused by their own parents. And yet, pushing these statistics a step further—admitting that these inequities are a symptom of the nuclear family structure, and pushing to abolish it—is seen as the highest taboo.
Still, Lewis insists: "Transitioning out of the family will be tricky, yes, but the family is doing a bad job at care, and we all deserve better. The family is getting in the way of alternatives."
Most people know the traditional family system is broken and are searching for solutions—finding a "chosen family"—but feel uncertain of what that might look like. Mamma Mia!'s messaging is subtly reassuring in this way. Donna, a single mom and working mother who had a baby out of wedlock, is not the only adult in the film who shirked the traditional family structure. Her best friends Rosie (Julie Walters), a single food writer, and Tanya (Christine Baranski), a trophy wife fresh off her fourth loveless marriage, similarly embody nontraditional lifestyles. Crucially, all of the adults in the film find happiness not through their romantic partnerships but other avenues: for Rosie this is a job, for Tanya this is a thriving sex life, for Donna it is her daughter, for Harry it's his dogs, and for all, it's their friendships. In portraying adults who are thriving outside of the nuclear model, Mamma Mia! shows us what is possible, appealing to our discomfort with family structure on a subconscious level.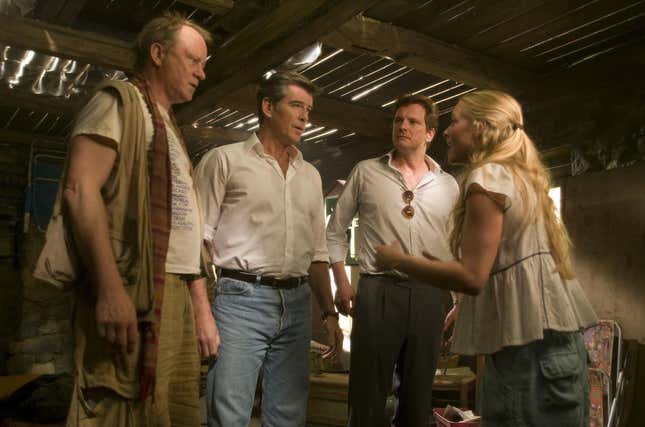 The trajectory of Sophie's character reinforces this appeal. At the beginning of the film, Sophie felt convinced that finding her biological father and getting married to her lover would bring her contentment. By the end of the film, she has rejected the idea that conforming to the model set out by the nuclear family will bring her greater happiness or self-understanding. At her wedding, after proclaiming she doesn't mind not knowing who her father is, she says, "Now I know what I really want," and tells her partner that they should travel the world together. By relinquishing expectations—deciding she needs neither a father nor a husband—Sophie is able to pursue a more thrilling and emotionally fulfilling life. In her book, Lewis directly addresses how having multiple or non-biological parents is a form of family abolition: "Restricting the number of mothers (of whatever gender) to whom a child has access, on the basis that I am the 'real' mother, is not necessarily a form of love worthy of the name." In this sense, Donna's notion and Sophie's agreement that a paternity test is unnecessary can be viewed as a gesture towards family abolitionist principles, too.

---
Family abolition, as defined by claiming people as kin beyond legal or biological ties, is not a new ideology. Queer people in particular have espoused it for years, both by force and by choice. In a 2016 essay, "Marriage Will Never Set Us Free," scholar Dean Spade argues against marriage equality for queer people, noting that "civil marriage is a tool of social control used by governments to regulate sexuality and family formation by establishing a favored form and rewarding it." Spade continues that "while marriage is being rewarded, other ways of organizing family, relationships, and sexual behavior do not receive these benefits and are stigmatized and criminalized." In this way, Mamma Mia!'s insistence on the validity of platonic or nonmarital romantic love can be considered queer.
In an era when it seems everything and everyone from Harry Styles to Bad Bunny to Cardi B is accused of queerbaiting or determined to be "queercoded," I at first hesitated to designate Mamma Mia! as a queer film. In fact, the only actually queer character in the movie, Harry, barely has his sexuality taken seriously, and there is more than one joke made at his expense over it. At the same time, it's impossible to ignore how the film champions queer, and particularly sapphic, forms of family-making and community.
In her crucial 1980 text Compulsory Heterosexuality and the Lesbian Experience, essayist Adrienne Rich writes that "lesbian existence comprises both the breaking of a taboo and the rejection of a compulsory way of life." She creates the framework of a "lesbian continuum," which includes all women, regardless of sexuality. Rich argues that the continuum "embrace[s] many more forms of primary intensity between and among women, including the sharing of a rich inner life, the bonding against male tyranny, [and] the giving and receiving of practical and political support."
It is this definition of lesbianism that Mamma Mia! most closely adheres to. Though the plot masquerades as a preoccupation with fatherhood, the film is actually much more interested in unraveling bonds between women, be it relationships between a mother and daughter or friends. Donna's relationship with her daughter certainly exemplifies what Rich would consider a "rejection of the compulsory way of life," as would her connection with Tanya and Rosie. In "Chiquitita," the two friends take turns parenting Donna—combing her hair, drying her tears—while promising her that she'll be "dancing once again, and the pain will end." It's a particularly tender scene that marries the angst of girlhood with the existential worries of motherhood and middle age, illustrating the necessity of feminine camaraderie in all stages of life.
At the end of the film, Donna gets her fairy tale ending in the form of Sam, her long lost lover who finally agrees to marry her. Though the scene is sweet, it almost feels unnecessary: That's not the true love story we watched unfold.
Mary Retta writes about politics and culture. Her work can be found in New York Magazine, the Atlantic, the Nation, and elsewhere.