We're living in an era of "scandal" nostalgia, in which networks, publications and podcasts are revisiting decades-old salacious headlines that already took up a huge chunk of our time and attention. In recent years, we've seen new media about old news narratives that shocked our nation over the course of weeks and sometimes months produced about the hazy facts surrounding the true crimes involving Jonbenet Ramsey, Amanda Knox, Jodi Arias, and Tonya Harding. Only occasionally do these yield anything beyond a means to occupy ourselves all over again. O.J.: Made in America, for example, offered useful perspective on the history of race relations in our country that didn't merely explain the divided public reaction to his acquittal, it thoroughly examined the current state of racial unrest, how little progress has been made in the past 20 or so years. It felt like the story needed that much time to breathe to completely interrogate its impact and implications.

Given this precedent of revisiting viral misdoings, it's ironic that a relatively recent public outcry involving a sex crime whose lingering shadow might actually be useful has, for practical purposes, gone forgotten. In 2014, "Mama" June Shannon, the matriarch of the family profiled in the 2012-2014 TLC series Here Comes Honey Boo Boo, got back in touch with a man convicted of molesting one of her daughters after he was released from prison for doing so. Just days after the story broke, TMZ posted a photograph of her hanging out with him around another one of her kids.
That prompted immediate cancellation of Honey Boo Boo, banished Shannon to the tabloid netherworlds of Dr. Phil and Entertainment Tonight and, at the time, seemed to ensure that her once-hot family was pushed out of the mainstream, like the farts they so proudly dusted over America. But she didn't go away for long—she's back in the same venue in which she made her name, reality TV, on a similar show, commanding more or less the same amount of attention. It's as though nothing happened.
G/O Media may get a commission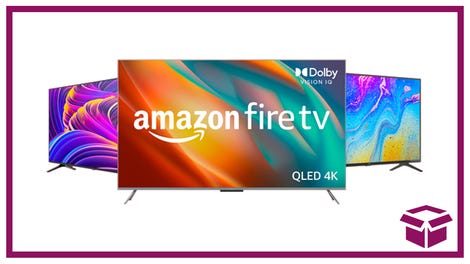 Ooh. stunning.
New Amazon Fire TVs
Even without the reunion with a child predator and its ensuing outrage, it seemed unlikely that June and her clan would stick around pop culture for long. That's just not how these reality franchises work. Even Shannon, a woman whose shtick involved taking pride in her ignorance by mispronouncing words and making what at the time seemed endearingly questionable parenting decisions, knew this. When I interviewed her for Gawker on 2012, she told me, "Reality TV don't last more than three years. People have a good run for about three years. Some people fizzle out within a couple of weeks. We've had about 10 weeks and if it stays for the next three years, great."
Almost five years later, Shannon as well as the reality star formerly known as Honey Boo Boo (her daughter Alana), and various other members of her family, endure. The second season of the WE tv series Mama June: From Not to Hot premiered Friday. The first, which aired last year, was very much a continuation of Here Comes Honey Boo Boo. The emphasis shifted slightly to Shannon, who in losing 300 lbs., shed her former self a few times over and in multiple ways—physically but also narratively, as her fraught past seemed to melt away like fat. (Relegated to supporting roles are her daughters Alana and Pumpkin. Previous Honey Boo Boo regular Jessica is nowhere to be found, and the molester controversy severed Shannon's relationship with her eldest daughter Anna.) It was a weight loss so dramatic, reality TV must have seemed like the perfect host venue for it.
A press release issued by FerenComm on behalf of WE tv claimed that the first season of From Not to Hot averaged "more than 2 million viewers throughout"—on par with Honey Boo Boo's third and fourth seasons. (TV By the Numbers reported Friday's premiere number were down to 904,000.) We can assume that the majority of the family's audience either forgot about Shannon reuniting with a convicted child molester that threatened to banish them from pop culture or simply didn't care.
Nor did anyone much seem to care that one of the show's regulars, Michael "Big Mike" Mclarty, has a tattoo featuring swastikas on his left forearm. Some viewers noticed and discussed it on Twitter during the show's premiere, some outlets reported it, and then it evaporated. Emails from Jezebel to WE tv, FerenComm, and Mclarty's manager on this subject have all gone unanswered.
To be charitable, it might have been easy to forget how gross the situation with Shannon and her ex was, because its details are practically unbelievable in the first place: In October 2014, TMZ reported that Shannon was dating a man who molested her relative. Soon after, news broke that the relative in question was Shannon's own daughter, Anna "Chickadee" Cardwell, whom Mark McDaniel was convicted of molesting in 2004, when she was eight. He was Shannon's boyfriend at the time, and spent 10 years in prison.
That Shannon would reunite with the man who repeatedly molested her eight-year-old daughter was shocking. That Shannon would then bring the man who repeatedly molested her eight-year-old daughter in 2004 around her eight-year-old daughter in 2014 (that'd be Alana), as photo on TMZ proved, was despicable.
Regardless of her other, potentially questionable public parenting decisions (promoting a diet of junk food; allowing her children to appear on television in the first place), Here Comes Honey Boo Boo emphasized the family's harmony, a rarity in reality TV, and focused on what seemed like the immense amount of love within. But now, the facade on their perfectly imperfect family was shattered.
Shannon did a terrible job at defending her terrible decisions in interviews. TMZ reported that Shannon initially denied meeting with McDaniel until pictures surfaced proving otherwise. She then changed tactics and described her first meeting with McDaniel after his release from prison "a coincidence," and claimed they'd only met one other time after. "It's not like I'm seeing him everyday," she said in an interview with Entertainment Tonight.
Also in that interview, she revealed she had not read the court documents relating to her daughter's case, and then refused to sit through a reading of the incident report—so heinous, Radar wouldn't even publish the full details. "The reason I don't want to is because it's like reliving another memory," she said.
Cardwell, meanwhile, told Dr. Phil that Shannon didn't believe her when she first reported her molestation. Sandra Hale, Shannon's mother, said, "June was in denial, she wasn't horrified by it. It didn't seem like it affected her too much. She went about her business." Lee Thompson, better known as Uncle Poodle (the brother of Alana's father, Mike "Sugar Bear" Thompson), told Dr. Phil in a halting, perhaps dubious interview, that he saw McDaniel, Shannon, and Alana in bed together during a trip he attended with them. Also revealed during this news cycle was that the father of Shannon's children Pumpkin and Jessica is Michael Anthony Ford, another convicted sex offender (though his conviction occurred in 2005, after her daughters with him were born).
About a year later, Shannon and Sugar Bear appeared on WE tv's Marriage Boot Camp: Reality Stars. On the show, she passed a lie detector test indicating she did not cheat on Sugar Bear with McDaniel. That was beside the point of the outcry, but it seemed to absolve Shannon as far as WE tv was concerned. About a year after that season of Marriage Boot Camp, Mama June: From Not to Hot debuted.
The molestation case is barely subtext on From Not to Hot. Besides the weight-loss process, most of the drama is derived from the contentious relationship between Shannon and Jennifer Lamb, Sugar Bear's eventual wife (they married at the end of the season). Throughout the season, Lamb berated Shannon for being an inept mother. "My opinion of Mama June being a mother to Alana?" she said early on. "Very poor. Very poor parenting." The tension, though, was perverted by their conflicts often involving Alana's sugar consumption—Lamb seemed to imply that Shannon's attempt to have her daughter eat healthier was a disservice to the child. She assumed the moral high ground in her own head by plying the child with sweets. It's a perfect example of how reality TV can twist all sense of right by playing like a series of images bouncing between two funhouse mirrors facing each other. (After the season ended, the Daily Mail reported that Lamb's ex-husband, Raymond Lamb, Jr., was in prison after being convicted of child molestation in 2013. The Mail reported that "it is believed" Jennifer divorced him in 2014.)
Just as the show glossed over the Shannon-McDaniel reunion, so has the ensuing press coverage. People recently posted a 10-minute package about Shannon's past year, featuring multiple speaking credulously, passionately even about the reality star's new lease on life. It was People that published the "EXCLUSIVE FIRST PHOTO" of 'Skinny' Mama June Shannon, last March—the site has covered Shannon and her family breathlessly over the past year, with over 35 posts since their exclusive reveal. Of course, People covered the molestation case breathlessly, too. As did E!, which went on to publish an assessment of Shannon's rise and fall and rise in August, "How Mama June Managed to Bring Her Family's Here Comes Honey Boo Boo Fame Back From the Brink After Scandal." "This family never wore out its 15 minutes because millions of people apparently agreed that Mama June wasn't the ghoul that her critics painted her to be," went a chunk of its analysis.
Shannon may owe her endurance to the simple fact that it's easier to watch than it is to remember. It's easier to sit through someone's weight loss journey than it is to process what directing your time there is effectively condoning. For all our strides toward empathy and defeating existing power structures, when it comes to pop culture figures, we continue to prioritize appearance over the content of character. Skinny, in this case, has trumped child endangerment.
In an academic (but accessible) piece for Buzzfeed last year, Joanna Arcieri argued that "Mama June's Makeover Was Actually Damage Control." Arcieri wrote that Shannon "has achieved the ultimate rehabilitation of the female grotesque," and further, "From Not to Hot gives audiences permission to ignore June's failings as a woman and parent, for the sake of entertainment." The female grotesque, per Arcieri's piece, was:
As explained by Kathleen Rowe in The Unruly Woman: Gender and the Genres of Laughter, "the grotesque body exaggerates its processes, bulges, and orifices, whereas the static, monumental classical body conceals them." Most often, the grotesque woman is perceived to be lower-class and socially unacceptable
Perhaps, then, there's an extra layer to Shannon's resurgence that goes beyond the ease of perception over recall. Having shed the lingering and most obvious vestige of her status—obesity—"Mama" June Shannon is a living example of the rebound from economic downturn that poor whites expect from Trump. Her narrative is the mythical American dream writ... formerly large, and a low-key comeback story for a culture that loves those kind of stories but whose bombarded attention span makes them unable or uninterested in grappling with what exactly she's coming back from.
In that light, the only thing less surprising than her friend Michael "Big Mike" Mclarty appearing on the premiere episode of From Not to Hot openly rocking a white supremacist tattoo on his forearm is that it didn't provoke any lasting outcry, or affect the show's ongoing success. Mclarty's Facebook, too, contains over a dozen posts to back up the apparent racist sentiment on his arm: typical Southern pride/Confederate flag meme posts, including one that says "This does not offend me" over a confederate flag, and then "This bullshit does," over a photograph taken from behind two people wearing sagging pants—the subject of frequent criticism when worn by young black men. There's an illustration of a faceless Klansman holding a noose in front of a Confederate flag, which Mclarty captioned, "Keep it pure and stay true." A post from July 21, 2015, on Mclarty's Facebook reads:
People really with all the shit going on in the world,we gonna start this black white shit again.we got kids dieing in the streets and now here we go again with this slavery shit.what about the white slaves.If u don't want to be here go back to the fucking mother land I'm tired of all this nigger shit
WE tv apparently has devised a solution to Mclarty's racist tattoos: long sleeves. Mclarty appeared on second season premiere—sweating his way through an outdoor scene presumably shot in warm weather given the prevalence of tank tops and T-shirts worn by Pumpkin, Alana, and Shannon's sister Doe Doe.
Covering up, it seems is this show's m.o., and its audience, it seems, is fine with that.
In her singular, seemingly inadvertent way throughout her five-plus years in the public eye, "Mama" June Shannon has orbited around the zeitgeist, teasing out the truths lingering just under the surface of what's considered socially acceptable. While this may have once seemed refreshing in the realm of representation and in terms of poking at the construct of politeness, it's taken a dark turn. Nevertheless, it remains 100 percent American made.