Welcome back to Mall Makeovers where we send readers to, you guessed it, the mall for, you guessed it, a makeover. If you'd like to volunteer for an upcoming installment, send us an email.
INDIANAPOLIS
Names: Peggy & Heidi
Peggy's Beauty Routine: I usually wear zero makeup and wash my face with whatever soap is in the shower because my skin is generally fairly oily. But now I'm pregnant, and my skin's been going through some annoying phases. I went in with the goal of finding a good, very light moisturizer, after my husband (who has dry skin) pointed out that, like most normal humans, I was experiencing winter skin dryness.
Indianapolis Trends: Most of the women I work with wear makeup, but it's very "natural" and played down for the most part; the high school students I work with are all over the map. When choosing a mall makeover location, I selected The Fashion Mall. No, really, that's what it's called. It's the most "upscale" mall in Indianapolis and features some designer boutiques and a Tesla store (???). Women there tend to look wealthy and well-preserved. The exceptions are teenagers who are trying to relive the late '90s, and having been a teen then myself, I find that pretty amusing.
Process: Speaking of high school, a friend of mine from high school, Heidi, has just moved to my area, and she graciously agreed to go with me to get mall makeovers done. She's currently staying at home with a two-year-old, and has some residual acne that sprung up during pregnancy. She's treating it with diet and some medication, and usually doesn't wear makeup either.
G/O Media may get a commission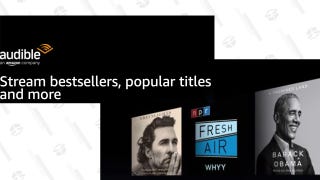 FREE
Audible Premium Plus 3-Month Free Trial
The two of us met up fresh-faced for lunch then headed to Sephora, where I asked for a full face (minimum purchase $50, but I figured a moisturizer plus birthday gift for a friend would hit that easily even if I hated my new look) and Heidi asked for a "smoky eye" tutorial (one "area" is free). We found out we had missed a contouring workshop that morning that had started around 8am, before the mall was even open.
We both had lovely make up artists and they were both very friendly and listened to what we wanted. I asked for "an everyday look," hoping not to influence the process too much with my own taste, since that seemed counter to the spirit of the experiment, but the MUA was very focused on stuff I would actually like and wear. She showed me several moisturizers and had me smell them (I have fragrance allergies) and feel them before she put one on. I loved (and bought, and have been using) First Aid Beauty's Ultra Repair Cream Intense Hydration.
Then she used the Color IQ tester to match me to a foundation. I turned out a lot lighter than I would have guessed, and she said she was surprised too, but the shades she selected looked great on me. Since I usually don't wear anything, she did a BB cream and pencil concealer (Josie Maran Argan Creamy Concealer Crayon in Fair 1, which I also loved and bought) rather than full foundation, then added some NARS blush in Orgasm, some bronzer, and NARS light reflecting loose setting powder. She did my eyes using Buxom's Color Choreography eyeshadow palette in Swing (mix of browns, bronzes, and nudes), and lined them lightly with the darkest brown in that palette. She also added They're Real! Mascara in black.
She finished off my look with Tarte's Amazonian Clay Universal Lip Liner and a Bobbi Brown lip color in Plum Shimmer.
Heidi got a tutorial on doing a cat eye and "kitten eye"—a more subtle version—and we both liked the results. Here's Heidi:
Outcome: As we left the mall, we both agreed that we liked each other's look better; we also agreed that might be because we're both used to our own faces without makeup, and since we hadn't seen each other for about fifteen years, we weren't used to each other's faces either way. I thought Heidi looked great, but she didn't care for her eyeshadow color; she loved my lipstick, but I went from thinking it was interesting to sort of hating it.
When I got home, my husband was sort of noncommittal and said that he though the problem was "evening makeup with a daytime outfit." Although he wouldn't say it, I don't think he liked it very much. Heidi's husband said that he though I'd "won" the makeovers, so it sounds like he wasn't a big fan, either!
---
LAS VEGAS
Names: Rachelle & Alex
Rachelle's Beauty Routine: I am not an everyday makeup wearer; I wear it maybe only once a week. I don't apply it very well, probably for lack of practice, and I am comfortable enough without it, so I don't bother. When I was a bartender 15 years ago I wore it for work, but now I'm a student majoring in Special Education and there is little motivation. I used to have great skin and did not really need it but age is catching up with me! I wear glasses everyday and I feel like that is a makeup substitute for me, since they emphasize my face and hide my eyes. When I put some makeup on it is usually concealer on the problem areas and BB cream. I use the same Bobbi Brown blush I've been wearing for 12 years. I use brown pencil eyeliner that is friendlier than liquid, and brown mascara. I'll fill in my brows with brow powder. When I wear lipstick I'll use a 24-hour so I don't have to reapply since I'm a lip-chewer and smoker. For a night out on the town I'll also do eyeshadow.
Las Vegas Trends: The "glam" look is in with a smoky eye and contouring. Definitely strong eyes and perfect eyebrows are the Vegas look. My makeup artist, Jadine, said people come in wanting to have their makeup done like Kim Kardashian because they think it looks natural and they do not realize just how much makeup that is.
Process: I called Sephora and the Town Square Mall in Las Vegas. The Mall is an upscale outdoor shopping center on Las Vegas Boulevard, but not on "The Strip." I made an appointment for Alex and me. She is almost 20 years younger than me (I'm 40) and I thought it would be interesting to see how they handled different ages. For a 45-minute makeover we had to purchase $50 worth of product from the store, but it did not have to be the makeup they used on us, it could be anything. It was actually nice to have a price up front because then during the session the artists were not giving us a hard sell on the products they were using.
I explained my story to Jadine: I just turned 40 a couple of months ago and I had never really had my makeup done professionally. I was curious to see what I could look like in "flawless makeup" by someone who knew what they were doing. I told her since it was for fun she had free range, just to give me the typical "Vegas look."
She selected NARS Sheer Glow Foundation in Punjab for me. Because I am Puerto Rican she said my skin had more yellow undertones than pink. This is very true — usually makeup makes my skin too pink.
Next, went to work on my contouring and eyes, and finished with blush and a matte lipstick. Since there was free range there was a "big reveal" at the end. I did not watch the process step-by-step. I could see what they were doing to Alex, and Alex could see what they were doing to me but we were both in the dark for ourselves.
Jadine was very open to getting pictures (especially of the contouring, which she acknowledged looks crazy before blending).
Outcome: When I was done I did not feel like I had on a lot of makeup. It still felt light on my face. Jadine said it was because she did not put a moisturizer with sunscreen on before the foundation, which was the number one reason makeup can feel heavy. I liked the look and felt prettier, but of course it is not an everyday look and I could not recreate it. I was able to leave the makeup on for the rest of the day with out it bothering me.
My kids (two boys, ages 8 and 10) said, "Mama, you look pretty!" I posted it on Facebook and got a lot of positive responses, but of course that is what everyone does on Facebook. A few of my friends were very positive and I even had a friend offer to babysit for free just so my husband and I could get "use out of the makeup" and have a night out on the town.

As for my husband, he obviously does not care about makeup or he never would have married someone that does not wear it. He liked it when I was 5-10 feet away and said it looked good if different, but once he got close he was like, "Wow, that is a lot of makeup." When I washed it off before bedtime I was shocked how much makeup was on the washcloth.
Alex's Beauty Routine: My makeup routine is minimal, and changes depending on what I have going on each day. Plus, I work with kids so I normally don't wear a full face of makeup. On office or meeting days, I wear BB cream; a light powder, blush, mascara, and I fill in my eyebrows. When Rachelle told me about this project, it sounded like a fun way to see what I would look like with a full face of makeup
Process: When I told my makeup artist, Carmen, that I wanted a full face of makeup "Vegas style" she seemed up for the challenge and excited to be able to have the freedom to do what she wanted. Rachelle and I both agreed that we would watch each other's process, but we would not look at our own makeup until it was finished. Though I couldn't see exactly what she was doing, Rachelle mentioned that she loved the colors Carmen was using, so I was excited to see the final product.
Outcome: I looked like a different person! Similar to Rachelle, I was surprised with how light the makeup felt on my face- that was not what I had expected. It felt nice! I felt glamorous, like I was ready for the club but I could definitely not wear this look every day.
I sent a picture to my friend, who knows a lot more about makeup than I do, and she loved it. My mom said that I looked glamorous and sophisticated. When I got home, my boyfriend was surprised with how different I looked. He kindly said that he prefers me without makeup.

---
PORTLAND
Names: Morgan & Kirsten
The makeup style in Portland is polarized. Many, if not most, ladies go bare face. It is hard to say if this is out of principle or the lack of social expectation. On the other end of the spectrum, the women who do wear makeup often use it as an accessory. It's less about achieving beauty than complementing their style.
We are two ladies who live more in the first camp: naked-faces who have had good and bad interactions with makeup in the past. Before our makeovers, we described our biggest makeup anxiety. Morgan has pink hair at the moment and expressed concern over that sending signals for the makeup artist to get weird. Mine was getting my eyebrows colored in.
We decided that we would each take on two different Macy's and see if our results vary. Some things you should know about this counter makeover business: some places are free, but many are not. It's good to call ahead to let them know you are coming. Also, department stores close on Easter. Even in Portland, city of heathens.
Morgan's Makeover: I visited the Clinique counter in the Lloyd Center Mall. Clinique has a vibrant color palette: lots of magentas, corals, and pinks contribute to their selection. A young girl named Tabitha, who was around the age of 19 or 20, helped me with my makeup. Upon learning that my routine was very low maintenance she decided that she would focus on my eyes and lips. She stuck to shimmery light pinks and neutral tones to highlight and accentuate my features; nothing too drastic. She felt that if she overloaded me with makeup that my skin would react poorly. She only knew that I would have no interest in recreating the look she gave me if it was overly complicated (truth). She brushed on some pink and beige eyeshadow and some brown eyeliner on my eyelids and finished up with some mascara. She completed my polished, yet low maintenance look with some purple tinted lip balm that was named "Grandest Grape."
I was happy that she didn't use or suggest any liquid foundation or other face products like concealer or bronzer. Overall, I was pleased with how it turned out. It was not an extreme transformation and everything she did would be really easy to recreate if I wanted to. I ended up buying the "Grandest Grape" lip balm and Tabitha gave me a free gift that included that eyeshadow palette she used in my makeover.
Outcome: Even though I felt pretty with the makeup on, it's just not for me. I look and feel like a clown when I wear it. In general I feel that most women look best with little to no makeup on. I understand that some girls want to hide skin problems or they use makeup as an accessory, but I usually feel that women should wear less.
Kirsten's Makeover: My typical routine is mostly focused around my hair, and even then it is trying to control the variables so that my hair dries on it's A-game. Other than that, I don't put too much daily effort into my physical appearance.

I visited the Estee Lauder counter at the Macy's in downtown Portland. My cosmetologist, Kate, was delightful. I explained that I hadn't rethought my makeup routine in a while, which is an understatement, and that I was interested in what was trendy right now in Portland. The focus of our makeover was on eyes and skin. For eye makeup, the colors of Estee Lauder are pretty tame. I guess I've always associated Estee Lauder with my Mom. Is Estee Lauder "Mom Makeup"?
We went with a teal and brown/beige palette, one of the more daring selections. Kate informed me that matte eye colors are hot right now, compared to their shimmery counterparts. The pricey eyeshadow palette ($50) allows for three looks: natural, intense, and dramatic. What you see here is classified "intense" in addition to some mascara, a teal eyeliner, and a black eyeliner. Kate explained to me that I have more lid space than brow space, and that I also had a nice lid shape. Thanks Kate! We colored in my eyebrows, which I was pleasantly surprised with. We must of applied around six or seven products to my skin between moisturizers, foundations, concealer, highlighter, bronzer, and blush. I must say, I thought my skin looked radiant and pretty natural.
Outcome: The reactions aligned very much with many of the reasons I don't wear makeup. My boyfriend nailed it: I didn't necessarily look better, just different. He had to pull up a picture of me on his phone to put it next to my face to remember what I normally look like. I don't have a grudge with makeup at all, I just dislike the feeling of wearing a mask, even with minimal makeup. He also pointed out that I didn't look like a Portlander, but maybe more like someone from the East Coast. Interpret that as you would like.