Welcome back to Mall Makeovers where we send readers to, you guessed it, the mall for, you guessed it, a makeover. If you'd like to volunteer for an upcoming installment, send us an email.
DETROIT, MICHIGAN
Names: Jamie (joined by friends Renee and Brooke)
Beauty Routine: I'm a program director at my local YMCA, so there are days where I need to appear more professional and can dress up and have some fun with my makeup, but usually I'm training my clients in Under Armour and gym shoes. I wear some L'Oreal True Match powder, Benefit They're Real mascara on the top lashes only, and maybe some Tarte Exposed matte lip tint. Lately I've been doing my best to toe the line between "blonde with bold penciled-in eyebrows" and "Faye Dunaway as Joan Crawford". I'm not wearing anything on my brows in the before photo.
Suburban Detroit Trends: There are no real obvious trends that I'm seeing locally right now. I feel like most midwestern girls want a lower maintenance look, but at the "fancy" mall that we went to, especially in Nordstrom, there was a lot of heavy brows and dark lips among the shoppers, which seemed a bit silly for a Sunday afternoon.
Renee: We started by fishing around at Nordstrom for someone to help Renee (who is African American and Mexican American). The challenge was finding a cosmetics line that would accommodate her skin tone, and the person who ended up helping us seemed pretty clueless. I said we were going to look at Shiseido because I knew it was an Asian line, and extrapolated that maybe they'd have a more diverse array of colors. The attendant said, "Yes, their colors are much more yellow," which was giant red flag number one.
G/O Media may get a commission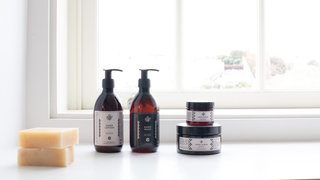 Exfoliate and Hydrate
The Handmade Soap Company
Renee received incredibly poor customer service from a person who either didn't know a lot about makeup, didn't know a lot about Black skin, or seriously underestimated her buying power. She halfheartedly led her to the Bobbi Brown section, didn't offer her a chair, and even though Renee asked her a few leading questions such as "I never really learned how to use the gel eyeliner I have," the attendant continuously shut her down with responses like, "Yes, it's hard." After speaking more about pencil eye liner, Renee asked for advice on using it on her lower lid and was told "with your small eyes, you don't have to!"
Renee felt incredibly underserved, and as we looked around at the overwhelmingly white store, she explained that she never felt this way when she's shopping at home in Washington, DC. She proceeded to do what she called "spite buying", dropping over two hundred dollars on some Bobbi Brown products, which she told me later she would return at the Nordstrom in the next county. I told her I admired her dedication to spite buying, as I would hate to deal with going to another store just to make a point with a shop girl. She shrugged, and attributed her patience to being on vacation.The racist implications of all of this weren't lost on me, and it was interesting to see affluent Renee, wearing an Eloquii skirt that cost more than my entire ensemble (Target dress over Old Navy leggings) get poorer customer service than the two underdressed blondes.
Brooke: Brooke, a stay-at-home mother of a toddler and infant twins, rarely wears makeup. She arrived at Nordstrom early - partly to buy a bra she wanted, but more specifically to have a store bag in her hands so that she would be taken more seriously. After the experience with Renee it seemed like a valid concern. She had the good fortune to sit down with an aesthetician named Laura, who apparently was the Nordstrom cosmetic queen. She explained every product and price point, and covered Brooke with a retexturing serum, avocado eye cream, oil-free primer, BB cream, bronzer, blush, eyeshadow, concealer, mascara, and lipstick; a mix of Kiehls, Lancome, Bobbi Brown, and Laura Mercier. Brooke especially appreciated being told having a bit of blonde peach fuzz was good, as it made one's features appear softer.
Jamie: Since at this point we felt awkward and conspicuous in Nordstrom, we walked to the opposite end of the mall to Carson's. This was definitely the lower-end department store of the two, and I imagined it would be a different experience. I was seated by a friendly enough woman named Tina at the Estee Lauder counter, and asked for the works.
To me, Estee Lauder brings to mind smelly old grandma makeup, and hours later, post-washing, my eyes are still watering. It took Tina three tries and two different products to find a foundation that ostensibly matched my skintone, and I still think she missed. The "Defiant Nude" was a serviceable eyeshadow palette (with a great name) but it was sloppily applied, and I could see too much brow liner in her work. The fact that she used a coral blush and a sickening pink lip gloss called Rock Candy on me just reaffirmed my "grandma makeup" perception of the brand, and I wasn't happy. And as soon as she saw that I wasn't going to buy anything, she became less friendly.
Outcome: Renee felt cheated, but the Bobbi Brown Art Stick in Cassis did look amazing. She is normally a MAC girl, but warmed to the Bobbi Brown, as "MAC is not work makeup." Brooke liked her look, but as the afternoon went on, she felt it was too pink. I hated my look, and sourly rushed home to scrub my face. My husband said it looked "too makeupy" and my fifteen-year-old son told me, "You do a better job just standing in our bathroom." I agreed.
---
Contact the author at jane.marie@jezebel.com.