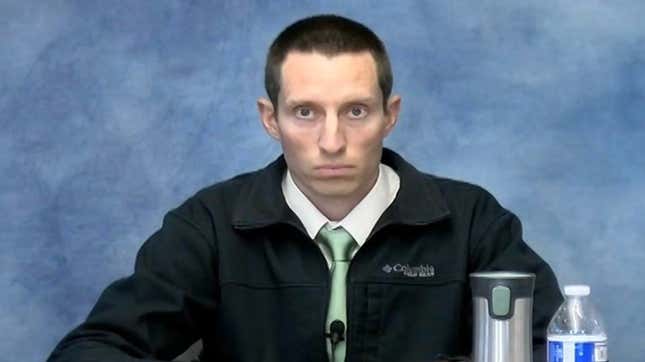 A male nurse in Oregon was convicted on Tuesday of sexually assaulting nine incarcerated women while working at the state's only women's prison, Coffee Creek Women's Prison, in Wilsonville. A federal jury found Tony Daniel Klein guilty of 17 counts of sexual assault and four counts of perjury. He faces up to life in prison.
"Tony Klein used his position of authority to prey on women in custody who were in a uniquely vulnerable position," Natalie Wight, U.S. attorney for the District of Oregon, testified. "He further led his victims to believe they had no power to resist or report his abuse."
Klein is convicted of assaulting nine women, but in 2019 the Statesman Journal reported that the Oregon State Police heard from 11 different incarcerated women who said Klein had made sexual contact with them. The women have testified that they continue to grapple with the trauma caused by his actions. At least one of the women he victimized has since taken her own life.
Criminal charges were first brought against Klein, who worked at the prison between 2010 and January 2018, in March 2022. His conviction comes after his attorneys smeared his victims throughout his trial, arguing they'd worked together and plotted against him to try to get financial settlements from the state.
In 2017, incarcerated and formerly incarcerated sexual assault survivors who had faced sexual violence behind bars brought a lawsuit against Klein and the Oregon Department of Corrections. The state paid $1.87 million to settle the civil lawsuits involving Klein, but after an investigation by the Oregon State Police that same year, prosecutors declined to press criminal charges against him in August 2018. At the time, prosecutors said the victims' accounts were unreliable and the case was "unsupportable" as a whole—a decision that's reflective of the endemic mistreatment and dismissal that incarcerated survivors face.
After the state settled with the victims behind the 2017 lawsuit, more of Klein's survivors came forward, and in March 2022—four years after prosecutors decided against filing criminal charges against Klein—the U.S. Attorney's Office for the District of Oregon finally filed criminal charges against him.
Back in 2019, the Statesman Journal reported that sexual abuse was "widespread" at Coffee Creek. The abuse, sources told the outlet, was ignored by prison staff, who would punish and retaliate against people who reported it. Research has shown 60% of sexual assaults in prisons are perpetrated by prison staff, but survivors are often disbelieved, ignored, or even punished for reporting abuse because of their criminal status. In March, a California warden whose prison was internally nicknamed the "rape club" was sentenced to 70 months in prison for sexually abusing incarcerated women and sending those who reported sexual abuse to solitary confinement. In November, a New York Times report found hundreds of women who had been incarcerated in the New York state prison system were set to sue the state alleging they were sexually assaulted by prison staff.
In response to Klein's conviction this week, Kieran Ramsey, special agent in charge of the FBI Portland Field Office, praised his victims for their bravery. "His heinous actions were only brought to light by a small group of courageous women who came forward, even despite their precarious circumstances of being incarcerated," Ramsey said. "Their willingness to report their victimization undoubtedly saved others from Mr. Klein's predatory actions."