If you ever wanted to pull a Porky's and spy into a men's locker room but didn't because it's both illegal and immoral (good for you!), Dr Christopher Morriss-Roberts, a podiatrist who specializes in sports sociology at the University of Brighton, might be able to shed some light on what goes on in there. Turns out, all it is is a bunch of men showering, changing and checking out each other's wangs.
For his PhD research, Dr. Morriss-Roberts conducted a study with eight subjects — all athletes, four of whom identified as gay and four of whom identified as straight — and interviewed them about locker room behavior.
What he found over the course of a year was that the men (regardless of orientation) were spending a lot of time checking out each other's penis size and that a player's dick size would have a profound effect on how they were treated socially or on the field.
Dr. Morriss-Roberts wrote in Outsports:
The research suggested that men look at each other's cocks, as a gauge to see how big or small they are, comparing themselves to the rest of the team or men in the locker room. The activity of checking out each other occurred irrelevant of sexuality and the type of sport; all participants noted that they looked at each other's cocks in the locker room.

This knowing of who has a large cock and who didn't within a homosocial environment helped individual sporting males climb up a social hierarchy of importance. Those with the larger penises were revered and idolized by their teammates as a symbol of masculinity. These "large-cocked" individuals became a focus of camaraderie and team building within their sports environments. The cock became a focus on which to banter, create nicknames, and enjoy the fundamental basics of being a man. Two nicknames that were mentioned included "schlonger" and the "biggest dick in Scottish basketball."
G/O Media may get a commission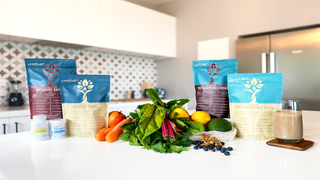 Some of the straight athletes even admitted to intentionally getting half-boners before going into the group shower in order to appear more impressive.
As for those with smaller penises:
It was significant to note that those with a small penis were often seen as the admirers of the large-cocked guys, but not in a homosexual, or derogatory way...These athletes were placed at the bottom on this social hierarchy; it was suggested that they probably had to work harder to be part of the team.
Considering the very small homogenous sample used in Dr. Morriss-Roberts' research, the findings are up for debate, but considering how many times I've watched male friends play games of "tea bag tag" or punch each other in the balls for no reason, it seems pretty safe to assume that dudes — for the most part — are obsessed with wangs.
Image via Shutterstock.