Brands, including MAC Cosmetics, are predictably pushing to sign Caitlyn Jenner on as a spokesperson.
Caitlyn's appearance on the July cover of Vanity Fair has piqued the interest of fashion and beauty brands that want her as the face of their company. The wooing reportedly started months prior to the cover reveal.
According to Page Six, MAC—which has Rihanna, Lady Gaga, RuPaul and Nicki Minaj as spokesmodels—had been considering recruit Caitlyn for a campaign and met with her on several occasions. A source told the publication, "They've been debating the pros and cons and whether it would be a good fit or not. There's a camp that's so excited and another that's a bit more cautious."
MAC's parent company Estée Lauder seems to approve:
Page Six ran into Estée Lauder group president John Demsey at the CFDA Awards Monday night at Lincoln Center, and he described Caitlyn's Vanity Fair cover as "simply amazing, iconic, epic, disruptive, bold, glamorous," adding, "There's never been someone with that level of celebrity who's ever done something so bold and so visible in public, and it's done very elegantly and glamorously." Demsey last year signed Kendall Jenner as the face of Estée Lauder.
G/O Media may get a commission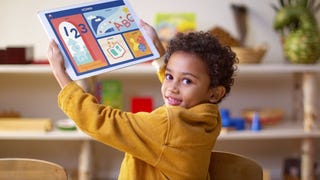 30-Day Free Trial
Homer Learn & Grow Program
Page Six also refers to Caitlyn as "the talk of the CFDAs." V.F.'s behind the scenes recap of the cover shoot shows how much prep went into making Caitlyn camera-ready, with a "glam squad" that included makeup artist Mark Carrasquillo, hairstylist Oribe and manicurist Deborah Lippmann.
Whether the beauty brands come flocking or not, capitalism reigns supreme money money money, so Caitlyn will be coveted in some capacity. Branding psychologist Robert Passikoff told Ad Week:
"There are plenty of companies that would welcome her. It's not as much of a stretch as you might think. With the whole LGBT universe out there, you could be talking $1 billion worth of buying power. So, whether you're personally invested in this [issue] or not, if you're talking marketing, there's a big market out there."
In the below preview clip for her E! reality show I Am Cait, which premieres July 26, Caitlyn says she'd never had a professional makeup job done until two weeks before the V.F. shoot and "what a difference" it makes.
When "you go through all this stuff," she says, "you start learning kind of all the pressure that women are under about their appearance."
---
Contact the author at clover@jezebel.com.
Image via Vanity Fair