The team of makeup artists who worked on Will Smith's bizarre buddy cop fantasy film Bright were mysteriously left uncredited.

One could argue that the decision to make Bright was everyone's first mistake, but credit is due to the diligent artists from the effects company studioADI who applied all the film's elaborate makeup, including those weird orc beings. (Pictured above, the orcs live amongst elves and humans in an alternate world where Will Smith yells and fights crime.)
IndieWire reports:
When the Academy revealed its shortlist for the contenders in this year's Oscar race for Best Makeup & Hairstyling, one of the most surprising inclusions was David Ayer's Netflix tentpole "Bright." Despite receiving abysmal reviews from critics, "Bright" is in contention for at least one Oscar this year. However, nearly 60 artists who helped create the movie's makeup effects are saying they have been left out of the end credits.
StudioADI released a generous statement addressing the omission. It reads in part:
When you see those never-ending lists of crew in the credits of a movie like 'Bright' you can be guaranteed that mistakes are going to be made... We're having the necessary conversations about getting it rectified (it's streaming, right? seems like a do-able fix) but until we get a resolution, we thought we'd post the complete list of the incredible folks who worked on ADI's crew.
G/O Media may get a commission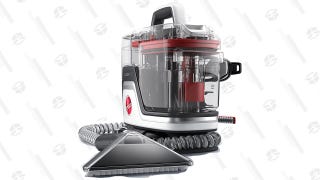 Save $10
Hoover CleanSlate Plus Carpet & Upholstery Cleaner
Whoever's to blame, this is largely Netflix's fault anyway for continuing to purchase questionable content at high dollar amounts, and Will Smith's fault for attaching himself to material that's consistently in contention to be the worst ever. (Not to mention the recent sexual assault accusations levied at screenwriter Max Landis, who has not yet responded.) Throughout his promo run, Smith summarized Bright as "Training Day meets Lord of the Rings," which it is not.