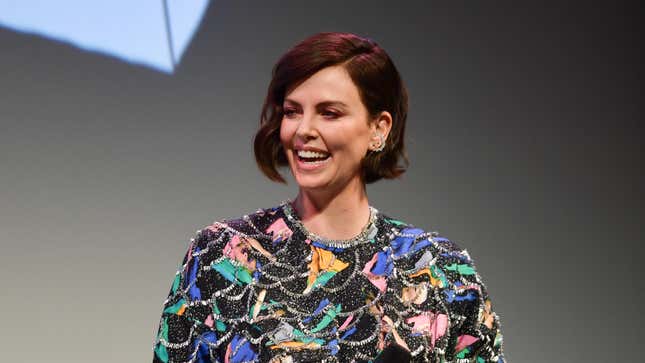 The world is full of things that shouldn't be, but are: The bumblebee's teeny-tiny wings are somehow strong enough to lift their comparatively chunky bodies off the ground; every time I mail a letter, a part of me is afraid it won't work; and Charlize Theron occasionally feels like a loser.
This is what traditional rom-coms have led Theron to believe, and a sign that maybe rom-coms need to be shaken up a bit. "I struggle with that sometimes in romantic comedies," Theron, who stars in Long Shot with Seth Rogen, recently told the Press Association (per the Independent):
"I feel like I'm the only loser who has never experienced the third act of most romantic comedies and it just makes me feel very bitter, and so I just wanted to feel like I could bring something to the table..."
Theron—Furiosa from Mad Max!—feels like she's somehow behind on life because she's still "shockingly" single, as she put it the other day. Rom-coms are supposed to be formulaic (part of their charm, sure). But many types of love remain unexplored, including films about women who prioritized work and still want a cheesy happy ending later in life. In Long Shot, Theron plays a Secretary of State who's running for president and hires a former journalist (played by Rogen) who she used to babysit as a kid. They start dating. It's not any more realistic than other rom-coms, but Theron said she was satisfied with how the cast and crew handled their love story:
"I just wanted to make sure that we all agreed that we wanted to make a film that would have two characters that felt modern and felt at times conflicted and that we would focus on a relationship that felt real..."
I fully support the creation of messier rom-coms.