The American Music Awards paid tribute to Diana Ross with a lifetime achievement award last night, and in true form, Ms. Ross showed up with her whole damn fam looking like a goddess and a queen. No one rocks a feather headpiece like she does. The gothy mermaid gown was belted, and everything. She had a length of tulle around her neck as a scarf. She is god.

Other attendees... did not fare so well. But let's start with some positive news, shall we?
A better look at Ms. Ross's ensemble. No one else could pull this off. Her daughter, Tracee Ellis Ross, has spoken at length about dabbling in her mother's closet and learning to dress; that's partly why she, too, is a style icon, here just perfect in a burgundy Stella McCartney and contrasting red (!) sandals. I love this color story so much!
Hailee Steinfeld is rocking Thierry Mugler in all its power-woman, slightly bondage domme glory. Kara's new coworker Yara Shahidi, always one of the carpet's best dressed, also went for boardroom chic in a to-die-for Prada ensemble. That trench! Those knee socks! Those sliver platforms! Come through, lil mami!
G/O Media may get a commission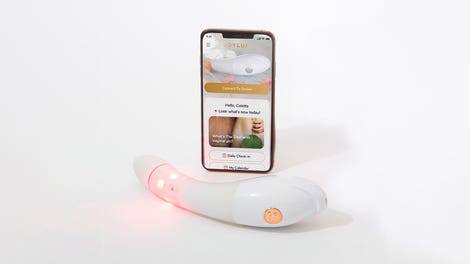 $50 Off
Joylux vFit Gold Device
Ciara's wet look hair and patent leather trench/boots are a moment, and that moment is " ready for monsoon season"; Demi Lovato, who brought as her guest Virginia Delegate-elect Danica Roem, is giving underworld mermaid in shirred tulle; Roem's tulle-embellished gown and ever-shiny mane complimented the twinsies look. Kelly Rowland's sheer sleeves weren't doing it for me at first, but the more I look at it, the more this '70s boudoir piece is growing on me, and she's wearing it confidently, as usual.
Julia Michaels's tiered scarlet gown is great but I'm a sucker for a tiered gown; see also Pink's pretty number in, uh, pink. Lilly Singh's magenta looks amazing on her, but I'm not sure about the rose fabric detailing at the leg. Is that a bike short? A garter? Kathryn Hahn also chose a perfect shade, a simple tangerine column dress that makes her seem extremely happy, vibes-wise.
Graffiti is so hot right now. Stranger Things star Caleb McLaughlin showed a lot of commitment with his Pollack-ian suit; is this Études? Nick Cannon is doing the statement jacket along with a matching statement turban, I don't know. Machine Gun Kelly's contrasting print is cool but the cut of the trousers is questionable as is the double pocket square sitch? Is this Études? Marshmallo's doing what he's doing, but it's 2017 and the era of the DJ with the allover head mask feels so played-out. I guess it doesn't matter, though, cause he's like... doing fine.
Sparkles and see-through! I know that the cyborg-leotard look is a little 2011, but perhaps it's time to bring it back? Bleona Qereti is making a case for looking like a disco ball and also for copious leg moisturization. Kehlani's spider-web dress is getting a pass from me on the relentless ubiquity of the sheer gown-and-boyshorts trend because she looks like Lydia from Beetlejuice, but Rachel Platten's jumpsuit looks, under the lights, a little dollar-store. Sorry to be real, but it's my job. Violetta Komysha (here with her boyfriend, the EDM DJ Ansel Elgort), looks awesome in iridescent mermaid paillettes, though the dancer's leotard beneath it feels a bit too literal. Yes, Violetta, you're a ballerina! We know!
Alessia Cara's deal is looking cool and chill and herself, but it would be nice if people would recognize that putting white laces in your black boots has a historical precedent that is not a great look! She obviously just does not know. Perhaps she will now, since I assumes she reads this column. Here are three Riverdale stars—KJ Apa, Lili Reinhart, Madeline Pesach—who look every bit the young adults-on-the-town they are.
K-pop stars BTS are more famous than anyone, though. They look sharp and coordinated, but still individuals.
These are GOWNS, all caps GOWNS. Camila Mendes, also from Riverdale, is a cool sip of strawberry lemonade; Heidi Klum is giving us Bellagio carpet looks, Jenna Dewan Tatum looks like the mean-but-nice quasi-villain from a novela; Lea Michele is doing basic millennial pink with a spray-tan.
Families: Corinne Foxx, with dad Jamie, looks cool in a sleek eggplant jumper; Evan Ross and Ashlee Simpson coordinated with their babies and also maybe DJ Khaled (with Nicole and Asahd); Rae Sremmurd's Slim Jimmy and Swae Lee look cool and young and carefree; most importantly, bringing back the rapper scarf-on-head thing, draped ever so effortlessly, as though it floated down from above.
Chrissy Metz's fringe situation is lovely; the boots on Garcelle Beauvais are dynamic but I wouldn't have paired them with that blazer dress; Jia Tolentino Selena Gomez has a new look that is EXTREMELY FAMILIAR; Nicole Kidman isn't really trying.
The shape of Kelly Clarkson's gown is good but I feel the velvet and burnished gold sequins are too much, together; Nick Jonas is wearing a fucking henley under a dad moto jacket and that's all I have to say about that. Sabrina Carpenter is in Missoni and could have made it work but those boots? Like, please, god, WHY. There's nothing all that wrong with Shawn Mendes's outfit— it's not great, it's not the worst—I just wanted to end with Shawn Mendes, for the stans.