In a recent interview with The Telegraph, Dame Maggie Smith, ever the quick and cutting wit, took a dry (and occasionally sad) approach to reflecting on grief, fame and her life's work. "Everything's an icon," Smith told the interviewer. "If you have been around long enough you are an icon. A rather dusty icon… or a national treasure."
At 79, Smith is still as famous — if not more so — as when she won her first Oscar in 1969. Despite being a well-known actress for a half a century, she still finds it almost impossible to deal with the popularity that's come with starring as the Dowager in Downton Abbey.
On the recent period she spent shooting in Paris:
"I was besieged by Americans and Downton Abbey," she recoils. "That's never happened to me before. It's television that does it. It was awful. I love wandering around on my own and I just couldn't."

Even in England, the consequences of becoming a television celebrity (more shivers) through her formidable impersonation of Violet, Downton's Dowager Countess of Grantham, can be unnerving. "I don't go to places and if I do I nearly always have to have a friend. It's very difficult when you're on your own because you have no escape."
Though Smith is in good health, she spent much of the interview discussing death and celebrity passings:
I have never met an actor with less belief in legacy – her own or anyone else's. After the obituaries and the tributes, fame vanishes. She thinks of her recently departed friend Lauren Bacall, and of Robin Williams, extravagantly eulogised, quickly forgotten. "It doesn't last. The world is replenished all the time. I don't think people will remember."

She keeps no diaries, writes no memoirs and was "in no way connected" with the biography written about her in 1992. "It's ceaseless, all these books people write. There's no mystery left to anything."
G/O Media may get a commission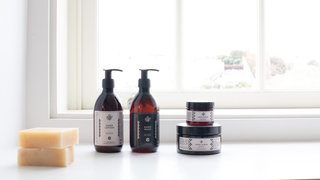 Exfoliate and Hydrate
The Handmade Soap Company
Leave it to Smith to be funny and blasé about a topic as personal as her own demise.
The performer is no stranger to loss. She also shared her devastating and raw thoughts on the death of her husband.
Since the death of her second husband, the playwright and screenwriter Beverley Cross, in 1998, Smith has lived alone. Work stops her thinking about loss but when filming comes to an end, as now, it creeps back. "They say it goes away but it doesn't. It just gets different. It's awful, but what do you do? After the busyness you are more alone, much more. A day that is absolutely crowded keeps your mind away from why you are alone but when it stops there is that deafening silence."
It's refreshing to hear someone speak frankly about death and grief, especially when those are topics that, as a culture, we generally try to avoid. That said, Smith is definitely underestimating the mark that she has left on the worlds of film and theater.
Image via Getty.