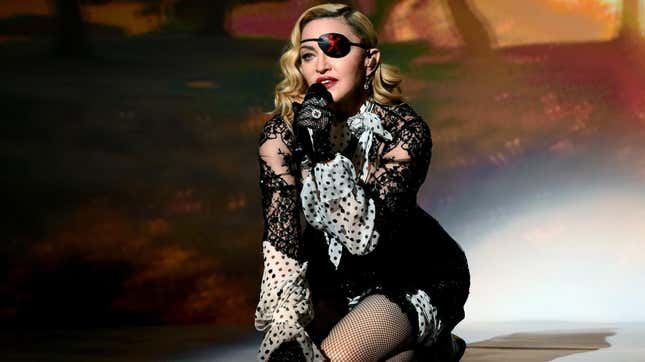 A Madonna world tour and a Madonna film were seemingly too much Madonna for our current timeline to handle. The Queen of Pop's biopic has been indefinitely postponed, according to Variety—a decision that was somewhat anticipated after the singer announced a world tour to kick off this summer. It's real "neither can live while the other survives" vibes.
Britney Spears Escapes Family Drama By Going to First Bar
But the biggest loss is that we'll no longer get to see Julia Garner, the biopic boot camp winner, portray the Material Girl. In March, the studio held a "grueling" boot camp to determine who was fit enough in mind, body, and spirit to take on the role. Florence Pugh, Alexa Demie, Bebe Rexha, and Sky Ferreira were reportedly part of the eleven-hour choreography sessions and singing auditions in front of the pop star—an experience that should've been filmed and released as its own docuseries.

Sadly, all of the sweat, tears, and rhinestones Garner shed in order to come out on top have been for naught. According to Variety, while this project has currently been tabled, Madonna still plans to make a movie about her life one day. With bated breath, we wait.
The biopic that will never be was co-written with Diablo Cody and reportedly never got below 180 pages. We got a peek into that chaotic collaborative process through Madonna's many Instagram videos. In one, Madonna sort of rambles and sticks cashews up her nose while Cody types furiously, and the camera pans to show dozens of composition notebooks strewn across a coffee table. Whoever filmed the video got really into zooming in and out on the pair as if they were swinging in a living room hammock.
Last week, Madonna gathered a gaggle of the most random celebrities—Amy Schumer, Judd Apatow, Lil Wayne, Bob the Drag Queen, and Jack Black—around a dimly lit table to recreate her 1991 film, Madonna: Truth or Dare. In the video, Schumer demonstrates how she licks her husband's asshole and then dares Madonna to go on a world tour. After some hemming and hawing, Madonna, fingers to her temple, declares, "Fuck yeah."
In other "fuck yeah" news:
---