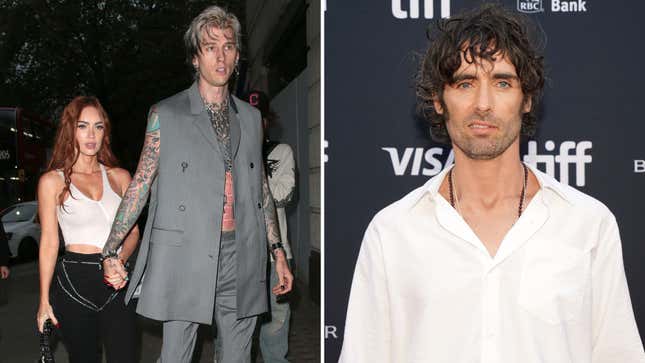 If you ever wondered what All American Rejects frontman Tyson Ritter has been doing since his band peaked in 2008 (I haven't), he's become a thespian! And not just any thespian, but the kind that stars opposite Megan Fox in a forthcoming movie called Johnny & Clyde.
Crush of the Week: Daniel Radcliffe's Weird Al
Among the scintillating morsels of behind-the-scenes gossip Ritter has shared about his experience on set with Fox is an unsettling and amusing anecdote about Fox's fiancé, Machine Gun Kelly (née Colson Baker).
On an episode of a podcast called Tuna on Toast with Stryker (OK!), Ritter divulged that MGK threw a tantrum in Fox's trailer after Ritter proposed an idea for a scene: He apparently plays henchman to Fox's villain, and said he thought it would be fitting if he put his fingers in Fox's mouth. You know, textbook henchman/villain stuff.
"I was like, 'Hey Megan, you know, I wanted to talk to you about this moment where when you die, because you've been teasing me, putting your fingers in my mouth, that when you're dead, I put my fingers in your mouth,'" he continued. "And it's sort of this resolution to my character, like getting his revenge."

And because Fox and MGK are still very much still together despite their publicly perturbing dynamic, the latter—whom Ritter said he refers to as "Pistol Pete"—pitched a fit.
"Colson like just goes from zero to like rage and awesome, super angry," Ritter said. "He was super bummed about me asking if I could put my fingers in Megan Fox's mouth... He just went ballistic. He kind of went maniac mode." A reportedly jealous guy who proposed with a ring designed to cause pain if his partner attempts to remove it going ballistic at the suggestion of her male colleague touching her? Well, knock me over with a feather.
"He had this like baby's arm of a joint dangling out of his mouth and he was fully unhinged and I was just like, 'OK man, I'll just receive you,'" Ritter added.

Apparently though, MGK's little meltdown didn't give him hell, and in fact, made Ritter a better actor. He later said that he channeled that "zero to ape-shit" energy in a role in another movie.
"What happened after that was the greatest sort of gift for my role in the other film, Prisoner's Daughter," he explained. "I remember when Pistol Pete started going ape on me, I was like, 'This is really confrontational, but also, like, thank you dude.'"
A grown man's irrational envy inspiring another grown man's work in a film no one's heard of? Neat!