Lydia Lunch is sipping white wine at a sidewalk table in the East Village, a raven-haired, black-leathered shock against a sunny spring day. Her vocal rasp, inimitable and commanding, is instantly recognizable even before her striking visage comes into view, though. It is in part what has made her famous, a sonic embodiment of rebellion and power-reclamation over the past four decades.
And the way she uses that voice is what has made her, in no uncertain terms, an icon. At just 16 years old, in 1976, she moved to New York City and formed Teenage Jesus and the Jerks, the cornerstone no-wave band whose cacophonous style and chaotic imprecision would help create a whole movement (or an anti-movement). Lunch's confrontational yawl was self possessed even in its inchoate stages, as she unloosed her poetry all over sax and tattered time signatures. Even that early in her career, she had developed a unique way of expressing her dissatisfaction with status quo and an unwillingness to be categorized; she was impressionist and stark, vivid and straightforward, unflinching and pulling no punches. Notoriously, in the very first song she would put to wax, Teenage Jesus and the Jerks's "Orphans," she would sing the lyrics, "Little orphans running through the bloody snow," an allusion to the abuse she endured at the hands of her father as a child.
This tendency toward the sanguine, and uncloaking of truth and its correlative imagery, is a trait she exhibits through the music, spoken word, art and journalism she still makes today. Throughout the 1980s she would become well known for being one of the first poets who spoke about sexual abuse and rape, exhibiting a beacon of courage—it takes strength to be any kind of pioneer, but particularly one like Lunch—and using a megaphone that opened the floodgates for countless women who came after her.
As a no-wave progenitor, Lunch's music, spoken word, visual art, and political and charismatic presence have influenced generations of outré feminist agitators, and as she told Jezebel, she is still out here agitating against oppressive systems. On the cusp of a forthcoming, well-deserved documentary—The War Is Never Over, directed by her longtime collaborator Beth B—and a role in a new queer-centric music/comedy series called Venus Flytrap, Lunch spoke about what keeps her going, living the life of an artist who does not kowtow to trends and who hasn't for 40 years. "It would be nice to just expose people to that range," she said, "and [show them] how possible it is if you are stubborn enough and independent enough that you can do things like curate shows. That with the right attitude, you do have this community that carries on in various formats. That's the reason I'm still here and frickin' kickin'. Because I have a lot to kick."

G/O Media may get a commission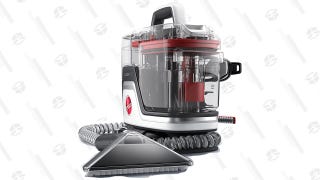 Save $10
Hoover CleanSlate Plus Carpet & Upholstery Cleaner
Watch Jezebel's conversation with Lunch above.