You might have been too busy this weekend with all of the exercise sport workouts that you were doing to have heard the news, but Lululemon, the pricey yoga outfitter adored by the wealthy zen everywhere, were forced to recall a large selection of their yoga pants due to a coverage problem, i.e., wearing them meant that everyone could see your junk.
Ana Gasteyer Satirizes the Girl Boss in 'American Auto'
The cOMpany announced:
We have determined that certain shipments of product received from our factories and available in store from March 1, 2013 do not meet our technical specifications. The items affected are certain styles of women's bottoms in our signature black Luon fabric. The ingredients, weight and longevity qualities of the pants remain the same but the coverage does not, resulting in a level of sheerness in some of our women's black Luon bottoms that falls short of our very high standards.

Over the past weekend we pulled all of the affected black Luon women's bottoms from our stores, showrooms and e-commerce site and are working with our supplier to replace the fabric and our other manufacturers to replace these key items as quickly as possible. We believe the affected items represented approximately 17% of all women's bottoms in our stores and for the near term there will be a shortage of these styles available to our guests.
G/O Media may get a commission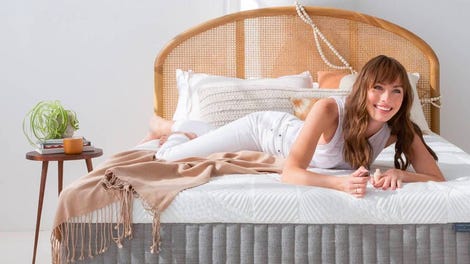 Sleep Sale
Sleep Sale - Brentwood Home
To think, you went to yoga/fell asleep on your living room floor while pretending to watch a Jillian Michaels workout video all in see-through pants. The scandal!
As it turns out, the recall has set Lululemon up to lose millions. Not only is nearly a fifth of their inventory unusable, but their stock has been plummeting since the announcement. ("Sheer yoga pants?" cries Gordon Gekko. "Sell! Sell! Sell!") The incident is predicted to bring the company's quarterly sales down from $350-$355 million to $333-$343 million, which, if you're too deep into your yoga practice to consider or care about the importance of capital, is quite a lot of money.
Here's a solution — Lululemon should just sell all of their unusable clothes to Target. That's where I always buy my too-sheer yoga pants because that's all that we poor and coverage-lacking masses can afford.
Lululemon's Too-Thin Yoga Pants Fiasco Could Cost the Company Over $20 Million [Atlantic Wire]
Lululemon Has A See-Through Yoga Pants Problem [WSJ]
Image via Dmitry Berkut/Shutterstock.