A teen comedy that centers on a gay character, released by a major studio, Love, Simon would have been a landmark film for merely existing. But the movie is extraordinary beyond its elevator pitch, and notable beyond the scarcity of the representation it provides. It is an uncommonly empathetic interrogation of the inner life of a queer person, wise beyond its years, and potentially relatable, regardless of how old you are.
Nick Robinson plays high-school senior Simon Spier, a closeted student who lives in suburban Atlanta with his progressive parents and younger sister. He's sure, per his voiceover, that coming out won't alter his life in any meaningful way—his parents won't reject him, for example—and yet he's just not comfortable enough with himself to do so. When someone anonymously confesses to being gay on Simon's high school's unofficial PostSecret-type Tumblr, Simon sets up a burner email account (using the name "Jacques") and begins a text-based relationship with the unknown fellow gay guy whose pseudonym is Blue. Filmmaker Greg Berlanti plays the rest out, in part, like a lite whodunit, with the identity of Simon's online boyfriend serving as the movie's central question that keeps us, and more importantly Simon, guessing.
The way Simon searches for clues, scrutinizing casual interactions with classmates for anything that aligns with things said in the Jacques-Blue correspondence, ingeniously translates to the screen the particular sense of hyper-awareness that gayness can instill. The constant wondering, the yearning for a connection, the endless comparing of your own experience to what you're observing, the quest to find someone, anyone who understands what you're going through—Love, Simon nails all of this. Granted, these are things experienced by many people regardless of age and sexuality, it's just particularly intensified and high stakes when you're a teen or gay and even more so when you're both. And so here they are central to character development.
Many of Simon's friends, too, struggle with insecurity over just how much of themselves they should show in order to be appreciated by their peers, though none are afforded the same amount of space to do it in as Simon is.
G/O Media may get a commission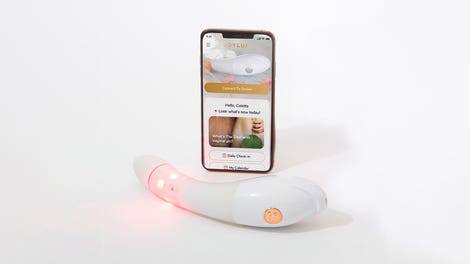 $50 Off
Joylux vFit Gold Device
Love, Simon is largely a study of its titular character, with the supporting cast being nowhere near as sketched out as in this movie's source material, Becky Albertalli's charming YA novel, Simon vs. the Homo Sapiens Agenda. This would be a problem were the performances not strong across the board—each feels lived-in, regardless of the actors' screen time. In a particularly effective scene, Simon and his best friend Leah (Katherine Langford) have a heart-to-heart in which they're ostensibly sharing experience, yet they couldn't be further apart. "I think I'm the kind of person who was destined to care about one person so much it nearly kills me," she says. "Me too," agrees Simon. She's talking about a guy she likes...and so is he, but neither realizes the exact object of the other's affection. It's a narrative cliché turned on its ear to ultimately telegraph that for how alike we are, we're so different. At its nuanced best, Love, Simon illustrates the paradoxical truth with economy and elegance.
Despite his heightened sensitivity and the movie's own sensitivity about his identity, Simon is no saint. Much of the drama stems from an annoying, dorky classmate, Martin (Logan Miller), reading Simon's emails to Blue on a library computer and then threatening to out Simon if he doesn't attempt to hook Martin up with his well-liked friend Abby (Alexandra Shipp). Selfishly, Simon goes along with it without notifying Abby, placing her in situations with Martin and lying to obstruct her from hooking up with another of their friends who's interested in her, Nick (Jorge Lendeborg Jr.). Simon's discomfort with himself is an explanation for his behavior, but per the movie, it is no excuse.
How much the movie buys into Simon's own image of himself is another question entirely. In his opening monologue, he uses the word "normal" to describe himself several times—his is a "perfectly normal life"...except, you know (it's not). Simon, though, is white and relatively affluent. He presents as masculine without a whiff of any gay-associated traits in his voice (Robinson is apparently straight), but Simon is not cartoonishly butch (he has plenty of platonic girl friends; he prefers theater to sports). Robinson's affect is somewhere between James Franco and John Mayer—dry, reserved, at times slightly somber. Simon strives to be better at being gay, Googling "how to dress like a gay guy" and envisioning a fantasy sequence of him being out and proud in college set to the tune of Whitney Houston's "I Wanna Dance With Somebody (Who Loves Me)." As a troupe of coeds in bold colors perform the choreography of a cheering squad, Robinson dances along, stiff-jointed and wobbly, looking like...well, a straight guy. "Yeah, maybe not that gay," is Simon's voiceover that wraps up the scene.
Claiming normalcy was a highly effective strategy in the ultimately victorious battle to win marriage equality, but normalcy is a myth. As Michael Warner wrote in his anti-assimilationist 1999 book The Trouble With Normal, "...To be fully normal is, strictly speaking, impossible. Everyone deviates from the norm in some way. Even if one belongs to the statistical majority in age group, race, height, weight, frequency of orgasm, gender of sexual partners, and annual income, then simply by virtue of its unlikely combination of normalcies one's profile would already depart from the norm." Love, Simon is so wrapped up in its protagonist's relationship with his minority sexuality that it's clear it would not be a story worth telling if its protagonist fit the norm.
But some are closer to it than others. There's an out gay kid in Simon's school, Ethan (Clark Moore), who's also black and more traditionally femme-presenting, with his high voice, luxurious straightened hair, and sweater-over-the-shoulders primness. Ethan pops up throughout the movie, often getting in a good line when he's ridiculed by other students for being gay, but he's tertiary at best. He functions as a contrast to Simon; his story sticks out as one that's been passed over in favor of telling that of a character whose appearance and behavior is more in line with the status quo. After Simon gets mocked in front of the entire cafeteria for being gay, he and Ethan share an exchange in the principal's office. Simon apologizes: "I'm sorry, Ethan, none of this ever happened when just you were out." But we saw some of it happening earlier in the movie when Ethan was called a fag; it's just weightier when it happens to Simon. (Ethan takes Simon's egocentrism in stride: "You know what they say: One gay's a snooze; two's a hilarious hate crime.")
It's always a bummer when an ostensibly progressive piece of media reinforces regressive ideas about how to properly package queer stories for mainstream consumption. This includes, by the way, a little monologue at the end of the movie in which Simon makes literal the universality of his experience ("At first I thought it was just a gay thing, but then I realized no matter what, announcing who you are to the world is pretty terrifying"), even though by then the movie has already gotten at this more subtly and with considerable nuance. I'm inclined to forgive the otherwise charming Love, Simon for not doing all that it could do with queer teen identity in an ideal world, because our world is not ideal and this is a story about evolution. Simon, it's made clear, is still evolving and has a ways to go before becoming all that he can be. And so is this kind of representation in pop culture. Love, Simon, is merely a stop on the long journey ahead.