How do I love thee? Let me get my wallet and count the ways. I mean, bills. Shopping at Dean & Deluca is all about the Hamiltons. Still: Let's drool over rich chocolate, melt-in-your-mouth cupcakes and mothertrucking goat cheese.
The "love brownies" ($45 for 12) on the front cover are calling my name, because I know that even though the Pink Heart Jewelry Box cake ($115) has fudge chocolate inside, the outside is fondant, which is wretched. And the conversation heart cookies ($55 for a box of 8) look kind of meh.
Chocolate-covered strawberries are always delicious, but I'm more interested in the Valentine Mini Cupcake Chocolates. Fillings include Champagne, strawberry, and passion fruit.
The His and Hers chocolates on the bottom are dumb because the "girl" version has white chocolate, which everyone knows is not real chocolate. The "Pour Homme" sounds better to me: Three solid darkened milk chocolate hearts with almond toffee bits and fleur de sel and seven small bittersweet chocolate hearts filled with liquid caramel. Yes. Oh God, yes.
G/O Media may get a commission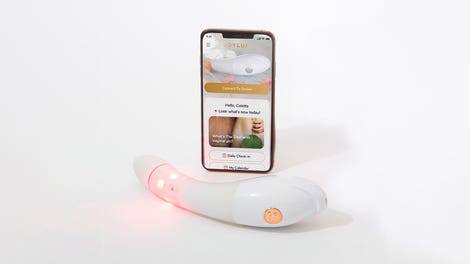 $50 Off
Joylux vFit Gold Device
Pig and panda marzipans: Vaguely terrifying, like fetal animals intended for dissection in a classroom. It might be because of the eyes. Although if the eyes were more open and realistic, that would be horrifying as well. So: Pass.
The "Bonnes Choses" look okay; the XO cookies do nothing for me, so the winner here? "Mysteries Of Love" chocolate box. The copy reads:
Collection includes two each of: Raspberry Rendezvous, filled with 64 percent dark chocolate ganache and raspberries; Madame 'X'tasy, filled with sea-salted Illy espresso and dark chocolate caramel; The Lover, filled with soft caramel, passion fruit and cardamom; The Player, filled with 72 percent Venezuelan cacao ganache flavored with smoky single malt scotch; Caramel Caresse, a soft caramel with Poire Williams Pear andEau-de-Vie; and Don Juan, filled with 72 percent Venezuelan cacao ganache.
Raspberries? Sea salt? Passion fruit? Single malt scotch? Best date ever. I'm feeling tingly.
Cookies, shmookies. And I like my Pop Rocks straight out of the bag. But: Pay attention to the S'Mores! Fresh vanilla marshmallow paired up with cinnamon graham crackers and dipped in milk or dark chocolate. Let's camp out on the living room rug and tell ghost stories.
I need a cupcake so badly right now.
STOP THE CAR. Heart-shaped goat cheese is everything I never knew I wanted. Be mine!
I'll have an $88 pink bubbly, as well, since we're taking orders. And obviously I'll need the Valentine's Evening Cake — four "luscious" layers of "moist" cinnamon cake, frosted in"silky" Mexican chocolate buttercream. For dessert, a few miso chocolate brownies. Why not?
Cherry tartlets: So warm. So juicy. So tangy. Where's my wallet?
Dean& Deluca [Official Site]
Earlier: Harry & David's Merry, Mouth-Watering Christmas With A Crunch
Dean & Deluca Thanksgiving: Mouth-Watering, Wallet-Emptying
Halloween At Dean & Deluca: The Trick Is Being Able To Afford The Treats