"This is a bill that empowers women,'' said Louisiana state Senator Sharon Broome. She was talking about a bill finalized yesterday that requires women seeking abortions to get ultrasounds — even victims of rape and incest.
According to the Guttmacher institute, eight states require abortion providers to offer ultrasound information, while three "mandate that an abortion provider perform an ultrasound on each woman seeking an abortion, and require the provider to offer the woman the opportunity to view the image." It's a strategic move by anti-choicers to influence women out of guilt to change their minds about a perfectly legal decision. According to the AP,
Opponents said requiring a procedure that might not be available at a free clinic nearby will make it more difficult and costly for women to get abortions. No one spoke against the proposal on the House floor Wednesday.

An ultrasound at health care facilities around the state can cost anywhere from $80 to more than $300, depending on the location, according to a review of health care pricing websites for hospitals and clinics in Louisiana.
Broome originally wanted the bill to require medical providers to discuss the fetus's development in detail and give the woman a photograph. A similar law was struck down in Oklahoma.
G/O Media may get a commission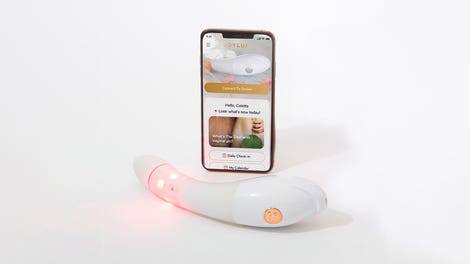 $50 Off
Joylux vFit Gold Device
According to the AP, 95 percent of women seeking abortions in the state already get ultrasounds, though it's not clear how many of those ask to see images or discuss embryonic development. Still, there's a big difference between choices they made on their own account and the ones handed down by the state with the express purpose of undermining their choice.
Last year, Focus On The Family president Jim Daily claimed that "our research indicates that of those women still at risk for abortion after counseling, 65 percent expressed their intent to carry their baby to term after viewing the ultrasound image."
Perhaps it was said best by a woman in neighboring Alabama, where a similar law is in effect. She was interviewed by The New York Times last month, after declining to see an ultrasound performed on her.
Like other patients, Laura, who has a 17-year-old son, said she took offense at the state's implicit suggestion that she had not fully considered her choice.

"You don't just walk into one of these places like you're getting your nails done," she said. "I think we're armed with enough information to make adult decisions without being emotionally tortured."
Louisiana To Require Ultrasounds Before Abortions [AP]
Related: In Ultrasound, Abortion Has New Front [NYT]
Earlier: Fundamentalists Trying To Guild Women Out Of Abortions
Judge Strikes Down Oklahoma Abortion Ultrasound Law