Louis Vuitton is apparently planning to "wind down" its "core values" ad campaign — that long-running series of ads wherein famous people like Mikhail Gorbachev, Michael Phelps, or Catherine Deneuve pose more or less uncomfortably next to Louis Vuitton luggage. Let's pour one out for Gorbie, friends. [WWD]
---
That Marilyn Manson ad from Saint Laurent was just the beginning. Joining Manson in the spring campaign are Courtney Love, Kim Gordon, and Ariel Pink. Allow Dazed & Confused to reach to explain: "If Yves Saint Laurent was fascinated with the arts — think of the epic Ballet Russes collection of AW76, though not only — this quartet have a subliminal link in Hedi's exploration of West Coast cultural mythology." [Dazed Digital]
---
G/O Media may get a commission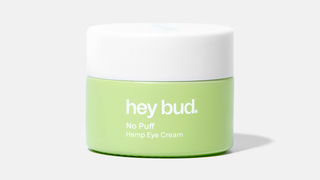 15% off
Hey Bud - No Puff Hemp Eye Cream
Faran Krentcil has a great, and necessary, riposte to T magazine's unfortunate article praising "modest" clothes. There's nothing wrong with longer hems or higher necklines, per se, of course — but writer Suzy Menkes registered her approval in moral terms, with "modest" clothes being more virtuous and more revealing things being more "slutty." The virgin/whore dichotomy — like judging teenagers by their underwear — holds all women back, points out Krentcil:
Let's take this issue to the 2013 runways. Is 18-year-old Lily McMenamy a "slut" for walking topless at Marc Jacobs? (If she is, should T Magazine take back their glowing profile on her from November?) Is Ruby Jean Wilson a "slut" for opening spring's acclaimed MJ show in hot pants? How about all the girls in Balenciaga's peek-a-boo bustiers and crop-tops? How about we get over this idea that the only way to look demure, or intelligent, or elegant, or anything other than "a slut," is by reaching for a caftan? [...]

The "virgin or whore and nothing in between" mentality that comes with calling anything a "slut outfit" — and anyone a "slut" for wearing it — seems to be the antithesis of modern fashion, and the ever-evolving power to change your own image.
---
The fashion illustrator Alexsandro Palombo has started calling out designers for taking inspiration from their predecessors. Attention has already been drawn to the Céline coat that looks identical to an old design by Geoffrey Beene, but Palombo has also caught Prada referencing Courrèges and Christian Dior doing Edith Head. [Humor Chic]
---
Garance Doré is doing a series of Web ads for Kering, the newly renamed luxury group PPR. [Vimeo]
---
Jourdan Dunn recently mentioned in a magazine that a makeup artist had once refused to do her makeup because she was white and Dunn was black. She explained a little bit more about the incident on a U.K. T.V. show. It was at a fashion show:

"I was at a show and…the hairstylist had already started my hair. The makeup artist came along and she looked at me–and she didn't think I could hear–and she's like [whispers]'I don't want to do her makeup,' and they were like 'why?' And she was like, [whispers] 'yeah well because she's black and I'm white, I'm not comfortable, I just don't want to do it.'"

The makeup artist eventually came around but by then Dunn was pissed — and she wasn't afraid to show it. "So she came over me and I was like no actually I dont want you to do my makeup."

"Here's my thing, if you're a makeup artist you should be able to do any type of makeup," Dunn says. "It's just skin. You need to know your stuff." [Fashionista]

J.C. Penney is relaunching its jewelry department. It's now called the Bijoux Bar and it will feature three exclusive lower-priced lines by the brands Kenneth Jay Lane, Lana Bramlette, and Kara Ross. Women's Wear Daily's story includes this interesting aside about Penney's parlous financial condition and how at least one of the designers tied to this "exclusive" partnership may have one eye smartly on the horizon:

The new company, Bramlette said, could supply more retailers in the future. Given industry concerns over Penney's dwindling cash pile and the costly rollout of shops-in-shop, it's logical that designers and suppliers nurture other retail partnerships. Asked if getting paid by Penney's was a worry, Bramlette said, "No. They are an innovator. They are transforming and so am I. We are on the same path…"

[WWD]

Nordstrom president Blake Nordstrom saw his compensation fall last year because the company missed earnings and profitability targets. Don't worry too much, though: Nordstrom's total compensation was still $3.9 million (down from $6 million in 2011). [WWD]

Twenty-seven-year-old entrepreneur Yodit Eklund has launched a swimwear line called Bantu. It's inspired by the countries where she grew up — Ghana, Cote d'Ivoire, Sudan, Kenya, Ethiopia, and Egypt — and incorporates West African wax prints. The swimsuits are manufactured in Africa. "A lot of people are used to seeing images of poverty or famine, all these negative images. But actually Africa has really great beach culture, and so I thought highlighting this would help increase tourism and paint a brighter picture," explains Eklund. But she's happiest when she meets strangers wearing Bantu swimwear who don't know the brand was founded to provide jobs and economic development. "For me, that's my biggest success because the swimsuits have to be sustainable on their own. I don't want to ever have to rely on someone making a pity purchase." [The Cut]

After two years, Mugler and creative director Nicola Formichetti are parting ways, "by mutual agreement," according to the brand. [WWD]

And now, a moment with Dita Von Teese. Dita, how did your obsession with lingerie begin?

"I've collected lingerie since I was a little girl. But I wasn't able to wear a bra until I was older, in the Eighties, and I was quite disappointed with my first bra — an ugly training bra. It became a reminder in my thought process, and I later saved up to buy a favorite item — a robin's-egg-blue silk garter belt, which I still treasure and keep. I didn't equate it with seduction, but merely that I was a woman and thought of it as a little bit of luxury."

[WWD]