Lou Pearlman, the man responsible for engineering *N Sync and the Backstreet Boys, has died in prison at age 62.

While Pearlman was best known for creating two of the most important pop acts of the '90s, he's also credited with managing O-Town and LFO (!!), as well as launching MTV's Making the Band. Unfortunately, he was also equally involved in a large-scale Ponzi scheme that screwed around 1,700 people out of $500 million. In 2008, he was jailed on a 25-year sentence.
Deadline Hollywood has a detailed—if not particularly flattering—rundown of Pearlman's life:
From Flushing, NY, Pearlman began his adult life working in aviation, attempting in the late 1970s to launch an air taxi business using helicopters and, later, a similar business using airships. By the early '90s he was a millionaire owing largely to a talent for fraud, and turned his attention to music. Pearlman founded his own record label, Trans Continental Records, with the goal of copying the boy band model pioneered by New Kids On The Block producer Maurice Starr, and struck gold with his first band, Backstreet Boys. Following in their success, Pearlman and his associates repeated the process step by step with the almost equally successful NSYNC.
It's unclear what caused his death, but at least one of his creations seems to have forgiven him:

G/O Media may get a commission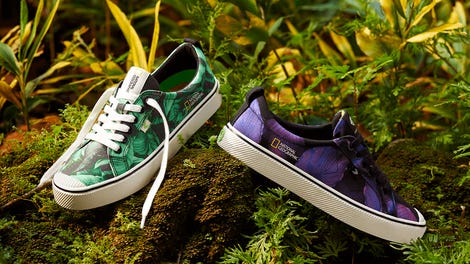 New New New
Cariuma + National Geographic
That, in case you don't want to click, is:
"Word is that #LouPearlman has passed away. He might not have been a stand up businessman , but I wouldn't be doing what I love today wout his influence. RIP Lou."
[TMZ]
---
Frank Ocean's new LP is called Blonde, but he also released an accompanying zine called Boys Don't Cry. In that zine, there is poem. The poem is written by a man named Kanye West, about a fast food franchise called McDonald's. Here is that poem:
"The McDonald's Man"
Calabassas, California
McDonalds man
McDonalds man
The French fries had a plan
The French fries had a plan
The salad bad and the ketchup made a band
Cus the French fries had a plan
The French fries had a plan
McDonalds man
McDonalds man
I know them French fries had a plan
I know them French fries had a plan
The cheeseburger and the shakes formed a band
To overthrow the French fries plan
I always knew them French fries was evil man
Smelling all good and shit
I don't trust no food that smells that good man
I don't trust it
I just can't
McDonalds man
McDonalds man
McDonalds, damn
Them French fries look good tho
I knew the diet Coke was jealous of the fries
I knew the McNuggets was jealous of the fries
I could see it through his artificial meat eyes
And he only be there some of the time
Everyone was jealous of them French fries
Expect for that one special guy
That smooth apple pie
---